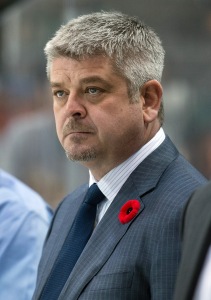 On to Part 6 of our season review, covering the coaching staff, primarly the head coach. To catch up on any of the season review articles, here are the subjects with links:
1. Main Points
2. Forwards
3. Defense
4. Goalies
To the surprise of many, the future in San Jose of Shark Head Coach Todd McLellan has not been resolved yet. It has been 9 days since the season ended, and its not like people didn't know what the end was going to look like. For the Sharks to have made the playoffs, they would have needed to win every game for the last 3 weeks of the regular season. They did not come close. McLellan has said the job situation will be resolved shortly. When that gets resolved, there will be more to discuss.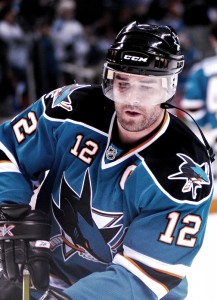 When people start to criticize someone, they usually go through some preamble meant to soften the blow. If one reads the entire content of General Manager Doug Wilson's statement about Joe Thornton 'lashing out', there were lots of sweet words surrounding that thorn.
I'll limit the preamble regarding Todd McLellan to the following. He deserves a lot of respect. It is genuinely painful to criticize a fundamentally good and competent person.I captured many of my thoughts about McLellan in this article about 1 month back.
Questionable Choices
McLellan has made plenty of questionable choices. The two most publicized are the decisions on Brent Burns (playing defense instead of forward) and on the team's captaincy (taking it from Joe Thornton and not giving it to anyone else). Some will argue that others (Wilson) made those two decisions, but that misses a key point, That excuse portrays McLellan as powerless about each decision and even worse, powerless to make any sort of change once the problems became clear. That can not be the case for a coach with an established track record.
Many other decisions also appear questionable. The decision to make Antti Niemi one of the most heavily used goalies in hockey despite very modest play is one example. His decision to put out his aging stars for huge minutes is another. His decision to keep Patrick Marleau on the same line with Logan Couture when the two players had limited chemistry is yet another. In a four-line league, his stubborn decision to make his forward lines incredibly top-heavy with talent and his lower lines talent-deficient has proven problematic. Joe Pavelski may be great as a winger on Joe Thornton's line, but the team is better when Joe Pavelski, Joe Thornton and Logan Couture each have a line to center. His ability to communicate effectively with his players is under question, McLellan himself is among those asking that particular question.
A Sophisticated View
Todd McLellan is capable of seeing the world for all its realities, textures and subtleties. All to often, things get reduced to an overly simplified view: a single turning point, a single key event, a single reason. McLellan refuses to see life that way. He gets the world is complicated, both inside and outside the game of hockey. He embraces it. When McLellan distills something down to its essence, if comes across as thoughtful. His recent comments about his own job security reflect that: "contracts take care of themselves … your security in this world should come from your ability to get the job done … it's not about years on your deal or anything like that". McLellan is a good observer of life, a trait common to many of the best coaches and mentors … in any field.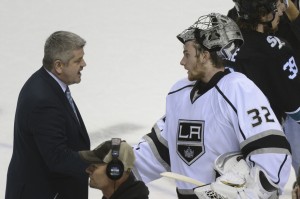 McLellan brings far more positives than negatives. He sees the game extremely well. He thinks clearly and explains things well. He is honest, yet understanding how to be diplomatic when the time comes. Todd McLellan will always be an adult in the room. If he wants one an NHL head coaching job next season, he will have one.
The Assistants
There deserves to be some time addressing the assistant coaches, Larry Robinson, Jim Johnson and Jay Woodcroft, even as this season was overwhelmingly about McLellan. I have touched on hockey legend Larry Robinson, who is stepping away from his job behind the bench, in earlier articles in this series. I will address Jay Woodcroft now. He has been with McLellan since just about the day he arrived in San Jose and if McLellan goes, so will Woodcroft. I wonder why he has remained in San Jose so long. He's been around legendary players like Pavel Datsyuk, Niklas Lidstrom and Joe Thornton. He has coached with Larry Robinson. He has been part of a Cup winner in Detroit and worked for winning coaches in Mike Babcock and McLellan. He has been on an NHL staff for over well over 50 Stanley Cup playoff wins. He has as much resume as one could imagine. At some point, he needs to find a college or minor league team to run. Staying low man on the totem pole for so long here in San Jose isn't healthy for his career. Like kicking the kid out of the house because its time – it is time for Woodcroft to find another job.
The Finale?
McLellan deserved better in San Jose this year. He deserved a management that supported his players and his team. A coach has the right to expect that. McLellan did not get that. A coach should hope that management can help him do his job better. McLellan did not get that either. There are coaches that thrive on the sort of churn and chaos and dysfunction that surrounded this year's team. Todd McLellan is not that sort of coach.
McLellan's shortcomings have typically come back to haunt him and the team in the postseason. This year his issues were front and center in the regular season. He was placed in a difficult position. Some would consider it unfair. If McLellan returns, he will be in a position of diminished stature. There are reasons that McLellan himself has openly questioned whether he should stay in San Jose, independent if management wants him to return. If McLellan goes, I will miss a lot of the things he does well while recognizing he had much to do with his own departure.
ZEKE is a native of the DC area where he witnessed the birth of the Capitals franchise. After graduating from Cornell University, which had seen hockey glory before he arrived, he moved west to San Jose. There he witnessed the birth of the Sharks franchise. His wait to witness a Championship from any of these teams finally ended in 2018.