The city of Saskatoon and the Saskatoon Blades have proclaimed Sept. 25, "Thank You, Mr. Hockey Day" — a day the town will honor hockey legend, Gordie Howe.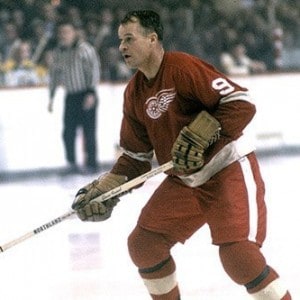 The hockey world mourned the loss of one of the game's greatest ambassadors and most endearing personalities on and off the ice when Howe passed away June 10 at the age of 88. On Sept. 25, however, he will return home to stay.
A statue of Mr. Hockey located outside of SaskTel Centre, home to the WHL's Blades, is where he and his wife Colleen's ashes will be interred that morning. A ceremony with the Howe family will then be held at the Circle South Bridge to officially rename it Gordie Howe Bridge. On June 27, the Saskatoon City Council unanimously approved renaming it after Howe.
When members of the Blades organization learned about Howe's wishes to be interred at the statue when he passed way, the team began to make plans to honor him.
"We wanted to plan a really special day and when we found out about the ashes and then went to work to make that happen – and it is happening – I think that takes it to a whole new level," Blades president Steve Hogle said, according to the Global News.
The Blades will wear commemorative jerseys, shown above, during the team's home opener that night against the Swift Current Broncos. The jerseys, which are designed to capture special moments in Howe's career and the city of Saskatoon through different pictures, will be auctioned off after the game with proceeds being donated to the Gordie Howe Alzheimers Fund.
The celebration of Mr. Hockey's life will not end that day. The Blades have partnered with Saskatoon Minor Hockey to establish an annual award in Howe's name to honor a graduating midget hockey player who "demonstrates excellence on and off the ice, displaying the values and leadership instilled in the game of hockey by Gordie himself," according to the Blades. The "Gordie Howe Player of the Year Award" will also include a $1,000 scholarship from the Blades organization.
While Mr. Hockey may have passed away in June, the people of Saskatoon are ensuring his legacy there will live on forever.