A Sweden win against Russia and a Finland win against Canada in the semifinals have the two Scandinavian rivals squaring off for Gold At the World Junior Championship in Malmö, Sweden.
Swedish Dansk Moves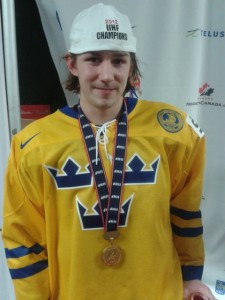 In their second matchup of the tournament, The Swedes once again edged out the Russians by a final score of 2-1. The big story here was the play of Team Sweden goaltender Oscar Dansk.
He stopped 26 pucks and the only goal he let in came when Russian forward Damir Zhafyarov threw the puck to the net from a bad angle after an official inadvertently kept the puck in the Swedish zone with his skate blade. After the game, Dansk celebrated with his famous postgame dance moves.
"[Dansk] was awesome. He made a lot of saves," said Sweden forward Alexander Wennberg. "He's so confident in his game. It helps you out when your team can stay calm."
Dansk's superb play in net was aided by goals from Filip Forsberg and Oskar Sundqvist – who wound up with the game winner – and a solid team performance.
"The Russians are a good team so at the end it was tough," said Wennberg. "We had a nice game and we deserved to win."
A DiFINNsive Game
The second game of the day provided another upset in this year's tournament. Led by an exceptional team defense, Finland beat Canada 5-1.
Through the course of the entire game, the Canadians had difficulty sustaining pressure and generating chances because of the Finns suffocating defense. Finland executed its game plan to a tee, clogging the neutral zone, getting in the shooting lanes and staying in position.
"We played really solid in the defensive zone tonight and didn't make it easy for their forwards to come in our zone." said Finland defenseman Mikko Vainonen.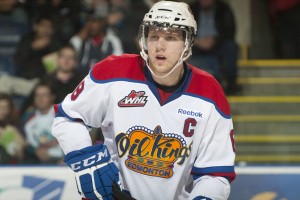 After a scoreless first period, all of this was spurred on by a gratuitous bounce for Finland. Finnish forward Joni Nikko found a careening puck from the end boards and put it past Canada goaltender Zachary Fucale. Throughout the game, Fucale came up with big saves, but that didn't stop the Finns from taking a two-goal lead into the second intermission that they never would surrender.
As well as Team Finland played, the Canadians believe they lost because of their own play. "They did a good job keeping us away from the goal, but we didn't stick to our game plan; it's our fault." said Canada forward Frederik Gauthier. "We have to put pucks deep."
In spite of Canada's performance, the team was completely focused on the game against Finland. "Some guys get snake bitten sometimes. It's a tough time to let that happen to us," said Canada defenseman Griffin Reinhart. "I know guys were trying. No one was thinking too far ahead. That wasn't the case tonight."
Looking Ahead to the Medal Games
The Swedes will go into the gold medal game against Finland with the confidence that has gotten them there. "Finland is a very strong team. They're good on the power play and have a lot of skilled players, but in the end I think we're the better team," said Wennberg. "I think no one can beat us," adds Sweden forward Anton Karlsson.
While the gold medal game will feature a Scandinavian rivalry, the bronze medal game will also put together familiar foes. For the second consecutive year, Canada and Russia square off for third place.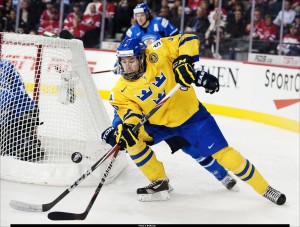 "Last year, we came out on the wrong side. Hopefully tomorrow we're able to regroup and get the bronze medal," said Reinhart. "This [lose to Finland] iss a tough one. We have to shake it off. Get some good sleep tonight. Wake up tomorrow and prepare for it like any other game."
For Finland, the attention shifts to Sweden. "They're a really fast team, good skaters. They're good in their D-zone and really skilled," said Vainonen. "We just have to worry about ourselves and play our best game of the tournament."
It'll be a tough test for Finland as host Sweden will continue to be backed by their fans. "Playing in front of the crowd and the atmosphere here is amazing," said Wennberg. "I'm really looking forward to playing in the final."
Vainonen sees the championship game as "a dream final."
As an American based in Amsterdam, Joe provides a unique hockey insight, bringing a global perspective to the game. Joe has several years of experience covering the game on both a domestic and international level, including being credentialed for multiple World and World Junior Championships.