Pesky Sharks?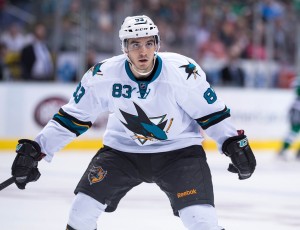 While Team Teal doesn't deserve to be referred to as "those pesky Sharks", they are surprisingly still alive for another day. Realistically speaking, an incredibly disappointing regular season is still likely to end without a playoff berth for the first time in a decade. However, having gone 4-0-1 in their last five games leaves the Sharks with still an outside chance at making the playoffs. The Sharks need to win all four of their remaining games and get significant help from the out of town scoreboard. San Jose is doing their part the last few games though and are giving themselves a fighting chance. Arguably the biggest reason for the improved play has been the emergence of some secondary scoring.
"It's been big" commented Joe Pavelski after the 3-1 win over Arizona on Friday night. "You get that extra goal per night from wherever it comes from. It can put you over the top."
Most of that secondary scoring lately has come from the third line led by 20-year-old rookie center Chris Tierney. With an assist again on Friday night, Tierney now has seven points in his last eight games and nine in his past 12. He has registered at least one point in all of the past four victories and is a plus-3 over that span. The vast majority of his production is coming at even strength. Tierney has been frequently finding his left winger Matt Nieto over this last stretch. The 22-year-old Nieto has scored twice and added an assist over the past five games.
Recent Sharks Posts:
[catlist categorypage="yes" numberposts=3 excludeposts=this]
"You need the third line, the fourth line to chip in every once in awhile" added Logan Couture on their new-found depth. "I thought the fourth line was good again tonight, they have been good for awhile. And Tierns and Neetsy have been scoring lately. Successful teams have the scoring throughout the lineup and we're getting that right now."
Secondary Scoring led by Tierney
Asked specifically about Tierney's recent contributions, head coach Todd McLellan wasn't shy to praise his rookie center.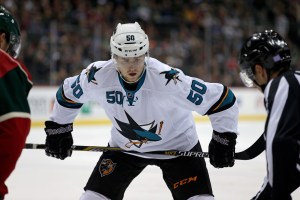 "[He] has really helped us because we are three deep now as far as offensive lines. Chris' development has been on the upward swing ever since he went down to Worcester and played those games and got that experience" confirmed McLellan. "You can see his confidence level growing more and more. We had him out in the last 15-20 seconds for an important face-off. He is getting better in that area so there is a lot of real positive signs."
Playing at basically a point per game pace over the last eight games from the third line is an incredibly huge boost for the Sharks. San Jose's previous third line center for most of the season was James Sheppard who didn't have a single comparable stretch of offense in 57 games. Now with the New York Rangers, Sheppard had two stretches of five points over nine games, but nothing near the sustained nine points in 12 games that Tierney has produced. Overall, Sheppard's points per game this season with the Sharks in 57 games was just .28. Tierney on the other hand has produced at a .43 points per game rate with considerably less ice time. Tierney has averaged just 12:01 playing significantly more fourth line minutes than Sheppard, who averaged 13:43 while mostly on the third line. 
Tierney's dramatic jump in production has been instrumental in the Sharks' final stretch run here as they make their final stand. Couture is exactly right, you need the bottom lines to chip in. Sometimes, even more than just chip in but rather carry the offense from time to time. Joe Thornton has gone cold as of late with zero points in his last seven games yet the Sharks have still found ways to win thanks to secondary scoring.