The Edmonton Oilers have proven to be the Ottawa Senators' Achilles heel this season. Neither team is having the season they hoped for, but whenever the two face off against each other, the Oilers suddenly look like the best team in the NHL. In seven meetings so far, the Senators have lost every single game, including an eight-goal defeat on them in an 8-5 loss on Jan. 31, then beating them 7-1 on March 10. The only other team to score seven or more goals against Ottawa this season has been the Vancouver Canucks, and they did it just once in January when the Senators were in the midst of their nine-game losing streak.
But the latest losses have been especially demoralizing. Matt Murray was left in for all seven goals in their March 10 game, and many joked on Twitter that he should pull a Patrick Roy and storm off the ice after being left out to dry like that. Brady Tkachuk didn't mince words when asked about the loss, calling it "infuriating" and "absolutely embarrassing." This team has shown elite skill in the past month, especially from their young stars, but still have a long way to go before they will be a playoff threat. But now the question becomes – how long will that be?
Item One: Methot Stirs the Pot
Well, according to former NHL defenseman and Senator and current podcast host Marc Methot, the timeline for the team's success isn't that far away. He took to Twitter the day before the humiliating defeat, he posted that the team is two to three seasons away from becoming far better than their provincial rival, the Toronto Maple Leafs.
Of course, this opinion was obviously met with controversy; the Maple Leafs have taken the North Division by storm in 2020-21 and look to be one of the best teams in the league going forward thanks to a core of Auston Matthews, Mitch Marner, William Nylander, Travis Dermott, and Morgan Rielly, plus a deep prospect pool. But, according to Methot, that's nothing compared to what the Senators have.
Methot's tweet likely was meant to get under the skin of overconfident Maple Leafs' fans, and it worked like a charm, but there may be some truth to his statement. Tim Stützle and Josh Norris have been two of the NHL's top rookies and are likely to get some Calder Trophy consideration at the end of the season. Erik Brannstrom and Artyom Zub have also been very strong on the blue line and have worked well with each other as well as Thomas Chabot. Then there's Shane Pinto, Jacob Bernard-Docker, and Jake Sanderson, who are excelling with the University of North Dakota. Compared to the Maple Leafs, the Senators have a deeper and more talented farm system (thanks to their many bottom-five finishes) and most of their top prospects appear to be a season or two away from their NHL debut.
Will that match Toronto's core? It's entirely possible, especially after the Senators were able to beat the Maple Leafs twice already this season. At the very least, it should be a return to the late-1990's/early-2000's Battle of Ontario, where the two teams were evenly matched during the season and met regularly in the playoffs. Whether Methot is right on the money or blowing smoke, one thing is for certain – the future for the Senators is bright.
Item Two: White, Dzingel Injuries Won't Be Long Term
The March 10 loss was not only a crushing loss for the team's morale, but it also was wracked with injuries. Midway through the second period, Colin White lost his footing skating towards the Oilers' end and crashed into the boards, and had difficulty getting back up. He did not return to the game and was soon listed with a lower-body injury, and everyone began to feat the worst. It had already been an incredibly challenging season for the 2015 first-round pick, who had started as the team's fifth-best center according to the general manager but had worked his way back up into a regular spot on the roster. A long-term injury would likely derail all his hard work, putting him back at square one whenever he returned.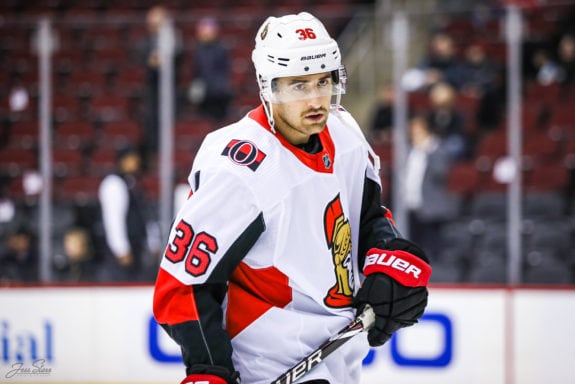 Later in the third period, newcomer Ryan Dzingel got tangled up with Jesse Puljujarvi and the pair fell to the ice, with the Oilers' forward landing on his opponent's leg. Dzingel was immediately in pain and didn't even try putting any weight on it, and he was escorted right down the tunnel to the dressing room. Evgenii Dadonov's late goal to make it 7-1 hardly eased the worry that the Senators could potentially be without two key veterans for the foreseeable future.
Thankfully, their fears went mostly unrealized. Dzingel returned to the lineup the following game against the Oilers on March 12, and White has been listed as day-to-day. Artem Anisimov was also out for the Friday game with an upper-body injury, so center Clark Bishop, acquired for Max Lajoie in January, was recalled to fill in. While fans would have preferred to see Logan Brown earn some NHL ice time this season, the recalling of Bishop signifies that the team believes it will be a short-term solution. The team has not shown that it has confidence in Brown to be a core player yet, and they likely want to put him with a seasoned veteran if and when they recall him. With two veterans out already, they turned to a seasoned AHLer to fill in for the meantime.
Item Three: Is There a Senators' Goaltending Battle Brewing?
The Senators' goaltending has not been strong this season. Murray was brought in to replace long-time starter Craig Anderson and give the crease some stability after winning two Stanley Cups with the Pittsburgh Penguins. However, he's been incredibly inconsistent, and while it hasn't been helped by a spotty defense, he simply has not been good enough. So, after weeks of struggles, Joey Daccord was finally brought onto the active roster to give Murray a break. In his first start on March 2, he posted a .938 save percentage (SV%) despite losing 3-1 to the Montreal Canadiens. To compare, Murray has only posted a higher save percentage four times this season when starting the game.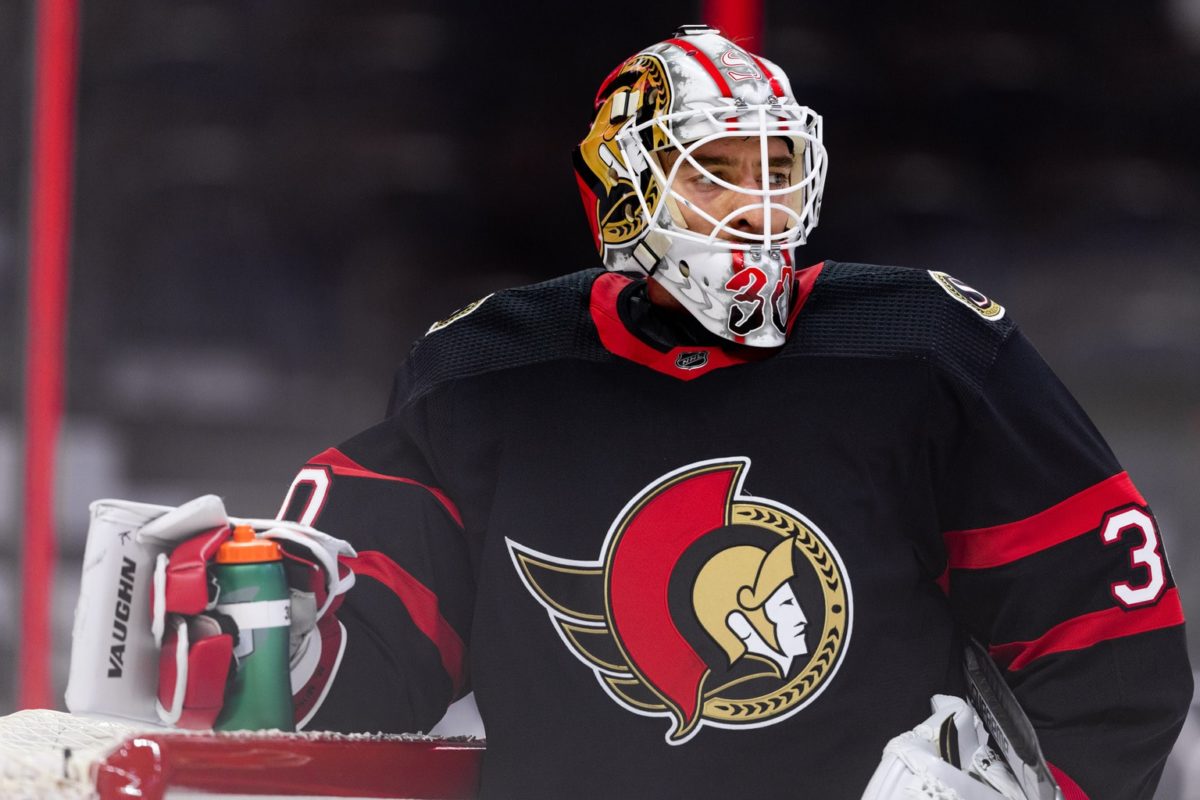 Daccord has started just twice since then, and both games were losses, but he's been fairly consistent. On the other hand, Murray has continued to be all over the place; on March 1, he had a .964 SV%, turning away 27 of 28 shots from the Calgary Flames, but then followed it up by allowing four goals on 11 shots before being replaced by Daccord. Murray's confidence is undoubtedly at rock bottom, and so, in an attempt to give him a boost, coach D.J. Smith left him in the entire March 10 game against the Oilers, stating, "Sometimes you just gotta work through it with your teammates." But it may not have helped as much as the team hoped.
The following night, Daccord was given the start, and once again, despite allowing six goals and recording another loss, he was in fairly good spirits. He faced 37 shots and managed to turn away 31 one of them for his third 30+ save performance this season over five appearances – Murray has accomplished that feat just seven times in 22 appearances.
Therefore, it begs the question – should Daccord be given the starting job for the next several games? Daccord has been the better goalie of late, and since the beginning of the season, the organization has stated that everyone, veteran and rookie, has to earn their spot on this team. Murray has been one of the worst records for a starting goalie in the NHL and so it might be time to give him a break. But it also seems that Murray has not been himself in Ottawa, which likely has to do with his confidence. Getting him back on track needs to be the Senators' top priority if they are to be competitive in the future. That is unless Daccord emerges as the team's starter. Then there will be a whole new set of questions, such as what they are to do with Murray's huge contract.
Item Four: Ridly Greig Suspended After Dangerous Hit
Many of the Senators' prospects have gotten off to great starts in the 2020-21 season. Sanderson, Bernard-Docker, and Pinto have been exceptional on a stacked North Dakota roster, while Roby Jarventie has been playing fairly well over in Finland. But Ridly Greig, the franchise's top WHL-based prospect got off to a troubling start on Friday when he shoved Moose Jaw Warriors' forward Brad Ginnell in the back, causing him to crash into the board head-first. While it has not been confirmed whether Ginnell was injured on the play, the league didn't delay in handing Greig a three-game suspension plus a game misconduct penalty for it.
It was common knowledge at the 2020 NHL Entry Draft that Greig liked to play on the edge, which made him a target to many clubs on draft day. He's a big, powerful, gritty forward and does whatever it takes to ensure his team wins. But it's not the first time his actions have led to disciplinary action from the WHL. Last season, he was suspended twice: the first came in the 2019-20 season opener against the Winnipeg Ice, when he was given three games for a hit to the head, and the second was in January when he collided into Red Deer Rebels' goalie Byron Fancy, for which he was suspended for two games for goaltender interference.
Ironically, Greig's game misconduct penalty likely cost the Brandon Wheat Kings' the win, as they ended up losing 4-3 in overtime to the Warriors. Does that mean that the Senators have a problem on their hands? The NHL has taken several steps in an effort to cut out these dangerous plays and promote player safety, but there are still some players that are frequently surrounded by controversy. Does Greig project to be more like a Brad Marchand, who is able to get under his opponent's skin and also play at a high level, or is he more of a Matt Cooke, who ended the career of Marc Savard with a reckless blindside hit? Only time will tell, but after this latest grievance, things don't seem promising.
What's Next for the Senators?
The Senators return home after their seven-game road trip to face the Maple Leafs for the sixth time this season, then host the Canucks and Flames before facing the Maple Leafs again. Aside from the Oilers, the Canucks are the only other team the Senators have not beaten at least once this season, but that may change, as Vancouver has been struggling lately, losing four of their last 10 games and have a 4-9-0 record on the road.
The Belleville Senators have also been struggling, but Yegor Sokolov and Alex Formenton have been heating up lately and could give the team the boost it needs to return as a top threat in the AHL's Canadian Division. Last season, the affiliate was one of the best teams in the league, sitting with 81 points before the season was canceled. As most of the players from that team are still on the roster, they have the talent to lead their division. But, like their NHL counterpart, they have gotten off to a rough start and may need a bit of a shakeup to get things going again.
---
---