The 1992-93 Ottawa Senators were a bad hockey team.
The following season, the Senators were not much better.
The 1995 Ottawa Rough Riders were a bad football team, but not as bad at football as the 1992-93 and 1993-94 Sens were at hockey.
So now, fast forward an entire generation, and we all wonder how bad this year's Ottawa Senators really are, and how close they are to turning things around.
As difficult as it seems to fathom, the Senators, despite holding down last place overall in the NHL, are not as bad as their record would indicate. And they certainly aren't in the same discussion of bad as the early 1990s Senators teams were.
Their thrilling 2-1 win over Winnipeg Saturday was a potential season-changer. It was their third win of the season – matching the 3-15 1995 Rough Riders. The Senators finally put it together for 60 minutes and got the result they were looking for.
This season, the Senators have had many periods where they have outplayed their opponents. In some of those periods, they badly outplayed the other team. But when they pour it on offensively, they have trouble finishing scoring chances. When they are being outplayed, they either lapse defensively or allow soft goals.
Sens Have Come a Long Way
"I think we've come a long way in the short season so far," said veteran forward Derek Stepan in a Zoom interview with the media before Ottawa's 5-1 road loss to the Winnipeg Jets Thursday (Feb. 11). "Last time we were here in this building I thought we played a really strong game. In this league, you can't give up inches."
The Senators won only one game out of the four they played before their current road trip, which had them playing in Winnipeg twice before heading to Toronto for three against the red hot Maple Leafs. Ottawa beat the Montreal Canadiens 3-2 in a game that goalie Matt Murray stole for them. They followed that up with a 2-1 loss to the Habs, and then suffered 3-1 and 3-2 losses to the Edmonton Oilers.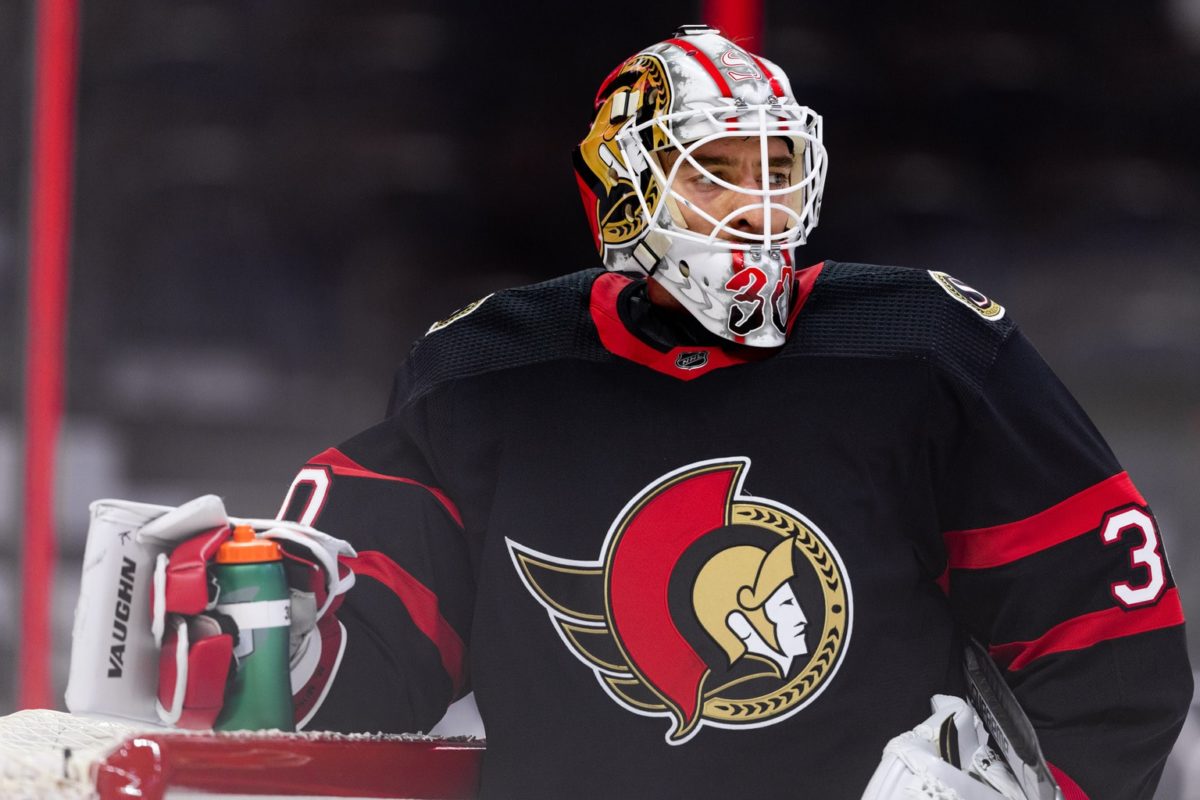 Ottawa could have won one, if not both, of the games against the Oilers. In the first game, they could not score. In the second game, goalie Marcus Hogberg was yanked after letting in three goals in 13 shots.
Hogberg, who had struggled so mightily it has been painful to watch at times this season, turned in a gem in Saturday's 2-1 win over the Jets.
"I really liked our last four games," Stepan said before the 5-1 loss in Winnipeg. "The results aren't there but the process and the 60 minutes of hockey is right on the tip.
"If we can find the consistency in the way we played the last four, the results will start to come."
In the first game in Winnipeg, the Senators once again had stretches of dominance. They had outshot the Jets 27-15 through the first two periods of the game, yet found themselves trailing 3-0. To rub salt in the wound, Murray was injured late in the third period. Hogberg played the final 20 minutes and let in a pair of goals. Mathieu Perrault scored for the Jets less than three minutes into the period, and it was one Hogberg would like to have back.
Saturday morning, the Senators recalled goalie Filip Gustavsson from the taxi squad and, in a corresponding move, placed forward Artem Anisimov on the taxi squad. Goalie Joey Daccord was not an option, as he is playing for the Belleville Senators and would have to quarantine if he traveled to Winnipeg. He could, theoretically, join the team in Toronto if needed.
Hogberg Shines in Winnipeg
While Hogberg turned in his best game of the season, and probably his best game as a Senator, Evgenii Dadonov scored in the second period and Brady Tkachuk scored on a tipped Mike Reilly shot with eight seconds left as the Senators won their third of the year.
For one night, anyway, the frustrations of problematic goaltending and offensive struggles can be tucked away by Sens fans. Bu the reality is that the Senators have scored 11 goals in seven games in the month of February. They are getting shots, but many of them are not quality shots. They also aren't getting the second and third chances that their opponents are getting.
After the second Edmonton game, Connor Brown told the media that the Sens "deserved a better fate" and that the team just has to "stick with it." Despite the lack of offense, Brown and Dadonov appear to be breaking out of their scoring slumps.
Although their young roster brings with it a crushing level of inexperience, Stepan thinks that the Senators' youth will be an advantage as the grueling 2020-21 NHL schedule is played through.
"We've got a younger group, but I like the way we've been competing," Stepan said. "I think it's an advantage for us as the season wears on. We've got young legs and guys that are ready to play each night."
Saturday's win lifted a big monkey off Hogberg's back.
"I felt good yesterday after practice, and I took that feeling into the game today," said Hogberg in a media Zoom session after Saturday's win. "I just focused one puck at a time."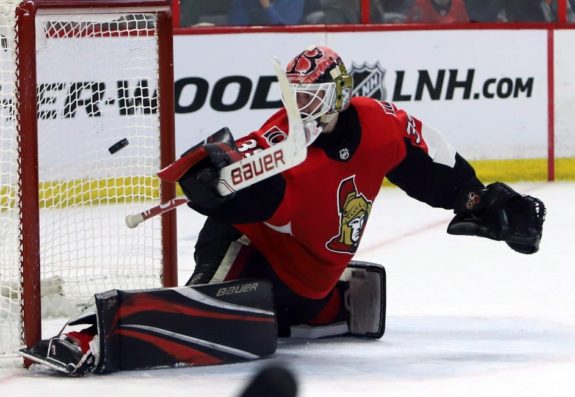 Hogberg said the Senators' defense played well, blocking shots and staying in their lanes. Their solid play, he said, made it easier for him to do his job.
"A couple of gamers I felt like my shoulders were pretty tight," he said. "I think I was just too aggressive. When I just relaxed and focused on what I can do out there I tried to stay in the moment and stay calm."
No one will argue the fact that the Senators have a bright future. Remember that as much as the early 1990s Senators struggled in their first two seasons, they were able to build their team around Alexei Yashin and add pieces to get to the next level. Some of those pieces were high draft picks, like Chris Phillips, Wade Redden, Radek Bonk and Marian Hossa. Others, like Daniel Alfredsson, were under-the-radar treasures found in the middle and later rounds of the draft.
---
Latest Senators Content:
---
The Senators already have some of those pieces in place. Thomas Chabot, Brady Tkachuk and Tim Stützle are franchise cornerstones. They had three of the AHL's top seven scorers last year in Josh Norris, Drake Batherson and Alex Formenton. They also have a deep crop of blue line prospects that is arguably the best in hockey. That crop might get even deeper as four of the first five players in NHL.com's draft rankings are defencemen.
But for now, what they need is not more prospects. A few more lucky bounces offensively and a few more key saves by their goalies might be all it takes to make this year's Senators competitive.
---
---
Jeff Morris has been a hockey writer for more than 30 years. He began his career working for small town newspapers in Eastern Ontario before becoming the editor of Canadian Sports Collector magazine in St. Catharines, ON. While there, he also freelanced as a Buffalo Sabres beat writer. Morris would move on to Dallas to become the NHL brand manager at Pinnacle Brands, Inc. From there, he worked in the sports trading card and collectibles division at Shop At Home TV in Nashville and Denver, and then moved to Seattle to be the VP of Marketing at Pacific Trading Cards, Inc. in Seattle. He had continued to cover the NHL as a freelance writer, and while in Seattle, he became a weekly hockey columnist for ESPN.com. During the 2005 NHL lockout, he returned to Ottawa and became a newspaper and magazine publisher and editor, and was also an NHL contributor for Fox Sports Radio. He also began covering the NHL for Hockeyology.com, and also covered the Ottawa Senators for his own publications. He went to Carleton University to study journalism, and graduated as the school's all-time scoring leader in football and was a conference all-star three times. He had several pro tryouts and played semi-pro football for 10 years while pursuing his career as an NHL writer. He remains involved in football as a coach and referee, and is a Canadian Football League off-field official.