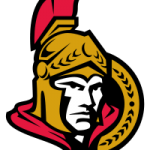 34 year old Canadian Golf Professional, Brad Fritsch, has achieved his lifelong professional goal, and both he and the Ottawa Senators couldn't be happier. The Ottawa Senators organization announced a unique and interesting partnership this past Monday October 29th, 2012 with the Manitock, Ontario resident. The news came following his weekend performance, a tie for ninth place, at the Web.com Tour Championship at the TPC Craig Ranch in Texas, the tours' final event. The significance of the strong performance was that it saw him finish 18th on the Web.com Tour Money list, which earned him his PGA Tour Card for next season. Fritsch, has grown up a lifelong Senators fan, following the team for their entire 20 year rebirth, and now will get to sport his team's logo proudly on his golf bag and shirt each weekend starting in January.
The two sides formulated the partnership this past summer as Fritsch worked towards his professional goal of reaching the PGA Tour. Ottawa Senators Vice-President of Marketing, Jeff Kyle, said of the deal "We entered into this partnership with Brad because we believe that many of his best qualities, including his dedication and perseverance, reflect much of what the Ottawa Senators organization is all about." It's clear that the newly minted PGA pro was pleased as well, "I am overjoyed to partner with and represent the NHL team that I've grown up with the last 20 years" said Fritsch.
The Ottawa Senators are in a unique position in professional sports today, although not as uncommon in Canada, of being the only professional sports team in the city. Although hockey needs no extra selling points in Canada, certainly not in the nations' capital, it can be said that this creates an even stronger and closer bond between the city and the team. The team is truly a part of the city and the city is a part of the team. It's a position that makes partnerships like this possible and all the more special to fans of both the Senators and Brad Fritsch. Fans of Brad and the Sens will be hoping to see that logo a lot on Saturdays and Sundays this coming PGA Tour season, as the rookie will try and surprise this year just as his favorite team did with the NHL last season. One thing is for certain, the Ottawa region has a lot to look forward to and we will all be hoping that the Ottawa Senators are well into their new season before Brad Fritsch begins his.