Both parties admitted to busy schedules, but that seems only an excuse. The future of soon-to-be 40-year-old Shane Doan is not in doubt. He will return as captain of the Arizona Coyotes next season, and could be his final.
After leading the Coyotes in goals last season and displaying his usual leadership role in the clubhouse, Doan, a right winger by trade, will sport his familiar No. 19 again this coming season throughout NHL arenas. Despite his current contract up by the end of this month, Doan has expressed desire to remain with a franchise in which he has been an integral part over the last two decades.
The bottom line is that Doan wants to come back, and the Coyotes want him back. While details still have to be concluded, Doan and the Coyotes will likely settle on a one-year deal. Part of the contract may include elevation to a management position within the organization, but, at this point, that doesn't seem to draw much attention.
"(Doan) was our best scorer, and who wouldn't want a player like that back again," said coach Dave Tippett. "We still have to work out a few details, but we want him back. Plus, he wants to come back."
While Doan has been the face and substance of this franchise for nearly the past 20 years, he remains one of the highest profiled players in the NHL without a Stanley Cup ring. At best, a reasonable opportunity to get his name on Lord Stanley's chalice alluded him between two cities and nearly two decades.
During the NHL lockout a few years ago, Doan was heavily courted by both the New York Rangers and Philadelphia Flyers. The Rangers were so aggressive in reaching out that Doan was helicoptered around Manhattan with VIP treatment. In the end, he said "no" to all suitors, remained committed to his family with roots deep in the desert, and his high profile in the greater Phoenix area.
Now, Doan's opportunity to skate at center ice with the Cup is as unlikely an ice cream cone surviving the ghastly desert heat. Given perhaps one more year in Sedona Red, Doan will likely relish an opportunity to mentor Max Domi, Anthony Duclair, Dylan Strome, Christian Dvorak and other young players likely to make an impact over the coming seasons.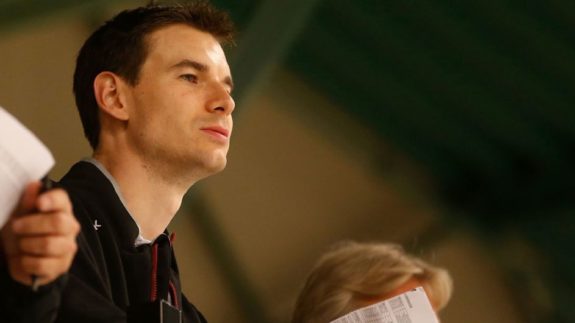 "We've had long discussions with Shane and his agent, and we'll get it resolved," promised new general manager John Chayka. "The talks are real positive, and yes, I'm certain he'll be back."
If Doan returns, he will likely retain his role from last season. Though he topped the Coyotes in goals scored with 28, he also cut down dramatically in his plus-minus numbers. For the 2014-15 season, Doan was a minus-29, the lowest number in his NHL career. The previous high was a minus-14 during the 2006-07 season. Last season, Doan was a plus-4.
For most of last season, Tippett had Doan on a third line and as a principal penalty killer. In that capacity, the captain was able to bridge between the swift line of Domi-Duclair and Tobias Rieder and the fourth, usually the checking line. For his part, Doan managed to repeatedly hang 'round the crease, and his 6-feet-1, 223 pound frame continually banged opponents around the net.
For now, Doan's value to this franchise is telling. An important and instrumental voice in the clubhouse and a vibrant asset in the community, Doan's worth is clearly recognized. Don't be surprised to see him skating on opening night with a possible line of Brad Richardson in the middle and Dvorak on the left wing.
The Envelope Please
On Saturday, June 18, the Coyotes will help unveil the nickname and logo for their AHL affiliate in Tucson, Arizona.
Moving the franchise from Springfield, Mass. to a location just a two-hour drive down Interstate 10, the desire was to have players closer to the franchise, and for team officials to keep a closer look. Over the past two years, several NHL Western Conference organizations put their AHL teams in close proximity to the core base of operation. Recently, the Coyotes took a similar step. That's when they purchased the Springfield AHL franchise and moved operations from the icy northeast to a location where club officials can keep a greater and watchful eye.
The Tucson Convention Center, build in 1971 and the home rink, is presently undergoing a $4 million renovation. This includes new ice-making equipment, new dasher boards, new locker rooms, new concession stands and construction of a new press box. Seating capacity for hockey should be around 7,000, and all work is scheduled to be completed in time for start of the season in early October.