Far be it from me to distract the hockey dwelling public at their greatest hour, but in case you weren't looking, several big dominoes have already fallen this offseason. Perhaps the most startling was the report that the Los Angeles Kings, for the first time in nearly a decade, are looking for a new captain. Dustin Brown's worn the C for eight distinguished seasons in LA. He's played the game with passion and enthusiasm his entire career. In 2012, Brown became the first Kings player in history to joyfully hoist the Stanley Cup above his head. And now he has been stripped of the captaincy.
The move itself might be surprising, but the fact that the Kings took some form of action regarding their now former leader is far from shocking. Brown's production has dried up quicker than Sports Authority's, as he's netted a measly 82 points in the previous three seasons combined. Those modest numbers should reflect a modest contract, which is the farthest thing from Brown's bank account. The Kings signed their captain to an eight-year, $47 million extension in the summer of 2013 when Brown was at the peak of his NHL powers. L.A. wanted Brown firmly in their long-term plans, and they paid a hefty price which included a $5.875 million cap hit each season, through 2021-22.
My colleagues here at The Hockey Writers have done a great job explaining why the Kings move, why it's hard to blame Brown for signing such a monster contract in the first place, and how it could actually benefit Brown himself. But I keep coming back to two questions:
What does Brown have left in the tank?
And of course…
Who's next in line as L.A.'s captain?
Some answers are not so simple.
An Inevitable Move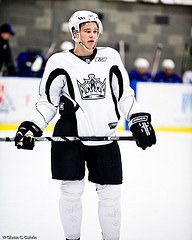 Let's take it back to 2008. The economy was in shambles, Jaromir Jagr was only 36 years old, and Michael Phelps was ripping through the competition (sometimes a pool was involved). The Kings were in the midst of their franchise's darkest hour, with little to show from years of inactivity and poor decision making. Except for a few dynamic young pieces.
Brown was one of those young pieces. Naming him captain was 100% the right call, and one that I'm sure would be made again given the circumstances. Of the few veterans the Kings did have, most were not going to be around by the time the team became relevant. L.A. needed skill and toughness in their leadership role, and they needed someone who would set the tone in all areas of the ice. It didn't have to be the best guy, as Herb Brooks once said, just the right guy.
Of course, Brown was coming off of a 33 goal season (which turned out to be his career high) and was viewed as a top line forward. Throughout all the Kings early successes and first Cup win, that remained the case. But something interesting seems to happen to many forwards as they hit their late 20s. skating speed diminishes, statistics dwindle, and within months a player could resemble of a shell of their former self.
Stripping the captaincy was a bold move but in my mind the right one. With the team in an interesting state of reloading talent, the Kings may be best suited with a new chief voice in their locker room. But the position was also adding undesired pressure on a player who clearly needs to reevaluate his own game. At this point in his career, Brown is a third liner, at best. If he keeps deteriorating at his current pace, he will be watching games from the press box with the rest of the healthy scratches very soon. As a hockey team, you need a leader who is right at the center of the action. Brown remains respected in the dressing room, but it's very clear that the Kings worry his game won't allow him to be there for his teammates.
Brown's Future with the Kings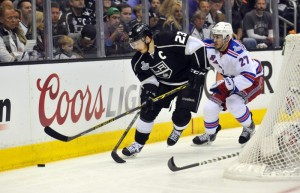 I know it looks like I planned Brown's funeral in that last section, but I'm not ready to throw the embattled King six feet under just yet. First off, there's no way L.A. can realistically get rid of him. Brown's contract is such an albatross that Bernie Madoff thinks it would be hard to find a trading partner this summer. And a buyout could provide some relief, but how much? The Kings would be saving a fraction of Brown's massive cap hit by paying him money for the next thirteen years. For an organization still paying for Mike Richards' retirement fund, I just don't see the logic in this case.
With six years remaining on his extension, I doubt any trades are realistic until the summer of 2019. By then, a team with excess cash could be in play, and the Kings will only have to part with a few young assets (the only way a deal will get done, by the way). So what happens in that time frame?
Evaluating His Game
I'm on record for questioning Brown's current reliability as an NHL player, but there is still a place on this team for him to contribute. It starts with lowering expectations, which taking the captaincy away from him should have done. Is Brown a first line guy anymore?
Absolutely not. But he can certainly help provide depth and attention to detail on L.A.'s third or fourth line. He's already shown his commitment through a relentless work ethic that includes a dedication to fitness and his diet. If Brown continues to show up each season in shape, that will make his role all the more pivotal. And even if he's not scoring goals or registering assists, there's always a place in the game for him to do this:
This was the quintessential Dustin Brown play. Move your feet, throw a hit, and help a teammate deliver in a big moment. No hockey coach will turn away this work effort, and there is always a place in a lineup for somebody willing to give it their all. Pittsburgh's Matt Cullen is still churning in quality shifts in the Stanley Cup at the tender age of 39, and it has nothing to do with elite scoring. Cullen protects the defensive zone with his life, takes key faceoffs, and kills penalties. There's no reason to believe that Brown can't do the same.
A New, Familiar Face of the Franchise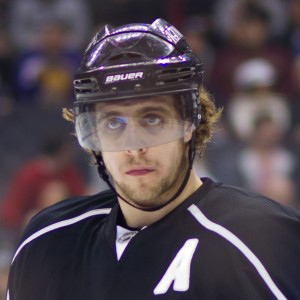 On the flip side of this awkward breakup, the Kings are looking for a new leader on their roster. As far as search parties go, this should be effortless. Anze Kopitar is the man, end of story. Unless he flat-out rejects the job, or Drew Doughty's leadership qualities are vastly underrated and undersold by his coworkers, I can't see any other option at captain. Kopitar has led the team in scoring for nine straight seasons, plays two-way hockey as good as anyone in the NHL, and is still, somehow, under 30. In many ways, Kopitar is already the face of the franchise, and a letter on his jersey will only announce to the league what the Kings have known for a decade.
Part of being good at anything in life is availability. The Kings know that Kopitar will be in the fold for many years to come, and his production hasn't come close to dipping. I mentioned earlier that forwards can fall off of a statistical cliff, but there are warning signs that do not go unnoticed. With Kopitar, they simply don't exist. He hits. He kills penalties. And if need be, he'll fight. Kopitar also has a knack for understanding the moment and identifying how he can best serve his club. Maybe it's time for him to start shooting more or throw a big hit. Or maybe he needs to let his teammates guide the attack. Leadership isn't always loud and doesn't have to be a one-person effort. #11 knows that, and he will make an extraordinary captain.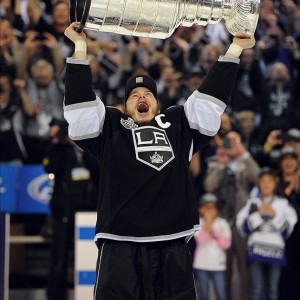 Kopitar needs to be the captain for one final reason, and it involves the man he is replacing. This is without question going to be an odd situation, and Brown will have to cope with the fact that he lost a crucial job on the only NHL team he's ever known. But if he had to lose it to anyone, at least it's somebody he respects immensely. The Brown to Kopitar transition should be smoother than most because Brown has accomplished great accolades with his Slovenian teammate. This isn't a newcomer or an outsider expected to lead, it's one of the greatest L.A. Kings of all time. And it's a guy who won't shut out the input of the former captain. Kopitar will still listen, and Brown will still lead, albeit in a different role.
Dustin Brown and the L.A. Kings are finalizing a divorce on amicable terms. Heck, there's still a locker room full of "kids" to think about. But knowing what I know about the professionalism of Brown, the visionary skills of the front office, and the resiliency of the roster, I trust that everyone will make it work.
Just a hockey loving American. I grew up in Cleveland, Ohio, and attended Saint Louis University where I skated for the Billikens. From 2013-14 I covered the St. Louis Blues for ESPN Radio St. Louis. I currently work in sports video production in Los Angeles, and will always show solidarity for stay-at-home defenseman.