When breakout players have been discussed this season, the main player acknowledged has undoubtedly been Tage Thompson of the Buffalo Sabres who seemingly overnight became a superstar-level player. The San Jose Sharks have had a breakout player of their own, although he certainly hasn't been even close to the same level as Thompson. Alexander Barabanov has had a great season regardless and is becoming the player many expected him to be when he made the jump from the Kontinental Hockey League (KHL).
Barabanov's Arrival in San Jose
Barabanov was acquired in a seemingly minor trade nearly two years ago, in a one-for-one swap for center Antti Suomela. Prior to his move to the Bay Area, the Russian forward had only received 13 games of NHL experience after signing as a free agent with the Toronto Maple Leafs and not gaining enough traction to keep himself in their lineup regularly. Two years later, he's thriving at the NHL level while Suomela was unable to make it stick in North America entirely and has spent the 2022-23 season with IK Oskarshamn of the Swedish Hockey League.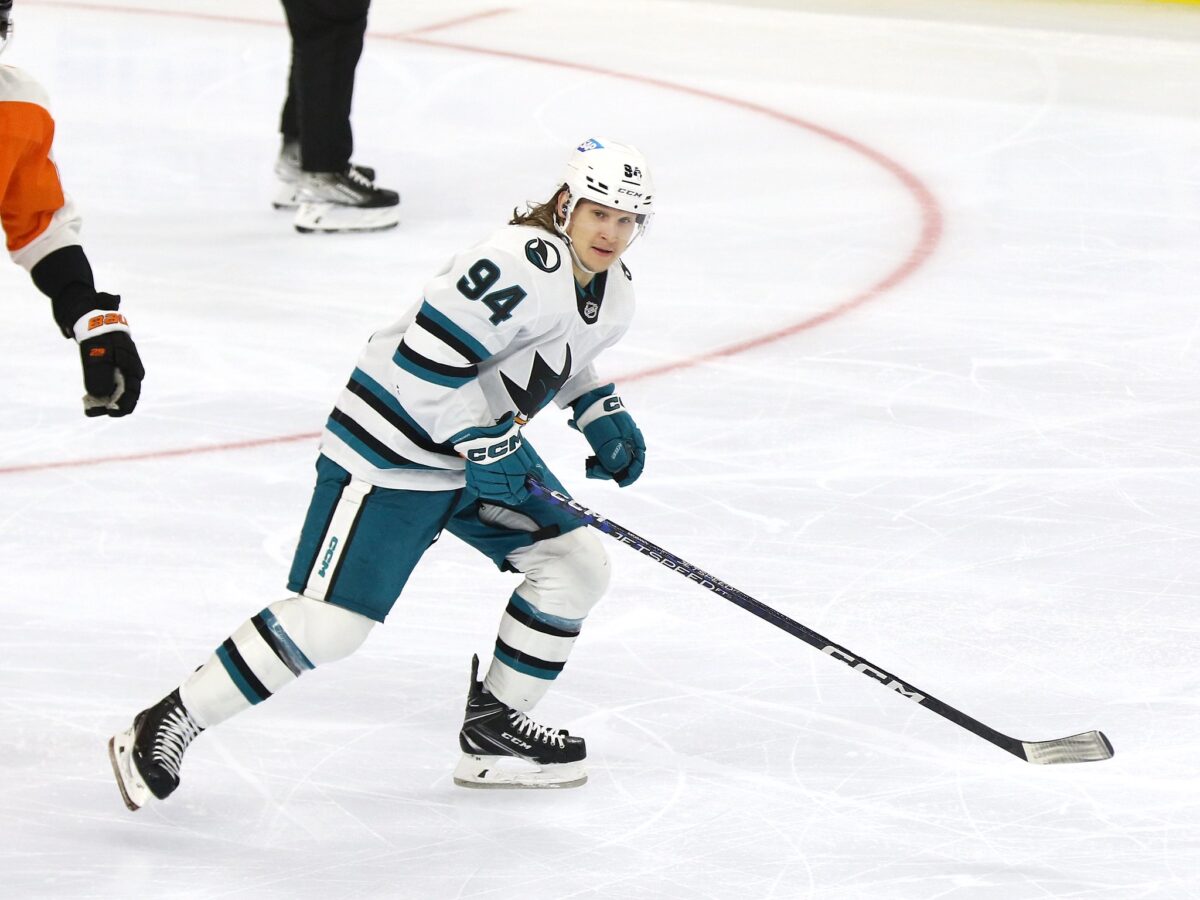 So far this season, Barabanov has become one of the Sharks' most valuable forwards. While he hasn't overtaken any of the team's stars like Timo Meier, Logan Couture, or Tomas Hertl, he's become the best of the rest so to speak. On a team that has been struggling to find any type of depth scoring, it's been massively beneficial for him to break out. He's currently spending his time on the second line and has become a key part of the first power play unit as well. 
Barabanov's Breakout Season
During the 2021-22 season, Barabanov had a breakout campaign, but not nearly to this extent. In 70 games, he scored ten goals and added 29 assists for a total of 39 points in his first full NHL season. This time around, he's nearly reached the same level of production in 20 fewer games. Through 50 games, he has nine goals and 26 assists for a total of 35 points. That's exactly .70 points per game, compared to roughly .56 points per game last season. If he continues to develop at the same rate, he can become a much more valuable asset next season. At 28 years of age, the Sharks will have a decision on their hands when he reaches unrestricted free agency at the end of next season, however, they should certainly attempt to sign an extension well before that happens. He will certainly expect a major pay raise as he's only making $2.5 million a season.
Related: Sharks Cap Retention Policy Could Cost the Oilers Evan Bouchard
---
Latest News & Highlights
---
Recent performances have been strong as well, although Barabanov was held pointless against the Pittsburgh Penguins, he had a four-game point streak prior to that. Two of those four games were multi-point outings as well. Finding consistency will be key for him though, as prior to that streak he went four straight without a point. If he can find a way to get on the scoresheet more regularly, he should become a well-known name around the NHL. 
It makes sense that Barabanov isn't getting much media attention considering the fact that he's on a team in the basement of the Pacific Division alongside the breakout of many other players to a larger extent. He has quickly turned himself into a valuable player for the Sharks though and assuming he's able to stay healthy, then he'll almost certainly finish the season with career-highs in every offensive statistic. He's entering his prime years and as a result, his future in San Jose might not be very long, however, he's becoming one of the pieces that they should look to hang onto if possible.