I have to admit it. I was critical of these two. Very critical. But, it turns out, the two most goon-like players in San Jose are their biggest good luck charms. With Mike Brown in the lineup, the Sharks are 7-1-0. In John Scott's 12 games, the story is the same. San Jose sports a 7-4-1 record with the giant patrolling the ice. Are the Sharks enforcers the key to success?
Well, not exactly. But they aren't as bad as you think!
 Timelines for Scott and Brown
Mike Brown and John Scott are recent additions to the Sharks. Here's a quick rundown of their time in the Bay Area.
October 21, 2013: Edmonton sends Mike Brown to San Jose for a 4th round pick
Mike Brown earns 5 points in a half season with San Jose
Brown has an impact in the first two games of the Sharks doomed postseason series against LA
June 17, 2014: Mike Brown gets a two-year deal
July 2, 2014: John Scott is signed
October 2014: Mike Brown starts the Sharks first two games (both shutouts)
October 14, 2014: John Scott inexplicably scores a goal against the Capitals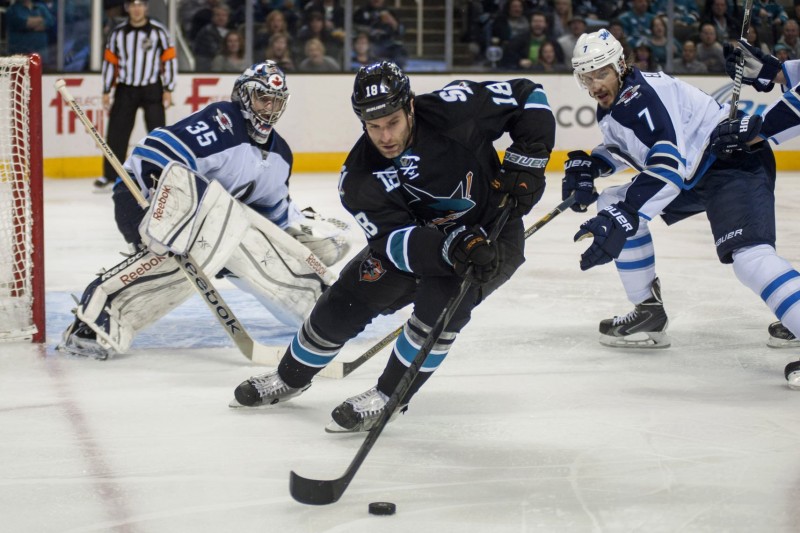 Sharks Enforcers or Good Locker Room Guys?
Not much is made of these two and their offensive prowess. But both Doug Wilson and Todd McLellan have given many anecdotes about their presence. Mike Brown "skates hard" and "works in the dirty corners" while John Scott is a "great guy to have in the locker room." But is that all they really add to this team?
So far, John Scott has posted 2 points and amassed 24 PIM in his 12 games. However, his shooting percentage is a gaudy 16.7%, maybe he's got a shooting touch? No, I'm kidding. Mike Brown in his 8 appearances has not recorded a point. So, we know the scoresheet isn't going to give us much.
The above photo, however, doesn't do the duo justice. There is a secret hiding in the advanced statistics land many are afraid to venture too deeply into.
Game Situations: Why They Matter in Advanced Stats
If you take a stroll down Corsi lane, neither Mike Brown or John Scott will wow you. But you probably aren't looking at the right stats. The knock on Corsi and other stats is that they are utilized as the end all, be all predictor of success. This can be reversed as well. The Sharks enforcers and their Corsi and other advanced metrics are not examined close enough.
Mike Brown: Corsi Wonder Kid?
Per War-on-Ice.com, Mike Brown's CF% in even strength situations is under 40% right now. His shot differential per 60 minutes is a dreadful -9.5. His fourth line is not a possession unit, obviously. His energy is his biggest asset. It can ignite the Sharks if they are listing lazily to a loss. He relishes his enforcer role, really.
But go further. As most hockey fans know, stats are not all recorded in the same circumstances. Fourth liners like Brown may get minutes when games are far out of reach and the coach is experimenting with lines. To get a useful advanced stat, hockey investigator, you must examine game situations when the score is "close." This is defined as a team being within 1 goal.
When the Sharks are tied, trailing by one, or leading by one Mike Brown's stats are eye-popping. His shot differential per 60 jumps a massive 13.7 points. He is a positive shot differential guy when the game is on the line! But it doesn't end there. As you would imagine (with his shot differential jumping), his Corsi For percentage gets a bump as well. From 39.6% in All situations, Mike Brown is nearly up 8 points to 47.2% in close games.
John Scott: Goal Scoring Extraordinaire
John Scott is supposed to be the deterrent to keep people from hurting his teammates. He is also kind of a pylon when it comes to playing defense. That shows on his goals for percentage and his shot differential. In all situations, he has a -6.1 shot differential per 60 minutes and his team owns a 42.9% goals for. But, the close games are again a different story. The shot differential per 60 jumps 12.4 points and the goals for increases to 66.7%!
And just for fun, in 5v5 situations John Scott has drawn 5 penalties against taking just 2. He gives the big guys up top a chance to score on the power play too!
You Can't Be Serious, These Guys Are Just Pylons
Mike Brown has spent 43 of his 63 total minutes this season in close game situations. John Scott is in close situations nearly two-thirds of the time. This is at a slightly lower rate than top liners like Logan Couture and Joe Thornton who hover around 78% of their playing time.
Granted, this is a small sample size, it is not for lack of competition. The Sharks enforcers have played against teams in the top 10 of their conference 10 out of 14 games. In the current playoff picture, they only lost to one playoff team (the Islanders in a shootout).
Don't get it twisted. These guys are not the ones scoring and dominating the headlines. But they are the role players. Sharks enforcers are important in the capacity of disrupting an opponent's gameplan. At some point, the record with these guys out there has to flatten out and become realistic, right?
The Sharks enforcers are out there to energize the team. There is no stat that tracks energy. The shot differential is higher because the opponent is picking himself up off the ground. The play gets hectic and things get out of hand. Apparently, Sharks enforcers thrive on that chaos. A 5-1-0 record with the two together may indicate that.
Chemistry is often talked about on teams, but the goons are usually ignored. What if the reason behind the Sharks resurgence isn't a return to SAP Center, but a healthy fourth line?