In the month of September, hockey fans see the impending start of the regular season less than a month away.  The anticipation for a full season of NHL games will undoubtedly make this the longest month of the season for fans.  The Sharks teased new jerseys, but that is not nearly enough.  A Sharks forwards preview should hold some of us over for a few more days.  After that, the defense will get its report as well.  But for now, let's see if the Sharks will have an easier time scoring this year.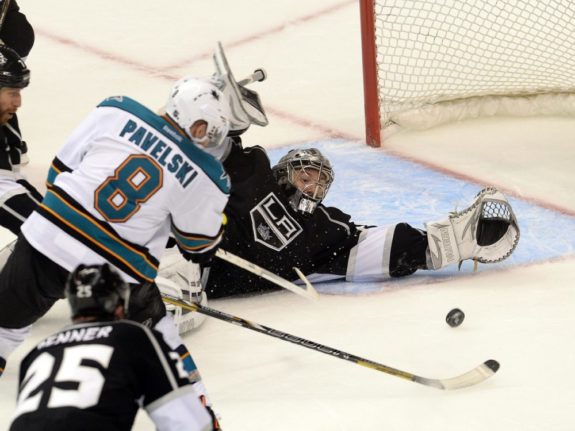 The Good News
The Sharks have been surprisingly competitive almost every season in the majority of their existence.  It comes from an innate ability to turn in a competitive roster every season.  The old guys can still produce and the front office locks up enough young talent to secure the future.  This offseason featured more of the same for GM Doug Wilson and his assistants.  Logan Couture and Joe Pavelski, the future faces of the franchise, were both locked into five year deals.  Whether or not the two should have received identical contracts, and they should not have, the future is bright in San Jose.
As mentioned earlier, the Sharks enjoy solid production from their men on the other side of 30.  Joe Thornton is a true leader and has developed into a wonderful playmaker.  Patrick Marleau still retains elite NHL speed and can hit hot streaks at any moment.  His production will only add to the goal totals of Couture and Pavelski.
Lastly, the highly touted prospect, Tomas Hertl, looks to make a big impact this season on the starting squad.  His skills are undeniable and with multiple sources of veteran leadership, he will likely enjoy a prosperous career in the NHL.
The Bad News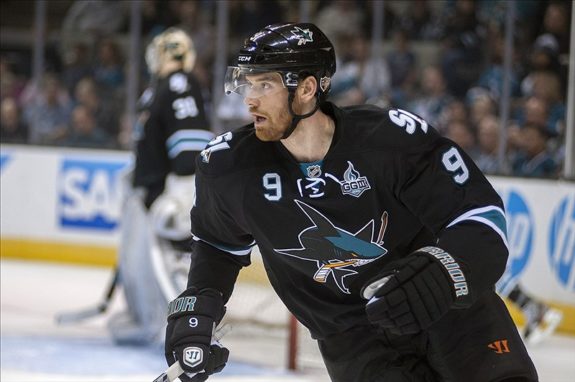 The thing is, the offseason had some positives to it.  But nothing really exploded off the page at the Sharks website.  A Sharks forwards preview from this season is going to look eerily familiar to a Sharks forwards preview from the lockout shortened campaign.  There are virtually no new impact players to change the offensive woes of the second lowest scoring playoff team from 2013.
Sure, Raffi Torres and Brent Burns are now permanent staples of the forwards.  But are they really the long-term answer to scoring struggles?  For one, Torres is a loose cannon and a favorite target of the NHL brass for suspensions.  And Brent Burns thrived in a few weeks up front with Thornton, but the postseason saw his power surge quickly disappear as he played against the league's best.
Lastly, and I really want to avoid spending too much time on this one, Martin Havlat is still getting a paycheck from San Jose.  His injury has forced San Jose to keep him on payroll this season and even coming back will likely not improve his standing with the organization.  He was not trusted to finish either of the playoff games he played and it would be a surprise if he reached double digits in goals this year.
Sharks Forwards Preview: 2013-14 Report Cards
Let's take a look at the expectation for 12 forwards expected to get major playing time this season.  The Sharks forwards preview will look a lot like grade school progress reports.
Joe Thornton, Center: B+
It's Joe Thornton, he stays healthy, he makes smart plays, and he molds young talent.  He will likely center the second line behind Logan Couture's first line.  The assumption is that he will play with Tomas Hertl directly to give the teenager the best results possible in his young career.  Every season he loses a step, but what he loses in speed he makes up for in hockey IQ.  Expect a 60-70 point season with the vast majority of the points being assists to Hertl or Wingels.
Patrick Marleau, Wing: B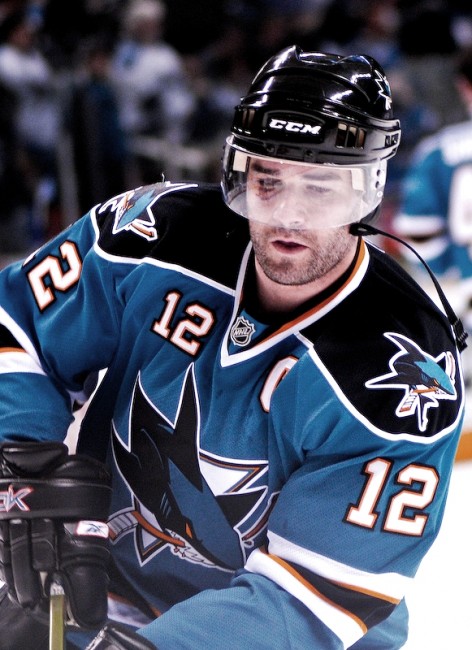 I will never get over Patty's streaks.  Whether they be hot or cold, Marleau is a slave to trends.  He can go weeks without netting a goal or he can score nine in five games.  He may have the breakaway speed to compete with the young stars of the NHL, but his inability to consistently produce will make this season one of his slowest.  He will still produce plenty on an offensively challenged team like the Sharks, but I can only expect 55-65 points out of Patty this year.
Logan Couture, Center: A+
Not only is Logan Couture the future of San Jose, the young forward represents a future of the NHL.  His talent is undeniable and it comes in more than one zone on the ice.  He was second among all forwards in the league with 51 blocked shots.  He has the energy level of third and fourth line skaters, but the skill of top scorers.  He is still very young and his prime is seasons away.  With a talented supporting cast behind him, Couture will benefit from being the go-to scorer for the Sharks.  Expect Couture to score at least 80 points.  And that's a low estimate.
Joe Pavelski, Center: A-
People often overlook the raw talent that Joe Pavelski possesses.  His goals are not snipe jobs from the faceoff dots nor are they mighty blasts from the blue line.  He scores with his heart and his mind.  His hockey IQ is off the charts.  He knows right where to be during every shift.  His heart deludes him into believing he weighs forty pounds more than he actually does.  This season will see him take on a further leadership role with fellow youngster, Logan Couture.  While he can fall victim to streaks, they last much less time due to his effort level.  Expect Pavelski to score 70-80 points.
Brent Burns, Wing: B
No-one really knows what to expect from Brent Burns.  He exploded onto the scene last season and made more of an impact than anyone could have imagined.  But this season, he will not be able to catch the league by surprise.  He has made the shift from defense to full-time winger.  He dried up in the playoff run and many are worried that he will not produce this season.  He brought a dimension of scoring that was nearly absent with 7 even strength goals.  But, unless he is paired with Jumbo J0e Thornton again, his opportunities to score will be limited.  On the third line, his points will drop.  And of course, he is not a natural forward.  Burns will likely top out at 50 points.
Raffi Torres, Wing: B-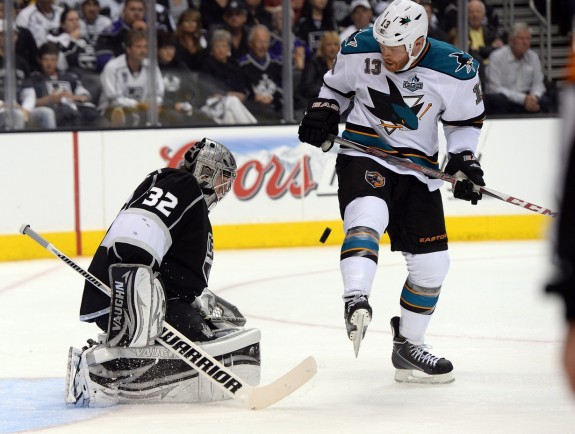 Unfortunately, it is only a matter of time before Torres' reckless play "earns" him another suspension.  He will be the big forechecker and lower the boom just like he does every year.  But, in his 11 seasons in the NHL, Torres has only played 75 games four times in a single season.  His talent is not in scoring 100 points in a season; rather, it lies in his physicality.  He embodies the two-way game that coach McLellan stresses.  He will only score around 30-40 points, but that is not what we look for in his play.  He will make the third line extremely difficult to score against.  But his reputation will ultimately cost the club.
Tomas Hertl, Center/Wing: B+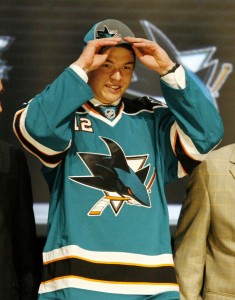 The best case scenario for the youngster is that Joe Thornton works his magic and brings Hertl his full potential.  He has a chance to make an immediate impact with his skill.  He is fast and has a deadly shot.  Hertl has what the Sharks never have.  Hertl could one day possibly be an MVP candidate.  He could win a scoring title.  He has the quick hands and shooting ability of Marleau, yet the IQ of a young Joe Thornton.  He may lack speed, but they said the same about Logan Couture.  With two sharpshooters on the squad and the leadership of Joe Thornton, the Sharks can do serious damage.  But that is a lot of pressure for a teen.  Expect the rookie to score 40-50 points as he gets used to the NHL.
Tommy Wingels, Wing: C+
He's not a superstar.  But he definitely is not a traffic cone either.  Wingels has had big impacts on games in the past.  He led the Sharks with 3 points in the second of the home-and-home series against the Ducks.  His physicality and energy helped keep the Sharks competitive when the checking line was on.  Being deep on all four lines matters, and Wingels will  be a key.  He will not score more than 30 points, but he will hold his own with the majority of the league.
Tyler Kennedy, Wing: B-
The only real addition to the Sharks lineup is veteran Tyler Kennedy.  He was often looked over on a team full of superstars in Pittsburgh.  Kennedy is not a scorer, but he fits in perfectly with the Sharks' scheme.  He plays both zones effectively and brings a veteran presence to the bottom six.  While he averages more than 30 points in full seasons, that is likely a product of the high-powered offense of the Penguins.  Expect him to lead the third line but not score more than thirty points.
Sheppard, Desjardins, Burish, 4th line: D+
The fourth line is not meant to be built of superstars.  In the majority of game situations, they will not see superstars opposing them either.  The Sharks fourth liners have been decent at best.  In the shortened season, Burish, Sheppard, and Desjardins had a combined plus/minus rating of -22 and only totaled ten points all season.  James Sheppard was poor in the faceoff circle, Andrew Desjardins spent more time in the sin bin this season than a full season the year earlier, and Adam Burish was a pleasant surprise just making it all the way through the regular season avoiding major injury.  Again, there isn't a lot you should expect from the fourth line, but the Sharks do not boast a competitive one.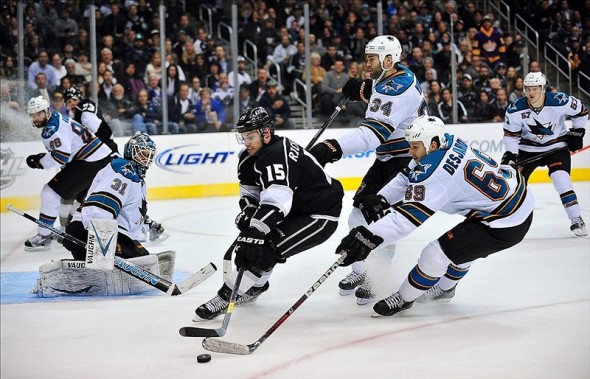 Sharks and Minnows
The Sharks thrive on the top lines.  There are talented players in the top six, but the dropoff after that is dramatic.  They boast three extremely talented centers in Couture, Thornton, and Pavelski making them scary at the faceoff circle.  On the wing though, the Sharks get thin.  Patrick Marleau and Tomas Hertl are talented, but when the rest of the offense hinges on a troublemaker in Raffi Torres and a natural blue liner in Brent Burns, problems arise.  This Sharks forwards preview ends with the roster looking more or less the same as last season.  The Sharks will likely struggle to score on a consistent basis.  Expect the goals per game rank to increase from 24th in 2013 to 18th-21st.