One of the big disappointments for the Winnipeg Jets last season was unquestionably the play of Olli Jokinen.  Before the start of last season, Jokinen inked a two-year $9 million deal with the Jets.  Many expected the Finnish Center, who was coming off a 61 point season in Calgary, would be the 1st line scoring threat the Jets needed.  Even at 33, most expected that Jokinen – a four time 30+ goal scorer – had enough tread left on the tire to be a productive member of the team.
Unfortunately for the Jets and Jets fans, last season was a major disappointment.  Jokinen finished with just 14 points (7 goals and 7 assists) in 45 games.  The season was such a disappointment that some believed Winnipeg would buy out the final year of Jokinen's contract.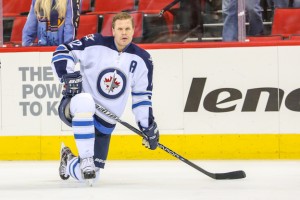 The buyout didn't occur, Jokinen will be back and he insists he will be dramatically improved in 2013.  Jokinen went as far as to tell the Winnipeg Sun that he has "five, six big seasons left."
According to Jokinen, "I'm not nearly as done as you guys probably think."
The conventional wisdom is that the Jets, who finished just 4 points out of the playoffs, would be well-served by a return to form by Jokinen.  Often, however, conventional wisdom isn't always on point, and this may be one of those times.
A bounce back by Jokinen would certainly help in the short-term, but for a young Jets squad, would any short-term gain be worth possibly delaying the development of Mark Scheifele?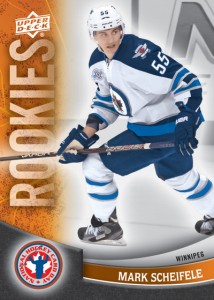 Scheifele, the Jets 1st round pick in 2011 (and the 7th overall pick in that draft), has dominated in Juniors – he scored 63 points (23 goals and 40 assists) in just 47 games for Barrie last year.  Scheifele is clearly the future for the Jets and a return to form by Jokinen would relegate Scheifele to reduced playing time on the 3rd or 4th line in Winnipeg or mean the talented young center would head to Saint John to play for the Jets AHL affiliate.
Some Winnipeg observers believe that Schiefele would be a better fit on the 2nd line than even a revitalized Jokinen.  Indeed, that's exactly what Dave Minuk, of IllegalCurve.com and a contributor to the Illegal Curve Hockey Show on TSN1290, told me via email:
As of right now the first two lines for the Jets are as follows:

Little Ladd Wheeler

Kane _____ Setoguchi

Now the conventional thought in Winnipeg is that Scheifele would fit best on that 2nd line because he is a passer/facilitator whereas Jokinen is a shooter.  The Jets problem is both Kane and Setoguchi are shooters, so how can you have Jokinen at centre as the third shooter on that line?

So the thinking is provided Scheifele has what it takes to be in the NHL, and it appears based on this offseason that he does, you would believe that Jokinen will slot in as the 3rd line centre for Winnipeg.

This would have him playing with guys like Frolik and maybe someone you are familiar with in Eric Tangradi.
Minuk points out that a third line role for Jokinen will certainly result in diminished playing time and diminished opportunities for a return to his 2011 form:
Saying he has five or six years may be a tad generous at this point. While I do expect a bounce back, I don't think he will be hitting the 61 points he had with the Flames just two seasons ago.  If he is playing on the 3rd line his totals will likely be a lot more modest.
We should know early on in training camp just how much Coach Noel is banking on a Jokinen return to form or whether the Jets are ready to usher in the era of Scheifele.