Scoring Still a Concern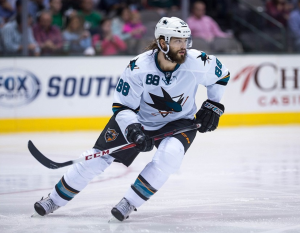 The San Jose Sharks are currently on quite a roll. After hovering around .500 during an extremely rough road schedule the first two months of the season, the Sharks are now winners of seven of their last eight games. That includes six straight games at home as the Sharks have finally gotten practice time and rest. That said, despite being in the middle of a hot streak, San Jose still isn't firing on all cylinders just yet. They still haven't been scoring enough goals. While their 3.5 goals per game average over the last eight games looks really good, take away Thornton's empty netter and they have scored just 12 in their last five games for a 2.4 average. Now there is no doubt the Sharks dominated both Minnesota and Nashville the past two games, two really good teams. With better luck, they would have scored more, right? That's what the common wisdom suggests.
The reality of the matter is that since acquiring Brent Burns prior to the 2011-12 season, the Sharks have never been a strong five-on-five scoring team with Burns playing defense. Currently the Sharks sit right smack in the middle of the league in goals for per game at 15th overall. Last year with Burns at forward they finished 6th overall. In the lockout shortened 2013 season, the Sharks couldn't buy a goal at even strength before they moved Burns up to forward. That midseason position change was a huge boost to the Sharks five-on-five offense down the stretch. In Burns' first year with the Sharks, he actually had a solid year as a defenseman but the Sharks finished 13th in the league in goals for.
Burns Clicking With Dillon
During this current hot stretch Burns has vastly improved his overall game and has started clicking with Brenden Dillon. Therefore, even though the easier and wiser solution is probably to move Burns to forward and acquire a defenseman, keeping Burns at defense is understandable. Clearly GM Doug Wilson prefers Burns as a defenseman, and he is playing well right now. However, the Sharks miss his offensive punch and right-handed shot up front. While Joe Pavelski is still scoring goals and Tommy Wingels is having a career year, they still need a right wing who can score on a regular basis. While Wingels is one of my favorite players, he hasn't proven to be a consistent top-6 player just yet, and Pavelski is a natural center, who truly belongs at the middle position. He has yet to play there this season, but the Sharks have done nothing but thrive over the years when they play Pavelski at third line center.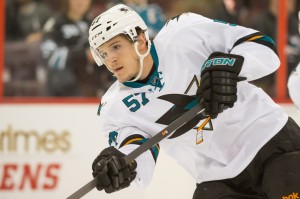 Pavelski, Wingels & …
With Burns on defense instead of top line right wing, moving Pavelski to center isn't as viable an option, particularly with wingers Matt Nieto and Tyler Kennedy out with significant injuries. If Pavelski were to move down to center right now, that would leave Wingels as the only established right-handed shooting top-9 right wing. While rookie Melker Karlsson has had a couple of nice games to start his career, he isn't a heralded prospect. San Jose is extremely thin right now in established wingers, particularly of the right-handed shooting variety. Thornton loves to set up right-handed shooters over his career. It is advantageous to have at least one righty on his line, and on the other forward lines to balance things out. As a winger, it is much easier to catch cross ice passes on the rush on the right side as a righty and on the left side as a lefty. Having a good mix of left-handed shooters and right-handed shooters helps in terms of putting lines together.
Put it this way, the Sharks have eight left-handed shooting forwards capable of playing the left wing on their roster, and that's not including John Scott, Thornton, nor fellow center Chris Tierney. If we don't include Burns, Karlsson, nor Mike Brown, the Sharks have just three right-handed forwards in Pavelski, Wingels, and Kennedy. Since Kennedy is becoming this year's Martin Havlat with injures and is often in head coach Todd McLellan's dog house anyway, that leaves just two reliable right-handed shooters at forward.
When you break down the Sharks offensively, they are most certainly in the market for a right-handed shooting winger. If a potential trade target can play center as well as right wing, that is a bonus, but the ability to play the wing is the most pressing need right now. Since the Sharks seem unwilling to explore the idea of Burns back to forward, a right wing is paramount come the trade deadline if this team wants to make a legitimate run at the Stanley Cup. There are a number of possibilities out there on the trade market that shouldn't cost too much in return. Check back here after the holidays for a list of potential candidates.
Andrew has been credentialed to cover the Sharks since 2010 and the 49ers since 2012. He graduated with his BA in Broadcast Electronic Communication Arts in 2013 from San Francisco State University.