Starts at the Top
German Billionaire and SAP co-founder Hasso Plattner is significantly more well-known in the business world than he is in the hockey world. The San Jose Sharks owner has made limited public appearances regarding his hockey franchise since becoming the majority share holder of Sharks Sports & Entertainment back in 2013. Failing to be a recognizable figure with the fan base is a problem at a time like this. The Sharks lack an identity and that starts at the tip top.
While Bay Area fans have seen first hand what can go wrong with an owner too frequently in the spotlight in the San Francisco 49ers' Jed York, Plattner remaining completely out of the spotlight doesn't help the Sharks. For years Team Teal has had an unfair reputation for not caring enough about winning. And an owner who doesn't frequently make himself available to the media doesn't do a whole lot to help shed that reputation. While much maligned, at least the 49ers' owner did tell fans that they should hold his organization accountable during a radio interview with local station KNBR. As for the Sharks, their accountability issue is less fans holding the owner/team accountable and more the owner holding the General Manager accountable.
Where Wilson Went Wrong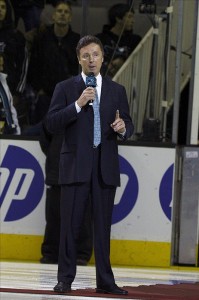 Unlike the 49ers, where York seems to call the shots, GM Doug Wilson is the de facto top dog in San Jose. He is the everyday decision maker. So in terms of accountability, it is Plattner that needs to hold Wilson accountable this offseason. Wilson took a Sharks team that was coming off 111 points last season and made a number of mistakes the past 10-11 months. The Sharks brought back largely the same core talent this year but Wilson, and to an extent head coach Todd McLellan's tweaks to the team over the last calendar year are big reasons for this year's face plant. Barring a miracle of epic proportions, the Sharks are going to miss the playoffs for the first time in a decade. And while every single player could have performed better this season, the majority of the blame can't be put on the top players. You would be hard pressed to find any team in the league with a more dynamic No. 1 power-play unit. This season the Sharks' power-play is once again a top-10 unit, the big guys are still getting it done. The supporting cast and lineup usage however, are much bigger issues. The two guys in charge of those things have had ample opportunity to get the job done.
Wilson has been GM since 2003, McLellan head coach since 2008. They are two of the longest tenured at their respective positions but they have failed to push the Sharks over the top. These two have not gotten the Sharks to a Stanley Cup, and in most organizations that would mean fresh faces would be brought in. However, as many media are wondering out loud, does Plattner even have an NHL circle of contacts to make an appropriate hire? We rarely hear him speak and we know little about his hockey circle. Therefore it is understandable to speculate whether Plattner is even comfortable making the decision to let Wilson go and bring in a new GM. However, even if he is not yet up to the task, he must make a change and make it this offseason. It is brutally clear, the players have lost respect for their main boss and you can't blame them for that.
Don't Mess With Joe or You Get the Horns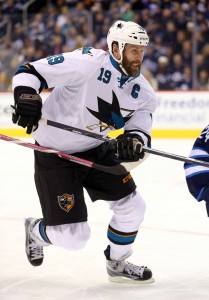 Wilson is by far the most responsible for this current Sharks mess. By upsetting his team's best player, Wilson basically pissed off his entire roster. Clearly Joe Thornton is not a big fan of the job Wilson has done over the last year. Furthermore Joe's brother John is Logan Couture's agent, so clearly Couture backs Thornton. Patrick Marleau has tied his career to Thornton by signing matching extensions with him over the years, so he is in the Thornton camp. And recently Joe Pavelski defended Thornton. You go around the dressing room and most/all the players are backing Thornton. With so many players on Thornton's side it makes one wonder where all that talk about a dressing room problem last offseason even came from. Or was that just more verbal nonsense filtered in by Wilson to try and get Thornton to waive his no movement clause?
By virtue of their no movement clauses, neither Thornton nor Marleau are going anywhere. They both love San Jose and want to win with the Sharks. However, big changes are a must this offseason. This drama has no business continuing and the only way that can happen is with a new GM. That is the only way this Sharks team can get back to a sense of normalcy and at least be able to once again fake an appearance of a united dressing room and front office. Right now, all the dirty laundry is out there and there is way too much public disagreement between players and management. Plattner may be understandably hesitant about making a GM change but surely a businessman of his stature must realize a big change is needed, right? And currently the only option available that wouldn't royally piss off his fan base would be to make a change at GM.
While Wilson deserves the most criticism for the disappointing season, that doesn't mean the star players are off the hook completely. Certainly every player on the roster contributed to the failure this season but Thornton and Marleau can only be held accountable for their individual performances. That is all any individual player can control. Wilson however, is the architect of the entire team and as such he is responsible for the performances of all the players. And the supporting cast for Thornton and Marleau has not been good enough in recent years. A four year deal for Adam Burish? That was a laughable contract the day it was signed. A two year deal for one of the worst forwards in the NHL in Mike Brown? Any contract for the worst player in the NHL in John Scott? What GM in his right mind signs three fourth line only wingers who are best known for fighting? In a league that is going away from fighting no less? Wilson's priorities when it comes to roster building haven't been in the right place for quite some time.
Sharks Not Swimming in a Deep Blue Sea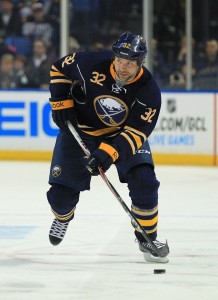 Winning Stanley Cups takes the ability to roll four lines, and you can't roll four lines with the types of depth forwards Wilson has brought in. Not to mention Wilson's favorite goaltender Antti Niemi has not nearly been good enough but they continue to keep riding him year after year without giving any other goaltender a realistic opportunity to prove himself. Not to mention the blue-line remains in shambles. Last season when Marc-Edouard Vlasic went down with injury, there was no contingency plan to speak of. It was crystal clear before the trade deadline in 2014 that the Sharks needed another top-4 defensive defenseman. Yet Wilson failed to acquire one.
Almost every team in the NHL has some incredible talent on their top forward lines, those players alone don't win Stanley Cups. What separates teams going deep in the postseason and either flaming out early or missing the playoffs are strong third and fourth lines, a deep blue-line, and hot goaltending. These are three areas Wilson fails to improve on a regular basis. And he somehow manages this failure despite the fact the majority of his top players are signed for less than market value. In other words, Wilson has the cap room to afford better depth players.
One particular stud depth player that San Jose let get away was Daniel Winnik. The current Penguins forward came to San Jose mid-season in 2011-12 but signed that offseason with Anaheim for just a $1.8 million cap hit over two years. Now I won't claim to be close enough to the situation to know Winnik's true feelings about the Sharks, but it is hard to believe he wouldn't have re-signed for $2.5 million, an amount he is certainly worth. Close personal friend T.J. Galiardi was a restricted free agent with the Sharks that offseason and remained in San Jose the next season. So without knowing Winnik's inner thoughts, seems highly likely he would have re-signed for more money to play with a good friend in the Bay Area. After all, he didn't sign with Anaheim until late that offseason. (That same offseason was when Wilson signed Burish to a 4 year deal at an $1.85 million cap hit despite being a significantly worse player)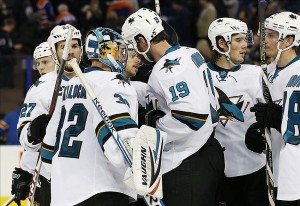 The point to be had is clear, a change in GM is a must for these Sharks going forward. The question remains though whether or not Plattner will pull the trigger. If he is as smart of a businessman as his reputation suggests, perhaps there will be a new face of the Sharks' front office in a few weeks.
Andrew has been credentialed to cover the Sharks since 2010 and the 49ers since 2012. He graduated with his BA in Broadcast Electronic Communication Arts in 2013 from San Francisco State University.