With the playoff races in both conferences closer than ever, the final stretch looks to be pretty exciting. In the West, I would love to see some fresh blood in the postseason, mainly in the Jets and Flames. Winnipeg deserves some playoff hockey and Calgary has been such a great story all year I'm hoping to see them both make it. But, the Kings are not out of it by any stretch, and it's really hard to count them out. As much as I'd rather see those aforementioned Canadian clubs make the dance, I just feel that Los Angeles will be in when all is said and done. But if they don't make it, what will be the repercussions be?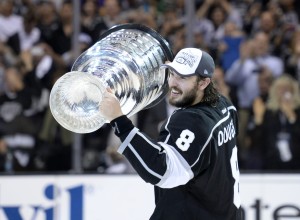 We're talking about a team who has two Stanley Cup championships in the past three years. I don't know, but I'd say that's pretty good. Considering the volume of games they've played, and the highly competitive conference they're part of, it's not surprising there's been a dip in their play. I don't think blowing up the roster is necessary, but it will be interesting to see the fall-out if they do end up missing the playoffs. Adam Proteau has more on the subject: [The Hockey News]. Do the Kings still have a good shot? Yes they do. [The Province]
In other NHL news…
Scary incident as Drew Miller takes a skate blade to the face. [Hockey Feed]
Is Petr Mrazek the new number one goalie in Detroit? [The Score]
The Bruins won last night, but the Senators were able to get two points as well. Still a mountain to climb for Ottawa. [Senshot]
Alex Ovechkin scores 50 goals again. [SB Nation]
Should Dustin Byfuglien be facing suspension? Hint: yeah that wasn't a good play. [Sportsnet]
What about Kevin Bieksa for his hit on Victor Stalberg? [Canucks Army]
It might not be so easy for the Leafs to get a new GM. [The Leafs Nation]
Can the draft lottery be fixed? [Grantland]
And finally, is the loser point becoming a problem for the standings? [538 Sports]
Marcy, a former hockey player, is a hockey correspondent on CTV News and TSN radio. She began her career as a Sports Journalist in 2009 and has been part of The Hockey Writers since 2010, where she is currently a senior writer and editor.