As the San Jose Sharks enter the first offseason of their full-scale rebuild, they will explore every possible angle to remake their roster and create a team that can contend for the playoffs once again. Entering his second season with the organization, general manager Mike Grier has something of a blank canvas with which to overhaul the team and bring in lots of new contributors. But while the front office has a wide range of options, a few specific player types should be San Jose's focus at the moment. They are player categories that the Sharks don't have right now, and adding them will help start moving the rebuild in the right direction.
Goalie of the Future
The Sharks have spent the last couple of seasons bouncing between various goaltenders, and it hasn't been a successful strategy. As Martin Jones' time in San Jose began to wind down, the team started putting a wide range of names in net, seemingly throwing goalies at the cage to see if any of them would stick. Instead, all of the netminders have felt like stopgap measures rather than a long-term solution.
This offseason provides the Sharks with an opportunity to find a more permanent option. Only one goalie, Kaapo Kahkonen, is currently on the roster with a guaranteed contract, and he has just one year left on his deal. The front office can focus on bringing in someone who will be a steady presence in net for years to come.
Out of the player archetypes explored in this article, this is the one most likely to be filled by someone already in the organization, as the franchise currently has four goaltending prospects under 25 years old. The one who is seemingly NHL-ready is Eetu Makiniemi. He is a restricted free agent and spent most of last season with the San Jose Barracuda, but looked poised and confident in his brief stint with the Sharks. He may not be ready to be a full-time starter in the NHL just yet, but he deserves a chance at some point to prove that he can be San Jose's next elite goalie.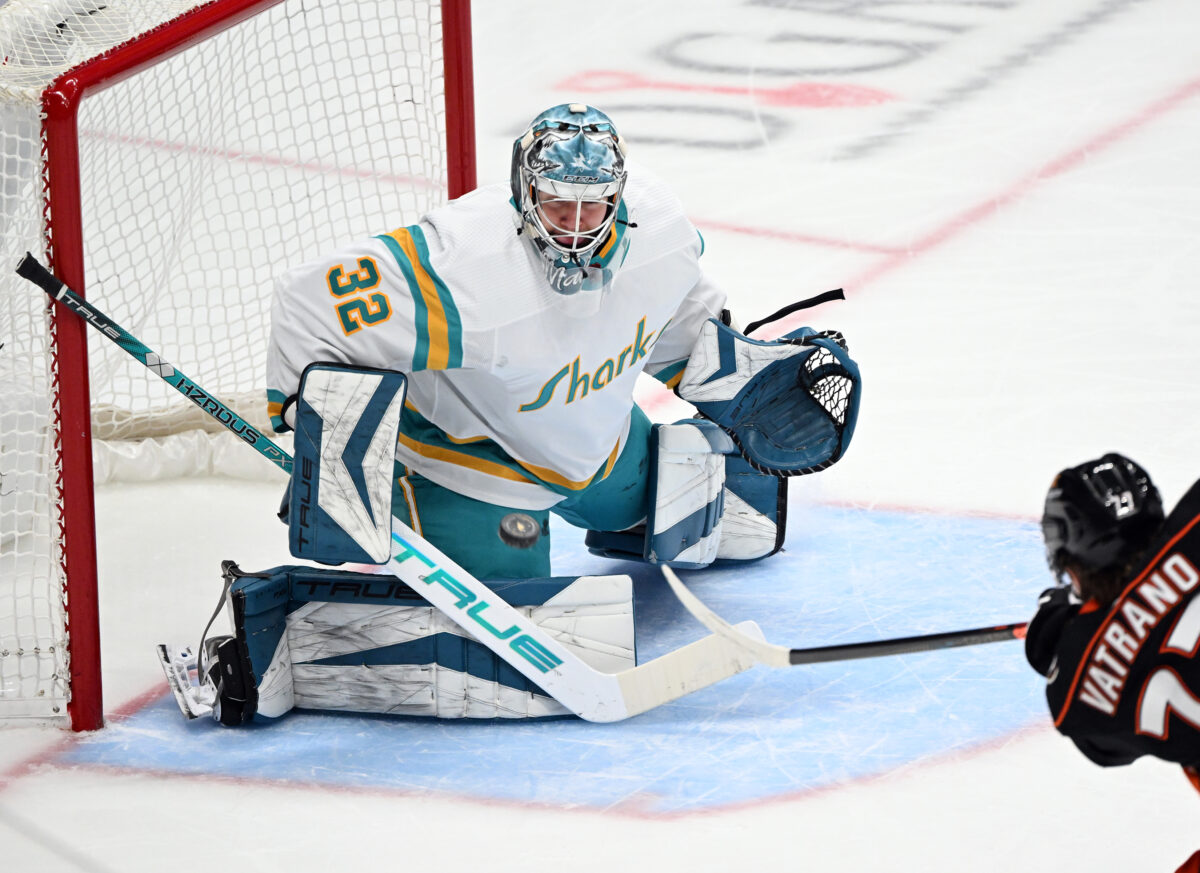 The Sharks cannot be contenders until they have a consistent number-one goaltender who will be with the team for several seasons. This summer is the perfect chance to get a better picture of who that might be.
A Defensive Defenseman
The Sharks are lacking a clear top lockdown defenseman. For many years, that role was filled by Marc-Edouard Vlasic, but he's now 36 years old, and the fact that he carries a massive contract isn't helping matters. He had a rebound year last season, but even then, it's clear that he is no longer capable of being a team's best defensive defenseman.
---
Latest News & Highlights
---
The Sharks allowed the third-most goals in the NHL in 2022-23, and an infuriating number of them were the result of the defense leaving the goalies exposed. Breakdowns and miscommunication were the flavors of the season far too often, particularly in even-strength situations. A top-tier defenseman would help to shore up these problems.
Strengthening the Sharks' defense will not be a quick fix. But it starts at the top, and finding a player who can lead the first pairing defensively will be a crucial step in making San Jose a playoff-level hockey team once again.
A Puck-Dominant Forward
By the time last season concluded, the Sharks did not have any forwards who could be trusted to get the puck and score in a one-on-one situation. Last season, they had 16 overtime and shootout losses, the second-most in the league. These two items are not coincidental.
The closest the Sharks had to such a player was Timo Meier, whom they traded in February as part of their rebuild. On the current roster, the distinction probably goes to Tomas Hertl, but as great as he is, it's hard not to feel like the team could use an upgrade in that department. The high volume of non-regulation losses back this theory up. In overtime and shootouts, when individual skill takes a high priority, the team with the player who is best with the puck will usually win. Too often last season, that team wasn't the Sharks.
Related: Sharks' Path Becomes Clearer With Lottery Result
This year's draft is the perfect place to find a player who can turn some of those losses into wins. The Sharks are picking fourth, and the top of the draft class has several dynamic forwards who, if developed right, can control a team's offense with their skill.
Every contending NHL team needs at least one player who strikes fear into their opponents purely by having the puck on their stick. Said teams also need a steady presence in net on a nightly basis, and a shutdown defenseman who can help navigate opposing offenses. If the Sharks want to rebuild correctly, they'll have to get one of their own in each of these categories.