There was a time when we didn't know what Troy Terry's NHL future held. Despite excelling at the college and American Hockey League (AHL) levels, the Anaheim Ducks' now-star winger struggled to adjust to the pro game and even popped up in trade rumors. That seems like a lifetime ago now. He has amassed 60 goals and 128 points in the last two seasons, catapulting into the NHL's elite class of goal scorers and becoming a must-sign player for the Ducks this off-season in the process.
Terry rounds out the Ducks' class of free agents that are imperative to the organization's success and potential to contend for the Stanley Cup in the future. Let's look at his game, as well as his impact, and predict his next contract with Anaheim.
Terry the Player
At his best, Terry is an aggressive, fast, and skillful goal scorer who is always a threat to shoot or attack the net when the puck is on his stick. While he didn't begin his career that way, the skills were always there, having displayed them at each level of play before turning pro.  
Related: Ducks 2022-23 Superlatives: Forward Edition
Outside of a couple of seasons with the US National Team Development Program, the Colorado native played all of his amateur hockey on the Colorado circuit, spending six years with the Littleton Thunderbirds AAA organization before ending up at Denver University (DU). There, he was an integral piece of the team for three seasons. In the 2016-17 season, he scored 22 goals and 23 assists for the team en route to its NCAA Championship.
---
Latest News & Highlights
---
He also has extensive experience representing the United States, having played and secured Gold with them in the 2015 IIHF Under-18 World Championship and the 2017 World Junior Championship. He also suited up for Team USA in the 2018 Olympic Games, collecting five assists in five games.
Early-Career Struggles
Terry signed a three-year entry-level contract following the conclusion of his third season with DU and Olympics appearance, making his debut on March 27, 2018. Terry split time between the NHL and the AHL and actually did his best work in the AHL during those early years. Across two seasons, he tallied 57 points in 55 AHL games, with only 28 points in 79 NHL games. He also broke a bone in his knee that forced him to miss some time.
He improved statistically in the COVID-adjusted 2020-21 season, playing in 48 of 56 games and producing 20 points. Even still, it was not quite what he or the organization was looking for.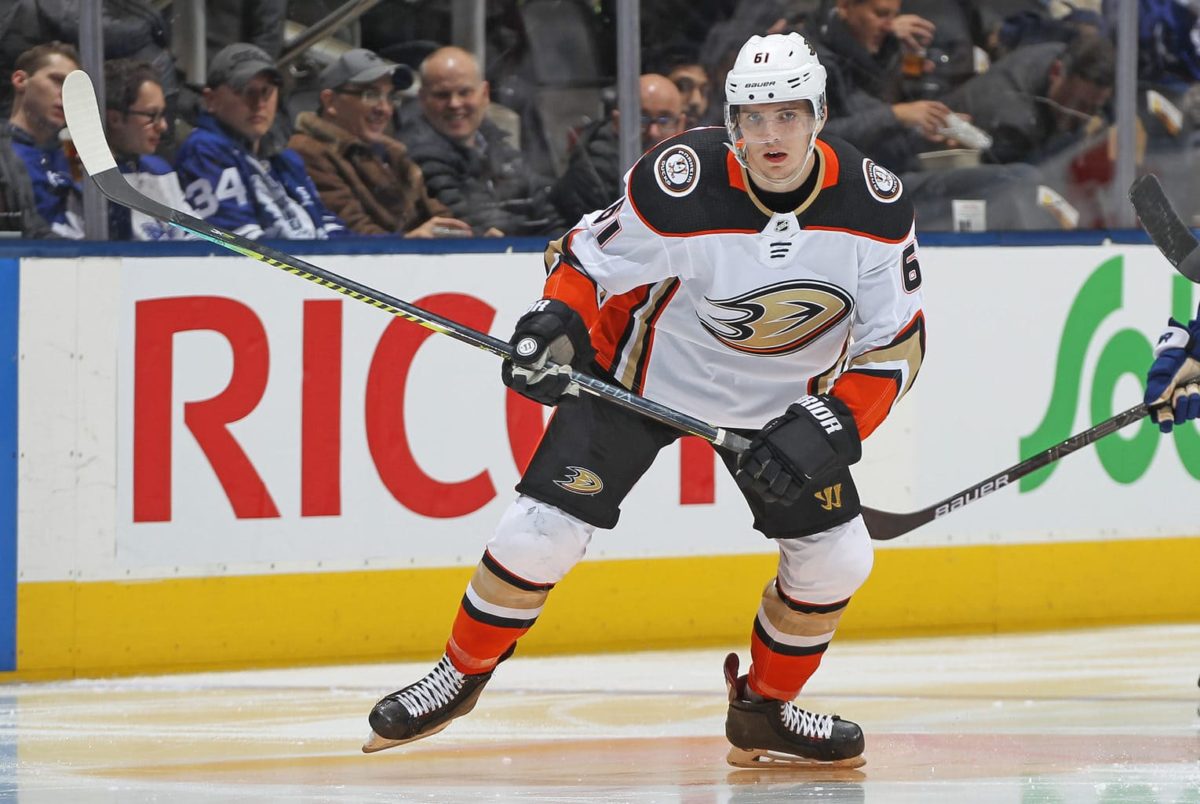 Reflecting on his struggles in a 2022 conversation, Terry said, "I would get frustrated. I would start forcing things […] Everyone is a good hockey player here and, as hard as that is, the mental side is equally hard or harder. That was something I've had to learn." Once he overcame those mental challenges, he was off to the races.
Terry Turns the Corner in 2021-2022 and Enters NHL's Elite
Terry sprinted out of the gate to start 2021-22. He earned the NHL's Third Star of the Week, had a 16-game point streak, and collected 36 points all in the team's first 38 games. His point streak is the third-longest in Ducks history behind Teemu Selanne's 17 and Corey Perry's 19. He earned his first of two NHL All-Star Game nominations with a dominant first half.
He finished the year with 37 goals, more than he had in all his previous seasons combined. He picked up 2022-23 right where he left off and put up more stellar numbers despite playing for an offensively woeful Ducks team and battling some injuries. In 70 games played last season, he produced 23 goals and 38 assists. Terry became an absolute force once he acquired patience and confidence with his game. He's a legitimate threat to shoot, and score, from anywhere. He attacks the net, has great speed, and has a wicked wrist shot that he'll be terrorizing opposing goalies with for years to come, hopefully in an Anaheim uniform.
Terry Has Earned a Big-Time Deal
Terry shook off his early-career struggles to become an elite scorer in the NHL. Not since Corey Perry's prime years have the Ducks had someone who could score 30 goals. He put in the work to become that player for Anaheim, and he deserves to be rewarded for it.
Tage Thompson of the Buffalo Sabres is a good comparison for Terry. He, like Terry, was a late bloomer, and both performed similarly early on. Thompson signed a seven-year, $49-million deal after his breakout year, while Terry has put up impressive back-to-back seasons. Therefore, I'd expect Terry's next contract to resemble Thompson's in term and overall value. My official prediction is six to seven years, in the $45-52.5 million range in overall contract value.
The appealing part of all this is as the team improves, so will his numbers. This offense is bound to become more dynamic and explosive, which should only mean good things going forward. A few years in, we might even be saying a deal like this ends up as a steal.
Pat Verbeek has plenty of holes to fill this offseason, but also plenty of cap space to work with. If he signs foundational players, Terry and Trevor Zegras (throw Jamie Drysdale in there as well), to similar deals as I've predicted, then he'll have his two most dynamic players for the next six to eight years for under $ 9 million per season each. That's conducive to building a playoff-contending roster.
Now he just needs to actually sign them, then integrate the plethora of young guys set to make the roster next season, and watch them grow.