The Calgary Flames have two choices under new general manager Craig Conroy. They can either keep their team intact, add scoring, and hope that not too many of their key players with one year remaining on their deals leave in free agency next summer, or the team can retool this summer. This would require knowledge of which players with contracts coming to an end soon are willing to extend and which plan on leaving.
Whether the Flames decide to go for it or retool, there are some interesting unrestricted free agent (UFA) targets available to them. What we're going to look at here is which players from the Tampa Bay Lightning should be on the Flames' radar. The Lightning are tight against the cap. Therefore, they will lose some fairly important UFAs this summer.
Alex Killorn
The most valuable but also the most expensive of the three free-agent targets is Alex Killorn, but Tampa Bay won't be able to keep him around. The Lightning drafted him, and he has played his entire 11-year career for the organization. Throughout his 20s, he was guaranteed to provide 15 goals and 40 points until something flipped in his 30s. The past four seasons have been great for the veteran, scoring 25-plus goals three times and setting a new career high in points three times – keep in mind the shortened 2020-21 season happened in his 30s.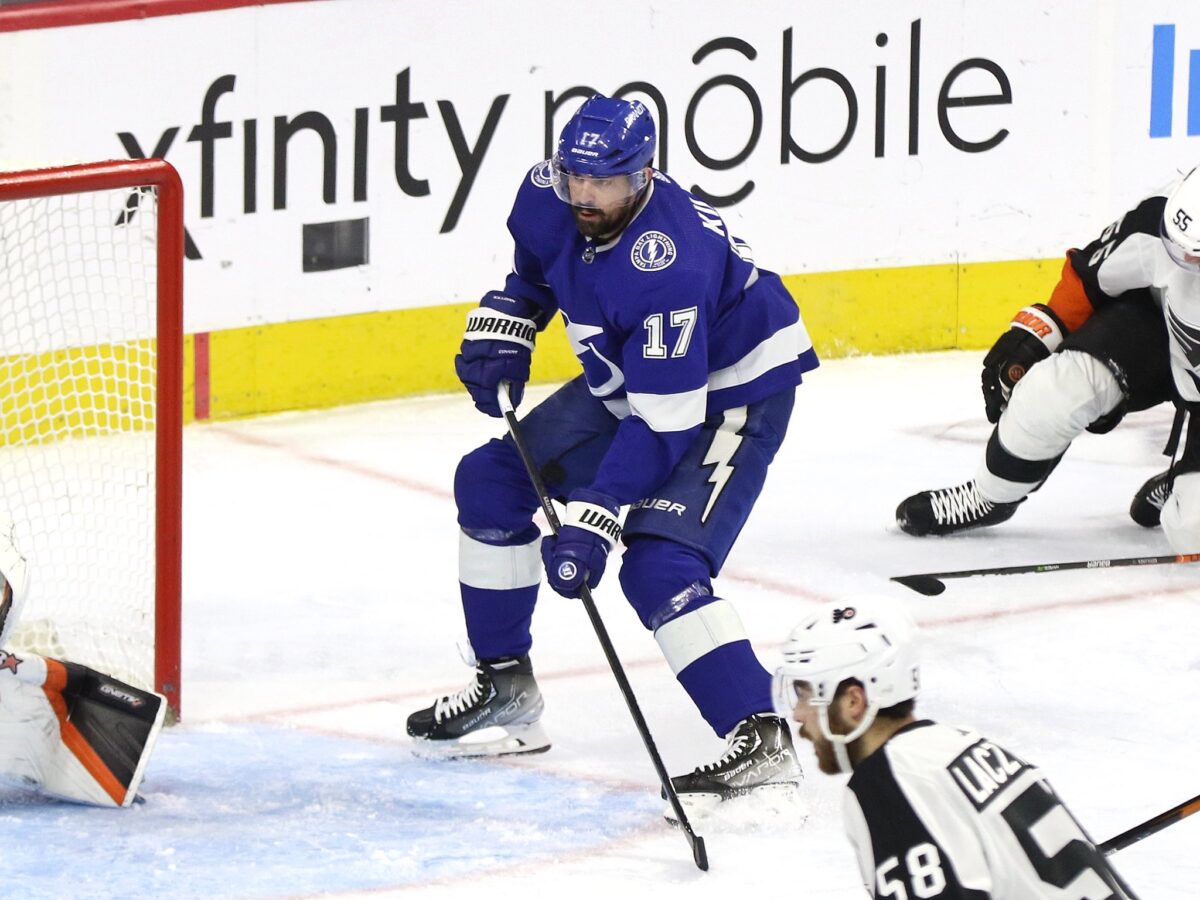 Killorn is effective at five-on-five and regularly logs minutes on both the power play and penalty kill. He scored 52 goals and 123 points in 164 games over the past two seasons and has missed two games in the last six seasons. The Flames are looking for help on the wing and a scorer to fit into their top six. Killorn checks both of those boxes and as a soon-to-be 34-year-old, a long-term commitment won't be required. The Flames have some young players that will hopefully play prominent roles in the future, but for now, they likely want a player with experience to get them back to the top.
Ross Colton
The Lightning will not only be unable to re-sign their unrestricted free agents (UFA) this summer, but they will also have a tough time keeping their restricted free agents (RFA). Considering what the team paid for Tanner Jeannot and can sign him for less after last season, I expect them to keep him over Ross Colton. This means losing Colton, who after consecutive seasons as a strong third-liner, might have to be traded.
Related: 3 Flames Draft-Day Trades That Could Make an Impact
The Flames have very few RFAs that need new contracts, and they are all American Hockey League (AHL) players at the moment. If Colton is on their radar, he should become their priority leading up to July 1. The team will have available cap space, especially if they move out a contract. Colton isn't young, as he'll be 27 by the time next season starts, but he's a good age and plays his middle-six role very well.
---
Latest News & Highlights
---
Acquiring Colton won't cost a first-round pick, and Calgary has everything but their third and fifth-round picks in this draft. Signing him also won't be expensive – a $3 million average annual value seems just right given his scoring ability and physicality, and he has the ability to move up from the third line.
Ian Cole
Ian Cole is another good option. On paper, the top-six defencemen on the Flames look strong for next season, but that's not taking into account that four of them have one year left on their deals, and it would be a fairly expensive group to run with. This should play a part in the decision-making. While I do think there's reason to believe Chris Tanev or Nikita Zadorov could be traded this offseason, I'm not confident that a prospect could take over that sixth spot yet.
I wouldn't put it past the Flames to bring back Michael Stone on a one-year deal, but Conroy is also at the head of the table now and could go in a different direction. If someone is moved out, Cole is an experienced veteran who plays hard and is a two-time Stanley Cup winner. Plus, he will save the team some cap space and wouldn't be seen as a downgrade. He excels in a third-line role, which is what he would play in Calgary.
If the Flames decide to look externally for additions to improve the team for next season, they shouldn't look much further than these former Cup winners, who might be forced out either way.