The Calgary Flames have a lot to think about this offseason as they have a number of players with one year remaining on their deals, including Oliver Kylington, who is returning to the team. Interim general manager Don Maloney revealed Kylington's intentions saying, "He told me he's very excited about coming back next season, which is very positive for the organization." I think the Flames are going to keep him around, not only for 2023-24 but likely try to extend him as well.
With Kylington's return to the lineup, that means the Flames will be fully stocked on the back end. Although this may seem like a good thing since they were clearly in need of better defensive depth this season with Kylington being away from the team, a lot of money is also being eaten up by the defencemen. While Michael Stone and Troy Stecher are unrestricted free agents (UFA) this summer, Chris Tanev, Kylington, Noah Hanifin, Nikita Zadorov, and Dennis Gilbert are UFAs next summer. The Flames can't and also won't be able to keep everyone and while they may need to allocate more money to their forwards next season, the return of Kylington allows the Flames to move a defenceman who they arguably shouldn't bring back, Tanev.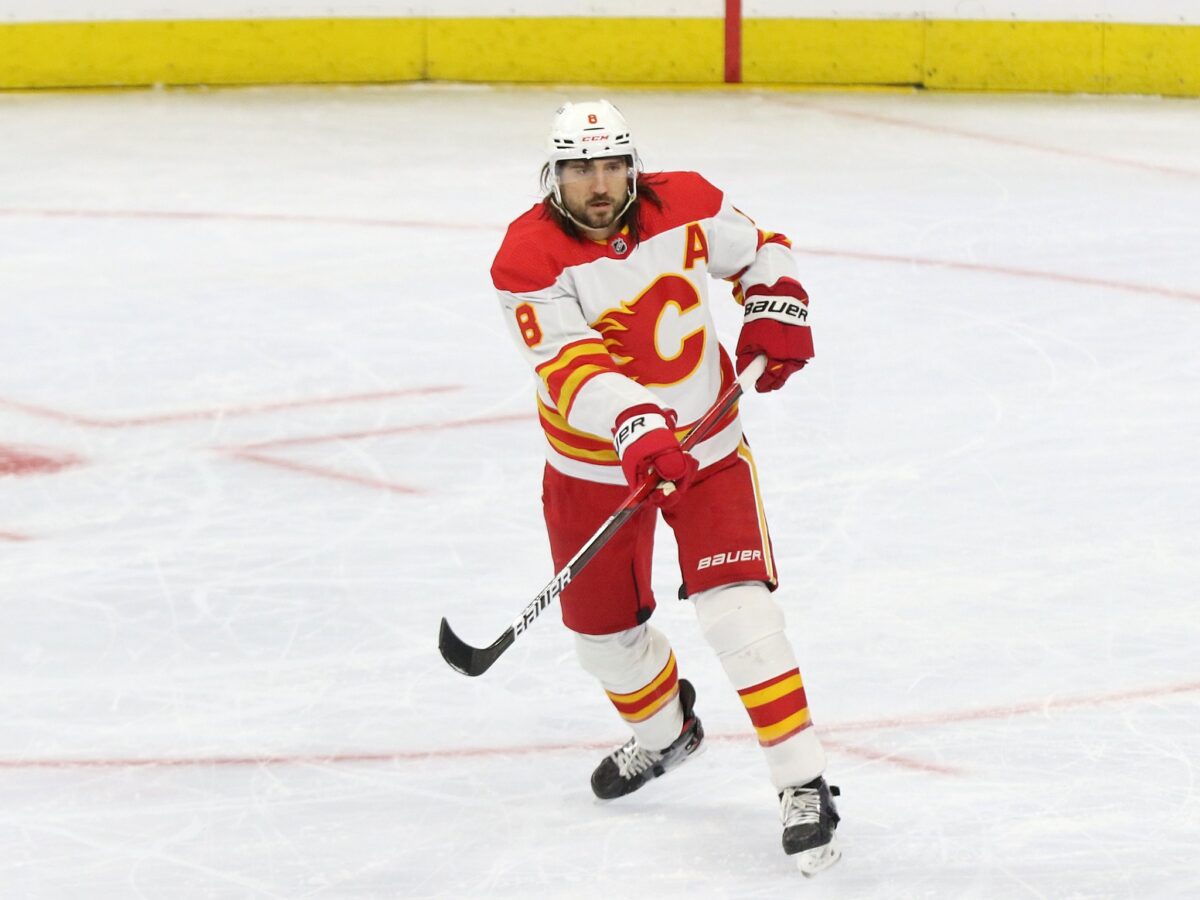 Tanev is a veteran whose body is deteriorating as he's getting injured more often. While the defensive pairing of Tanev and Kylington worked in 2021-22, MacKenzie Weegar is in the mix now. Tanev is making $4.5 million average annual value (AAV), money that can be well spent elsewhere. As he is more defensively oriented, there will surely be other teams who could be interested in him. One last thing to note is that there is a 10-team no-move clause that may impact a trade, but the teams remain unknown to us.
Seattle Kraken
While it would help for the Seattle Kraken to get consistent goaltending, something that Philipp Grubauer started to finally provide part-way through this season, this team would be better off with another defenceman who is strong defensively. There is going to be some room on the backend this summer after Carson Soucy inevitably moves on in free agency.
Related: Flames: 3 Likely Free Agent Destinations for Milan Lucic
---
Latest News & Highlights
---
While the Kraken have two restricted free agents (RFA) to deal with in Vince Dunn and Will Borgen and three defencemen who can play the right side, Tanev is no stranger to slotting in on his off-side as he's done alongside Weegar this season. Seattle's focus this offseason will be to keep more pucks out of their net. They have cap space to make the deal, the room on the roster, and won't be trapped in any sort of commitment as there's only one year remaining on Tanev's contract.
Buffalo Sabres
The Buffalo Sabres are in a similar boat as the Kraken because neither struggled at all with offence, but the defence was shaky and they had trouble keeping the puck out of their net (from "Mike Harrington: The goalie matters, but Sabres' woeful defense is letting all of them down", Buffalo News, Mar. 30, 2023). The Sabres, with lots of cap space, will be looking to make some upgrades this offseason. While someone like Erik Karlsson might seem like an attractive addition, he doesn't address the issue defensively.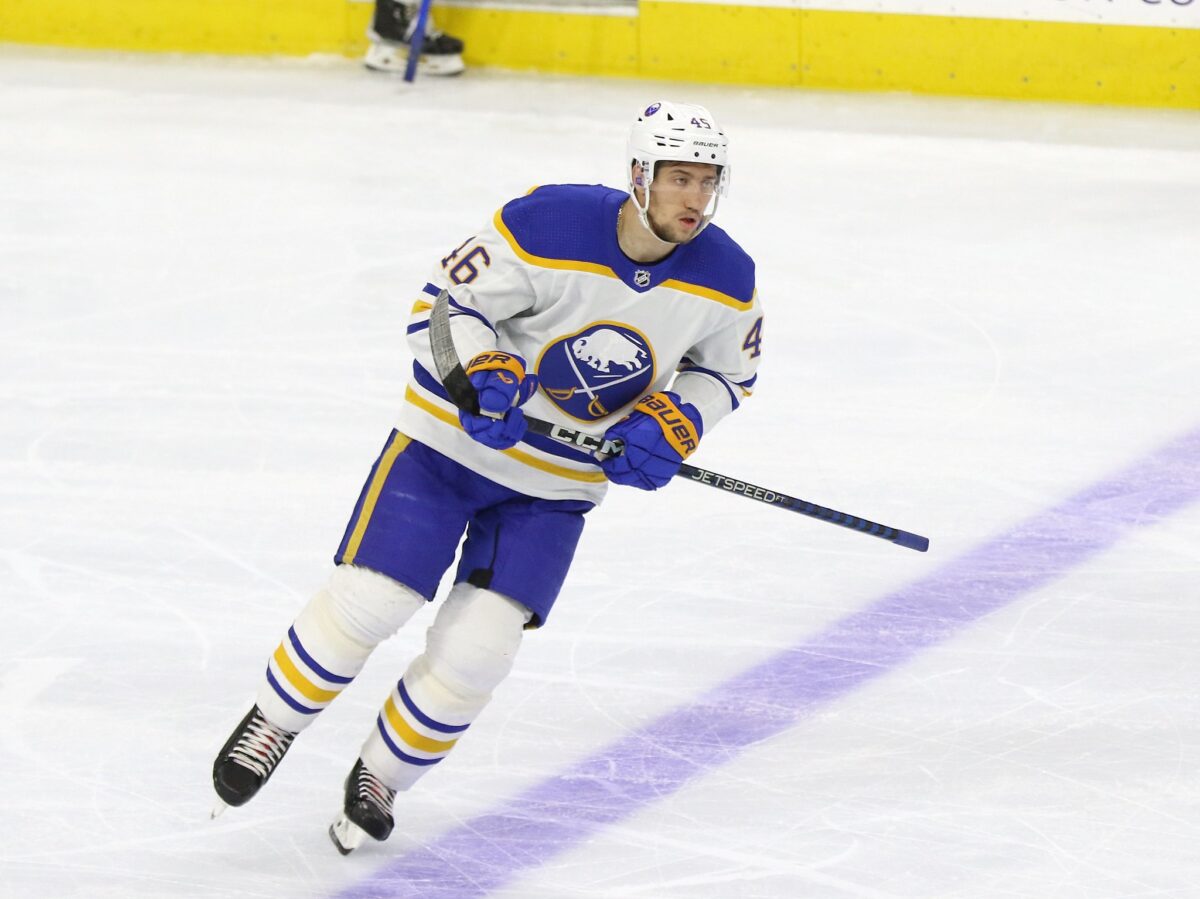 The Sabres have just two right-shot defencemen on their roster and one of them, Ilya Lyubushkin, played 68 games and averaged 15 minutes a night, which is seventh-defenceman territory. The Sabres leaned a lot on their top-four, so by adding Tanev, some of the pressure can be relieved. They also don't have any up-and-coming defencemen who will be pushing for a spot on the roster, so Tanev wouldn't be taking an opportunity from them. The Sabres' time to make the playoffs has come and with the right offseason additions, that can finally become a reality in 2023-24.
Detroit Red Wings
The Detroit Red Wings set themselves up nicely for this offseason, but still have to execute the second part of their plan. While they decided to sell at the trade deadline since the team wasn't going to make the playoffs, Filip Hronek was one of the trades that occurred and it was a bit shocking. Seeing as he and Moritz Seider made up the only two viable options on the right side last season, the Red Wings are down to one for next season.
The team has one to two holes to fill on that right side and money to spend, especially with Hronek's cap hit off the books, and like the two teams already mentioned, a need to cut down on the goals against. Tanev can add experience to the blue line where there are some young players and he could be a solid one-year fix while the Red Wings set themselves up for a bigger or more permanent move.
It's no guarantee that Tanev is moved, but the Flames' general manager has some tough choices to make and if I were to pick between moving Tanev, Hanifin, Zadorov, and Kylington, Tanev is the clear choice. He is the least likely to be re-signed and he's not getting any younger or healthier. These three teams need the help defensively and Tanev will be one of the best options, through trade or free agency, available on the right side.
---
---