Chicago Blackhawks fans are excited about the offseason, especially after winning the lottery for the first overall pick in the 2023 NHL Draft. They also have the most salary cap space in the NHL to make a splash in free agency if they choose. Although the 2022-23 Blackhawks roster struggled, they were an easy team to root for, as they were full of likable personalities. Here are some fun facts about the 2022-23 roster while we wait for next month's draft.
1. Blackhawks' Rosetta Stone
With so many different nationalities in the NHL, many players are bilingual, including Jonathan Toews and Petr Mrazek. However, Philipp Kurashev is the only polyglot on the Blackhawks, meaning he speaks multiple languages: Russian, French, English, and German.
Kurashev was born and raised in Switzerland, as his dad Konstantin was a professional hockey player who played throughout Europe. However, his parents are from Russia, which Kurashev considers to be his primary language (from 'Blackhawks rookie Philipp Kurashev's unique hockey background shaped him into the player he is,' The Athletic, 05/03/2021).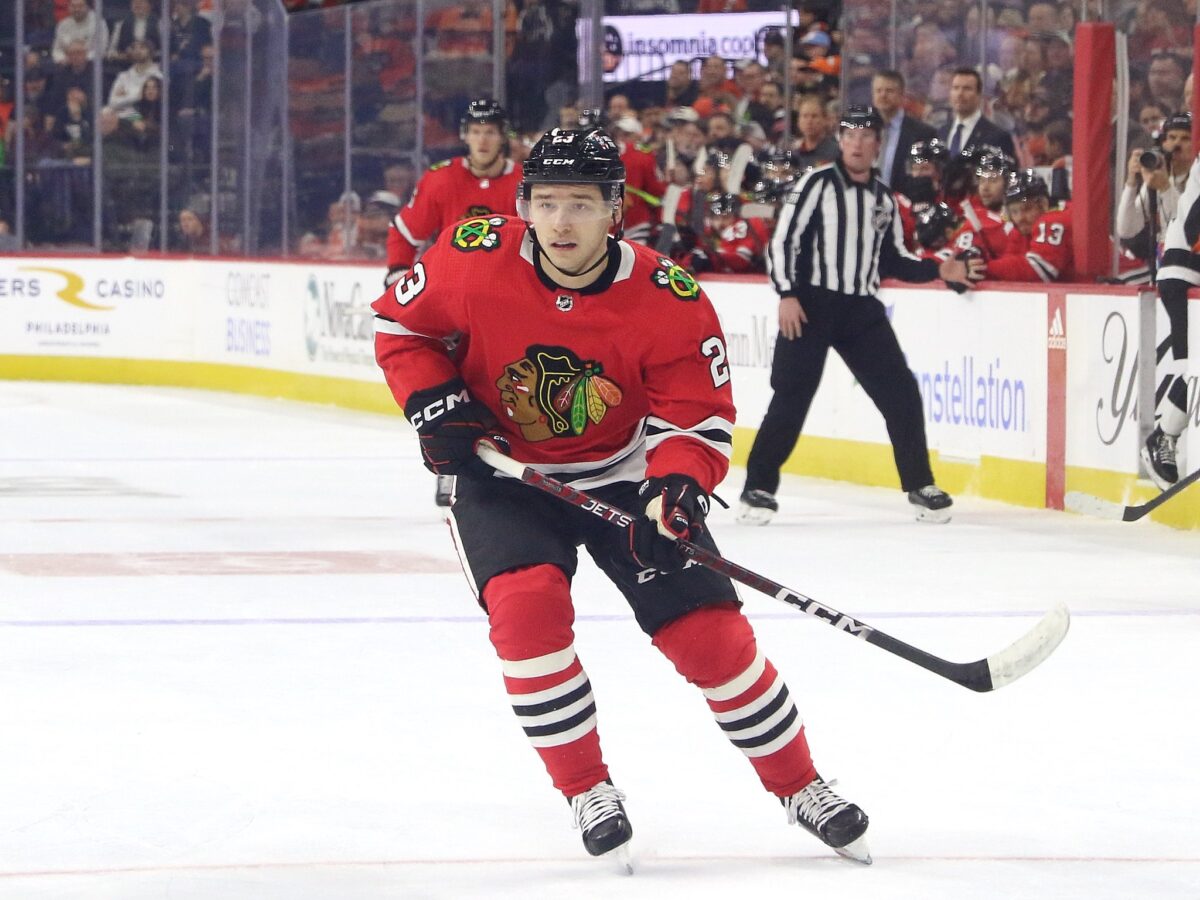 He learned German and French from growing up in Switzerland and then learned English from playing in North America. Knowing so many languages means he can communicate with most teammates. Lukas Reichel stated how nice it is to be able to speak in his native tongue (German) with Kurashev, even though the dialect is different – Kurashev speaks Swiss-German. Both Kurashev and Reichel contributed their communication to their strong on-ice chemistry.
2. Everyone's Favorite Player
Speaking of Reichel, when he was drafted 17th overall by the Blackhawks in 2020, he mentioned that Patrick Kane was his favorite player growing up. "My favorite team was always Chicago," he said at the time. "Now I'm a Blackhawk, too, and that's so awesome!"
The feeling seems to be mutual. Kane always spoke highly of Reichel. In January, he said he hoped to play with him in the future. Reichel got to play some shifts on a line with Kane in early 2022 and played with him briefly in December before Kane was traded to the New York Rangers ahead of the deadline. Oh, what could have been.
3. The Hockey Guy
Harvard University was a turning point in Colin Blackwell's career. After he signed a two-year, $2.4 million deal in free agency in July 2022, he shared a story of how Harvard influenced his NHL career. During his sophomore year at Harvard, he suffered two concussions months apart, and he pulled out of school for a year and was kept off the ice for two years with post-concussive syndrome. When he returned to school, he thought he might not be healthy enough to play, and he started thinking about a career outside of hockey and finishing his degree in government (with a minor in psychology). He then ultimately started feeling better, and once he could start practicing without symptoms, he returned to play.
---
Latest News & Highlights
---
It was a good thing that worked out because Blackwell mentioned that a political science professor once asked him during a lecture if he considered himself a left-winger or right-winger. He responded, "I've always been a natural center." Typical hockey guy.
4. It's Taylor Mania
Taylor Raddysh was a revelation in 2022-23. In his second season with the team, he ranked second in team scoring with 37 points in 78 games. On the Blackhawks Insider Podcast, he revealed that his fiance is also named Taylor, and when asked how they differentiate themselves, he stated, "She goes by "Tay," and I go by "T."
He added that it's funny how stunned people get when they first realize they have the same name, but they have fun with it. The interviewers asked if the name Taylor Jr. is an option if they have a son in the future, to which he jokingly replied that they gotta get rid of the "T" and change it up.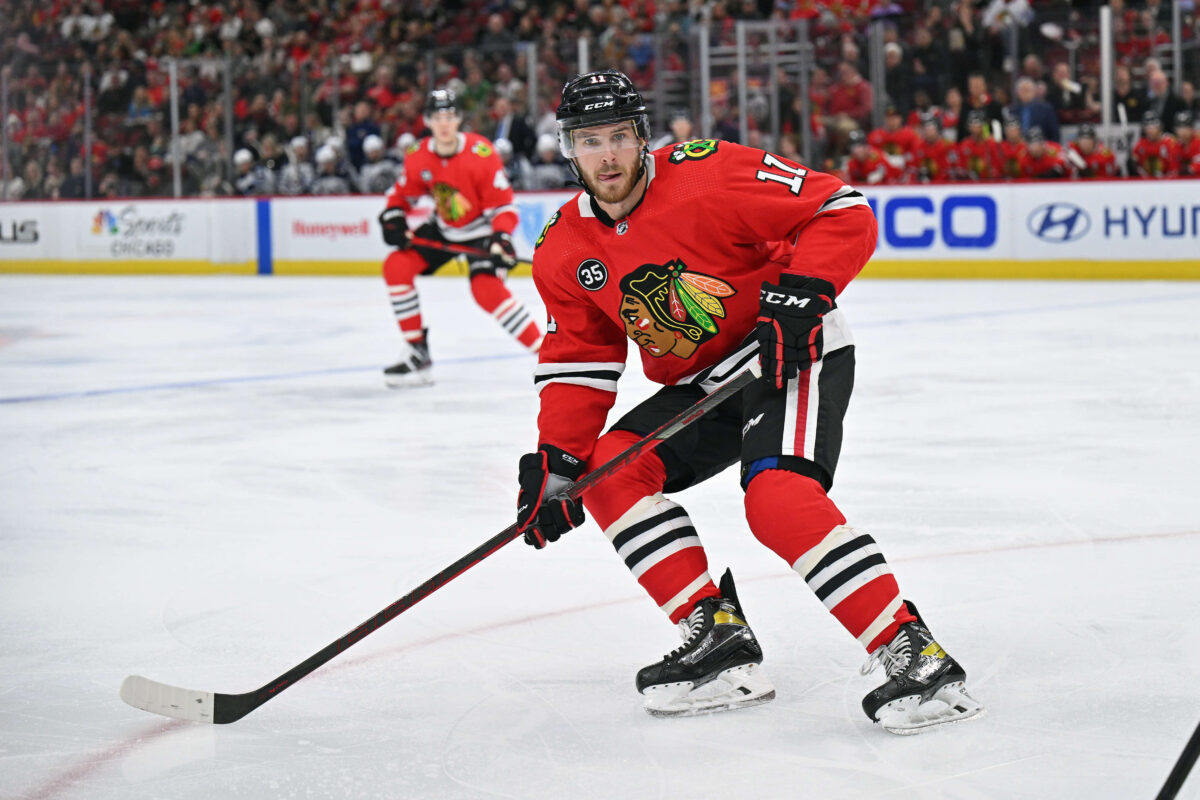 Raddysh also mentioned that he grew up a Green Bay Packers fan, but we won't dwell on that.
5. The Great Oh-No!
Toews has collected a lot of hardware throughout his career in Chicago: three Stanley Cups, a Conn Smythe Trophy, a Selke Trophy, two gold medals, and many more. However, is most treasured piece might surprise you.
In an interview in 2015, he stated that his favorite piece of memorabilia was a Wayne Gretzky jersey he got signed as a kid. Unfortunately, it was stolen, and he was heartbroken about it. He sarcastically remarked, "Someone out there is lucky!" Considering Toews and The Great One have had plenty of interactions over the years, I'm sure he got some even better keepsakes from Gretzky.
6. Jason The Builder
Jason Dickinson is probably one of the most intelligent players on the roster. This season, he mentioned that he has taken up carpentry as a full-time hobby. It started six years ago and has developed into several projects. He built his wife, Alandra, a coffee table, and, "After the coffee table, and a "few other random things," he turned his attention outside and constructed a ground-level deck behind his house. Last year, he began building some chairs, but supply chain shortages for the types of screws he needed forced him to postpone that project."
Related: Meet the New Blackhawks: Jason Dickinson
The Blackhawks are planning a $65 million expansion of their practice facility, maybe he should offer his expertise.
7. Jones & The Arts
No one relates to the saying, "Art is in the eye of the beholder" more than defenseman Seth Jones. He told The Athletic in 2019 that art has become a passion that fell into his lap. While he was decorating his condo when he played for the Columbus Blue Jackets, he worked with an interior designer (who, interestingly enough, was Chicago-based) and was introduced to an art piece that spoke to him.
Now, he has developed a good collection. Jones can tell you a story behind each piece he owns, his connection to it, and he is drawn to "sophisticated pieces with pleasing colors." Lea Fisher, an artist Jones' worked with, said, "You have to think, starting at his age with the eye that he has, that by the time he's 40, his collection will be worth maybe 100 times what it's worth now. Obviously, he's not money-motivated by this, but I could see him having a Seth Jones collection on display at museums where he lives. That's where this is headed" (from 'A passion beyond pucks: Blue Jackets' Seth Jones is a budding art collector,' The Athletic, 11/04/2019).
One of the coolest pieces he owns comes from Metis Atash, who is known for his miniature Buddha sculptures that depict aspects of someone's life. Jones' symbolizes his first All-Star Game, with a Buddha sculpture wearing his NHL All-Star jersey.
8. Future Coach Murphy
Most people connect Connor Murphy with his father, Gord Murphy, knowing he was a 16-year NHL veteran and now the assistant coach of the New York Rangers. However, the coaching gene has not rubbed off on Connor yet.
He was asked earlier this year if he could see himself coaching, and he said, "I don't know. I like to coach. I just don't know if I'd be able to handle that. The coaches have a tough schedule, and they don't get any time off. Even on our off days, they're grinding away at video prepping for each team and game and having to travel around. The way it is with the league now, I feel like coaches get fired so often and have to relocate, and as you get older, having to move your families around, it sounds like that would be tough. I have a lot of respect for coaches for doing that. I don't know if I would be able to handle that part of it."
Related: Blackhawks: 3 Potential Landing Spots for Connor Murphy
Murphy is a respected and beloved leader in the locker room, so his teammates might be the first to say he would make a great coach. Maybe he will have a change of heart down the road.
9. Blackhawks' Goalie Crossover
In 2019, Alex Stalock was the goaltender for the Minnesota Wild, and Robin Lehner (Vegas Golden Knights) was with the Blackhawks. He recalled when the Wild were facing the Blackhawks, he was stretching, and Lehner approached him, which took him by surprise since they didn't know each other. Lehner said, "I just want to tell you, I love your style, man. I love your old-school style." Stalock was touched. It was the first time and NHL goalie had said that to him (from 'The adventures of Alex Stalock: suffering fan, acrobatic Wild goalie and hockey dad," The Athletic, 02/04/2020).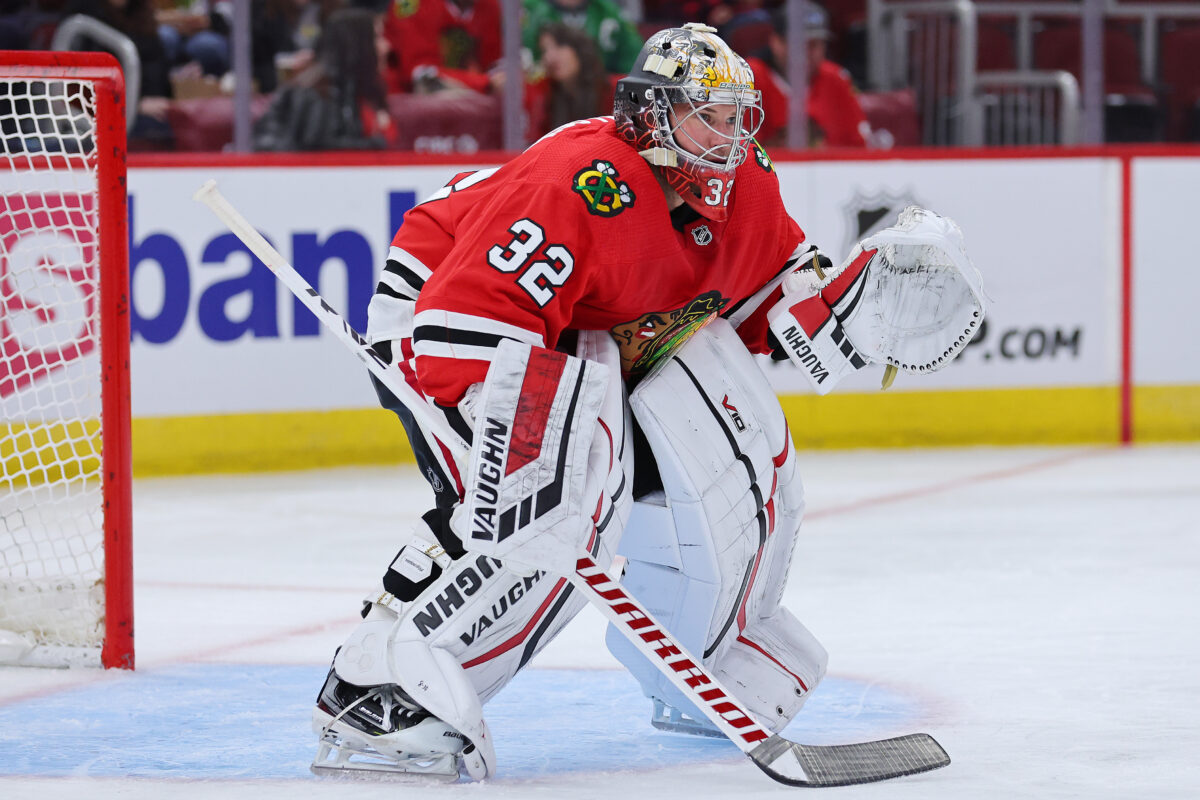 How about that for a Blackhawks crossover? The fans love his style and his colleagues appreciate it just as much.
10. Punch-Back King
In 2019, the San Jose Sharks were playing the Carolina Hurricanes, and during the game, Mrazek slashed Joe Thornton, Thornton, in turn, punched Mrazek, who fell backward and stayed on the ice while the teams went at it. Both players got penalties for roughing and slashing. Mrazek stated after the game that the punch motivated him as they won the game 3-2 in a shootout and also joked that he had received hits worse than that. Of course, San Jose accused Mrazek of "flopping," so the Hurricanes outlined his body on the ice with spray paint during practice with his number 34 on the same spot where he fell for a good chuckle.
A punch from the legendary Thornton should be enough to motivate anyone.
This Hawks team was full of fun stories, but what fans will remember most is that this roster secured their first number-one draft pick since 2007. All in all, they are a memorable bunch with brighter days ahead.
---
---