The San Jose Sharks are a team most noted for their constant playoff contention. They missed the playoffs this year for only the second time since the 2003-04 season. Because of this, the team relies on its mid and late-round drafting to build the young core of its roster.
The Sharks also have a history of Russian contributors: most notably the franchise's best goalie Evgeny Nabokov, and the "-Ov Line" of Igor Larionov, Johan Garpenlov, and Sergei Makarov in the 1993-94 season. Many focus on forward Ivan Checkhovich to be the next Russian impact skater for the Sharks, but 2019 fourth-round-pick Yegor Spiridonov could be flying under the radar as a future quality player for the Sharks.
Why Was He Taken?
Spiridonov fell to the fourth round in the 2019 NHL Entry Draft. Many had him ranked higher, including Central Scouting ranking him 18th of the draft class' European skaters. Spiridonov is most recognizable by his size, entering the draft at 6-foot-2, and around 185 pounds.
His versatility is his greatest asset. He possesses a right-handed shot, and plays both center and left wing. His two-way play is superb, especially at such a young age. The Russian is also quite effective on the penalty kill.
In the MHL, the Russian junior hockey league, Spiridonov played quite well. For Stalnye Lisy Magnitogorsk he totaled 15 goals and 41 points in 43 games, ranking fifth amongst teammates in his 2018-19 campaign ahead of the draft. He also had six points in seven games for Russia in their silver medal Under-18 World Junior Championship campaign.
He seems to be reminiscent of the depth of players on the Sharks' 2016 Stanley Cup Final roster. He is physically effective in his board play, feisty on the forecheck, noted for two-way play, and has offensive upside.
Fourth Round?
As previously mentioned, Spiridonov was thought of quite highly. The Sharks made a draft-day decision to trade their own 2020 fourth-round selection to the Montreal Canadiens, to draft Spiridonov 108th-overall.
Related: Projecting the Sharks' 2020-21 Roster
Many scouts are worried about his skating. The forward is not effective at the start of his stride, and his ability to change direction quickly is in question. Many believe his technique is sound, but he needs explosiveness to progress into playing at a higher level. Additionally, he does not have the large goal and point tallies many teams want before drafting a player.
How is He Now?
After being drafted Spiridonov put up nine goals and 22 points in 26 games for his MHL team. He also got his feet wet and played against professionals in the VHL, the second division of Russian hockey. In 2019-20, he produced three points for Zauralie Kurgan, which is an underwhelming total, but the first experience in professional hockey is invaluable.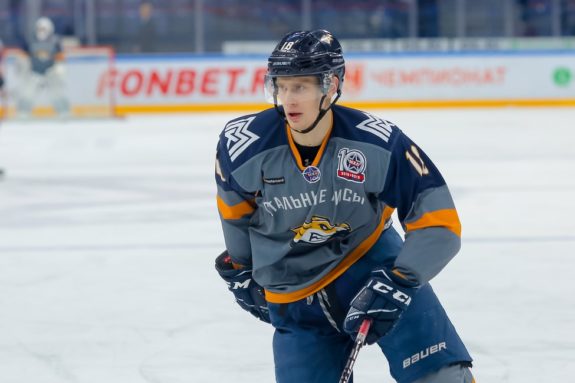 The 2020-21 season has been nothing short of odd for the 19-year-old. Spiridonov has played in three different leagues so far this season. In the MHL he had two goals and six points for SKA-1946 St. Petersburg. In the second division, he has played for SKA's VHL club three times and has two goals and one assist. He has also been coached by former Shark Igor Larionov for two games in KHL, playing for SKA Saint Petersburg.
Spiridonov has also been called by the Russian national team, along with five other SKA teammates, to participate in the Karjala Cup in Finland. This marks the beginning of a long European tour for the Russian national team. Also, Russia sent solely an under 20-year-old roster for this tournament. Likely, this indicates Spiridonov will play in the World Junior Championship beginning in late December. This would be key for San Jose, who had no prospects play in last year's tournament.
So, What Do the Sharks Have Here?
Spiridonov appears to have a high ceiling. The sample size in the 2020-21 season has been small, but he seems to be elevating his offensive impact, while retaining the defensively-sound play he has had throughout his career. His consistency producing at the VHL and KHL level is imperative to indicate he will be a future Sharks player.
Additionally, Spiridonov is likely to participate in the World Junior Championships for Russia. This is absolutely key for the Sharks, to evaluate their prospect against top talent his age. And, with goals in his last two games in the VHL, there is strong optimism for the forward in the future.
And, the Sharks have every reason to be optimistic. Spiridonov appears to be taking the next steps professionally. His defensive reliability, great forechecking, and emerging offensive talent at the professional level is something Sharks fans should be eager to see in the coming years.
---
---
Josh is a young writer from the Bay Area, who now studies journalism at San Diego State University. In addition to covering the Sharks and Gulls for THW, Josh is a crossover scout at FCHockey and covers his school's hockey team at TheDailyAztec. When not obsessing over hockey, Josh loves blasting music with friends, theatre, and playing with his dog. Follow Josh on Twitter for his latest takes on the Sharks, Gulls, and NHL Draft!