With Joe Thornton departing, lacking their own 2020 first-round pick, and mass uncertainty surrounding the roster, it is easy for San Jose Sharks fans to feel down about the upcoming season. Despite this, the Sharks still have reasons to feel confident entering the shortened season.
A Strong Young Core Is Developing
Although the Sharks are infamous for locking down older players on long contracts, the team has a quality young core developing. For example, on the projected top two lines for San Jose, three are 25 years old or younger. Timo Meier, 24, has been a consistent 20+ goal scorer in the NHL who will only improve, and Kevin Labanc will look to have a bounce-back season. Newly acquired Ryan Donato appears to be a diamond in the rough, and with more usage, will likely blossom into a quality player.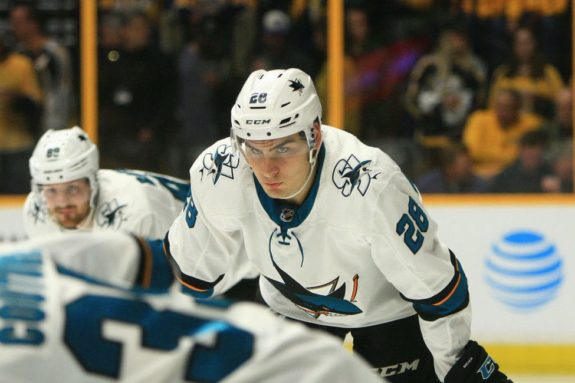 The majority of the players vying for the third center spot are young as well. While neither particularly stands out, Dyland Gambrell and Noah Gregor have emerged as the frontrunners through the beginning of camp. Gambrell, 24, has always excelled in the AHL, but last season when the team needed him to produce, his 11 points in 50 games did not suffice. Gregor, 22, had five points in 28 NHL games, at times playing in the team's top six, will compete to play his natural position at center and lock up a roster spot.
On the blue line, the Sharks also have many young options. A large camp battle for the team are the sixth and seventh defenseman role, and none of the competitors are over the age of 25. Jacob Middleton, 25, is a larger-bodied left-shot who is a grizzled AHL veteran. The Sharks signed college free agent Brinson Pasichnuk, who was highly coveted after scoring a point-per-game in his senior season at Arizona State University.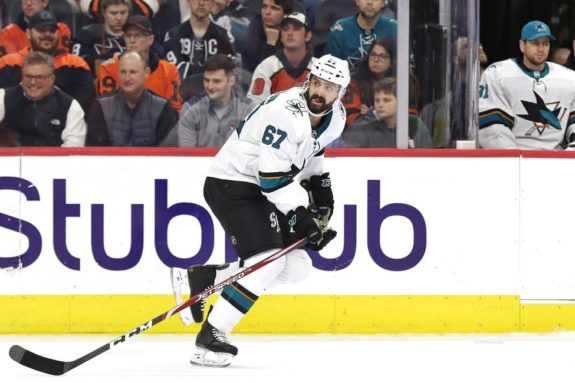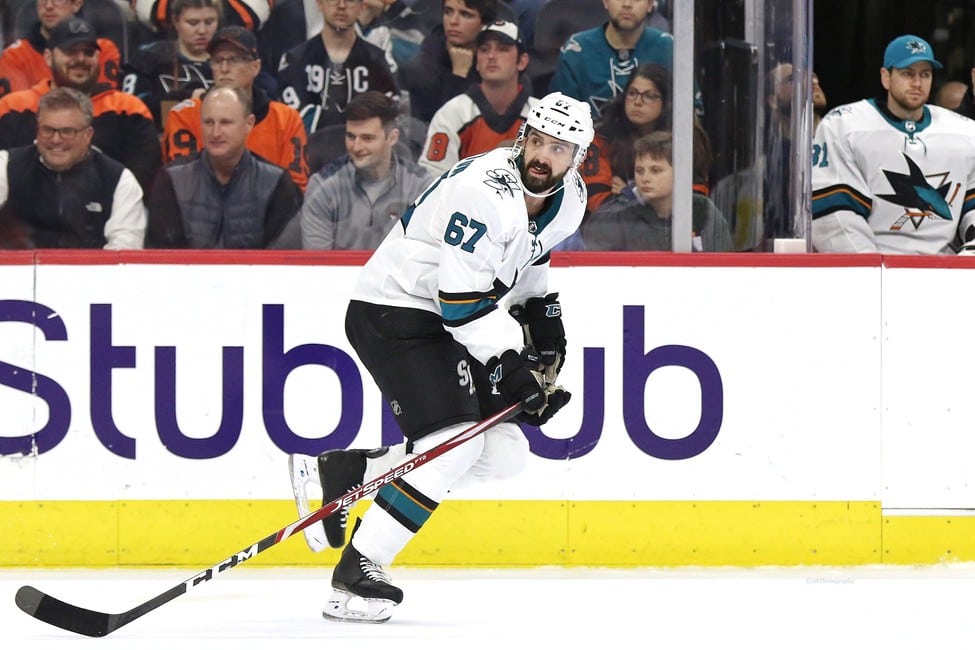 Of course, the blue line's future likely rests in the hands of Ryan Merkley and Mario Ferraro. The former, who is the Sharks' top prospect, is incredibly gifted offensively and questionable defensively. Merkley currently pushes for the sixth or seventh defenseman role but could fluctuate between the AHL and NHL. The 22-year-old Mario Ferraro had a solid rookie season and could develop into a solid top-four defenseman eventually.
It's Only a 56-Game Season
As mentioned in the team's New Year's resolutions, a controlled tank for San Jose is not the worse thing. If the Sharks tank, it would be in a condensed season without fans or their usual stadium. Especially when the 2021 draft class has plenty of quality defensemen at the top of the draft, there is good reason to believe tanking is smart.
In a similar vein, however, a shortened season allows the Sharks to make the playoffs without a need for too much consistency. If the team has one goalie rebound, and Erik Karlsson and Tomas Hertl return to their pre-injured caliber, a playoff spot is possible. Likely, the best the Sharks can finish is fourth, due to a top-heavy West Division containing the St. Louis Blues, Colorado Avalanche, and Vegas Golden Knights.
Regardless, I think the shortened season is a positive for the Sharks. Overperforming in a given stretch of games coupled with victories in winnable games against the bottom part of the division could be all the team needs to make the postseason. However, if the team does not start well, a tank for a high draft selection would not be as painful in a normal season with fans at SAP Center.
Healthy and Rebound Seasons Are Possible
The Sharks missed significant time from their best players, in addition to numerous players playing poorly and not up to expectations. This starts with top defenseman Erik Karlsson. Karlsson, 30, will look to impress in his third season with the team.
In 56 games last season, he notched six goals and 40 points, great for a defenseman. Missing games due to a super unlucky thumb injury, he also has had time to recover from numerous long-term lower-body injuries, so look for him to return to a resemblance of prime Karlsson if truly healthy.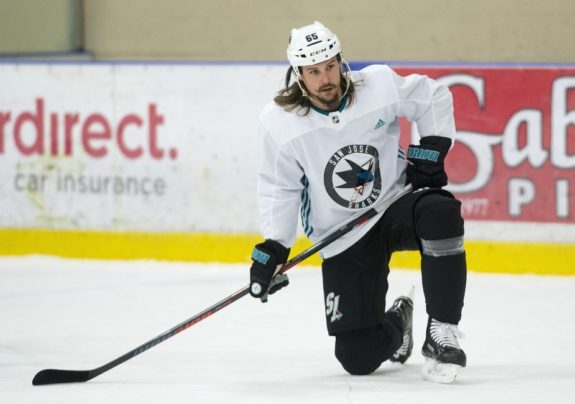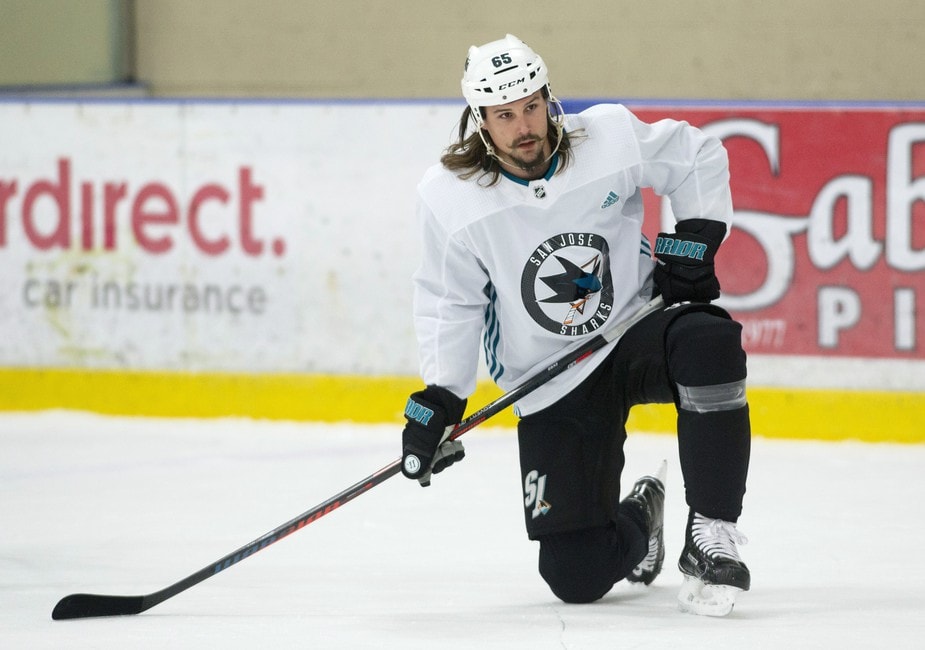 Next, Hertl needs to return to his 2018-19 dominance. He began last season with an ankle injury, then tore his ACL later on and missed the rest of the campaign. In 2018-19, he had 35 goals and 74 points in 77 games and looked to improve upon that. As was the theme in 2019-20, that did not go as expected, and he averaged .75 points per game. After 10 months of recovery on his knee, he will look to re-establish himself as a point-per-game power forward.
Related: Sharks' 2021 World Junior Championship Preview
Labanc is in need of a rebound season as well. Similar to Hertl, he must return to 2018-19 form, where he had 56 points in a season where he played on the third line. He was put into the top six last season and was disappointing to say the least, totaling 14 goals and 33 points in 70 games. General manager Doug Wilson locked him down for four more years, for he and Labanc feel a better season is imminent. Likely playing as the top-line right winger and on the powerplay, he will have every opportunity to succeed.
Both goaltenders for the Sharks used to be well-established starters, but now both have a lot to prove to be considered an adequate starting goalie. Martin Jones trended much better with Bob Boughner and Evgeni Nabokov as coaches. In the month of February, he had a .951 save percentage through five games. He was less solid in March and overall had a second consecutive .896 save percentage season. Working with coach Adam Francilia over the offseason, a rebound for Jones is possible.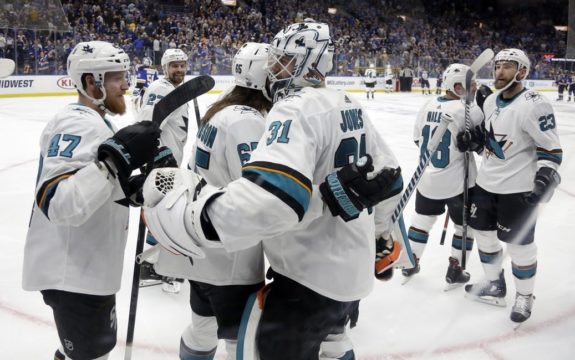 Also working with Francilia trying to return to past form is Devan Dubnyk. Acquired for a small price from the Minnesota Wild, Dubnyk used to be an incredibly solid and consistent netminder, but he was anything but either of those last season. Losing his starting job to Alex Stalock, he finished with an .890 save percentage. Off-ice issues likely impacted his play, and he must return to form, for he averaged above a .910 save percentage since 2014-15. One goalie must rebound for San Jose, and it is possible one will.
Sharks Should Have Some Optimism
It is easy, especially for fans, to look to the future and the money locked up to aging and regressing players. However, there is reason to believe the Sharks are a decent team entering this season.
If the majority of Karlsson, Hertl, Labanc, Jones, and Dubnyk return to the play they've had in the past, the Sharks can be mildly competitive for the last playoff spot.
---
---