Like all 31 NHL teams, the Calgary Flames find themselves facing an unprecedented regular season. Every team will feel the implications of not having fans in the stands – from more than just the physical standpoint, they'll also lose a lot of money. Fans are what make the game of hockey great, so to imagine a season without the atmosphere inside a jam-packed arena of screaming fans feels wrong.
Alas, this is the situation we face. Each team will need to find realistic ways to keep their team financially supported. Since the Flames' arrival to Calgary in 1980, the club has chipped in over $40 million into the southern Alberta region, and they'll continue to give back, but it's time for the Flames to get creative and keep their team relevant for years to come during a tough season.
Playing in an Old Barn
The Scotiabank Saddledome is a building like no other. Its unique hyperbolic paraboloid, or "saddle" shaped roof is a major attraction, and a major downfall (From 'Several acts a year skip Calgary due to Saddledome's drawbacks,' Calgary Herald, 11/26/14). Unfortunately, the roof's design means it can't support the heavy technical requirements of many big-name performers, so the Saddledome already loses out on money, even when the building is open.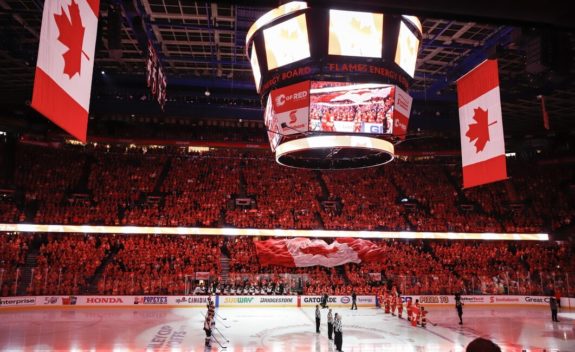 The devastating floods of 2013 in Southern Alberta also mounted some very significant damage and costs to Calgary and the Saddledome, but like the Saddledome when it was originally built, the renovations were also done under strict time, this time to meet the 2013-14 regular-season puck drop.
Fortunately for the Flames, their new arena is slated for completion in May of 2024, so they'll finally have some of the modern amenities that come with a new event centre. A new event centre will not only be beneficial for the Flames, but for Calgary as a whole. It was reported in 2016 that a new event centre would generate $151.8 million annually, so once the new arena is open, the city of Calgary and the Flames will see a new stream of money unseen in the Saddledome.
New Uniform Set
The Flames' marketing team has done a tremendous job of getting fans excited about the way their team will look on the ice this season. You could easily say the Flames' new threads are "fire," as they brought back both their retro white and red jerseys for their respected home and away purposes. Rather than scraping a classic, the Flames decided to keep their red jersey which featured the black "Flaming C" crest on the front, and will use the uniform as an alternate jersey.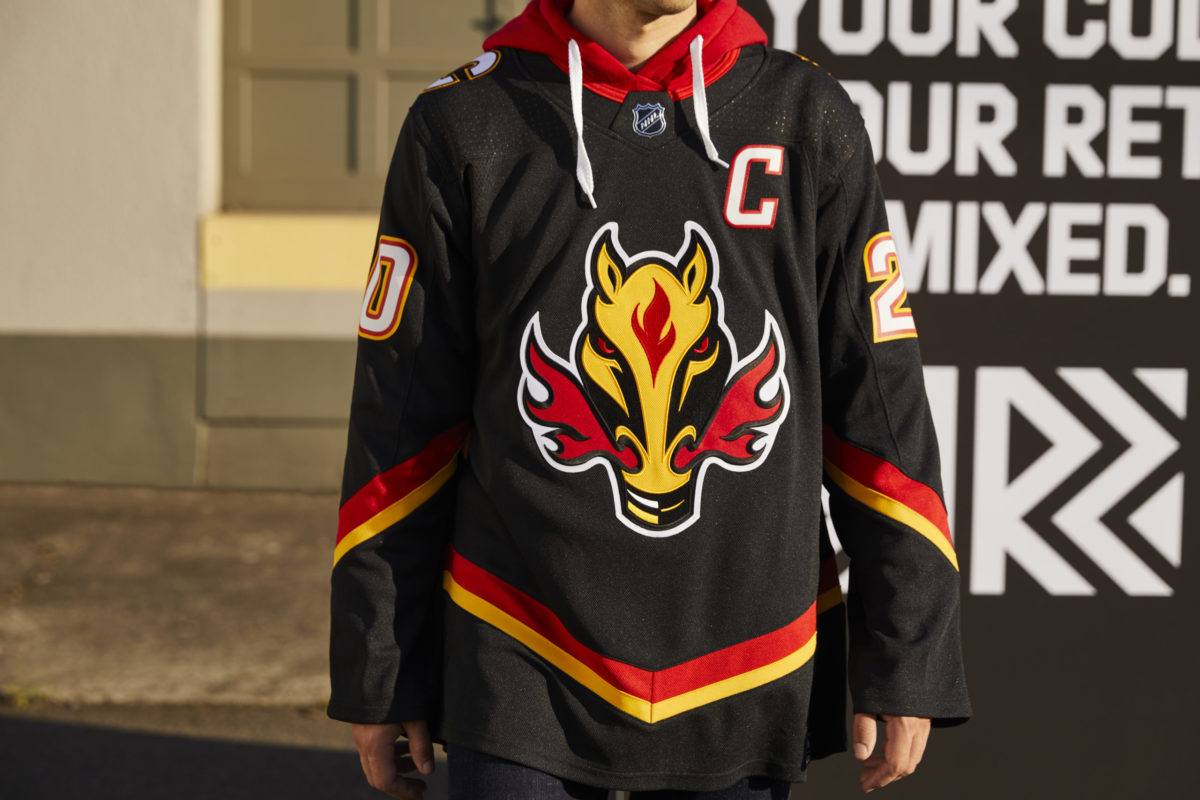 Last, but certainly not least, the NHL introduced a new jersey line called the "Reverse Retro" series. Each team brought back a classic jersey, and added new modern details. The Flames sold out of Matthew Tkachuk Reverse Retro jersey's on their official team store in the first few days of being released, and many fans are still trying to get their hands on the new threads.
It's safe to say the Flames have made all members of their fan base happy when it comes to their jersey lineup, as each one features flashes from each Flames era. The Flames will need to continue pushing the agenda on jersey sales, as they won't have fans at the games buying the gear.
Helmet Ads
Many NHL fans are still on the fence about advertisements on the helmets of players, but the reality is, it may be a short fix while the NHL deals with the burden of empty arenas. The Calgary Flames haven't made an announcement yet on which company logo will be donned on their helmets, but it is a fine solution for the shortened season.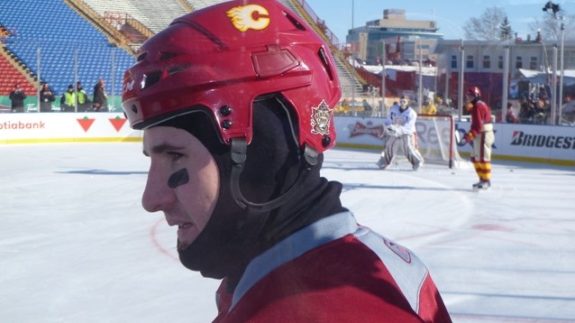 NHL Commissioner Gary Bettman said in 2018 that it would take an "unusual circumstance" for the NHL to include ads on jerseys, so the league will leave that out of the picture for now. I don't feel teams should feature jersey ads, but I wouldn't have a problem with ads on the pants shells, as well as the helmets. That is unlikely, but look for the Flames to announce a helmet sponsor in the coming days.
Community Events
In a season where human interaction will be limited, it's likely that all of the charity events the Flames have been involved with in the past will look different. The Flames raised more than $4 million during 2019-20 for Southern Alberta, so getting out and giving back as a team in a safe manner is imperative. Whether it be over Zoom, or in person, I would love to see the Flames still push to be more than just an on-ice product this season.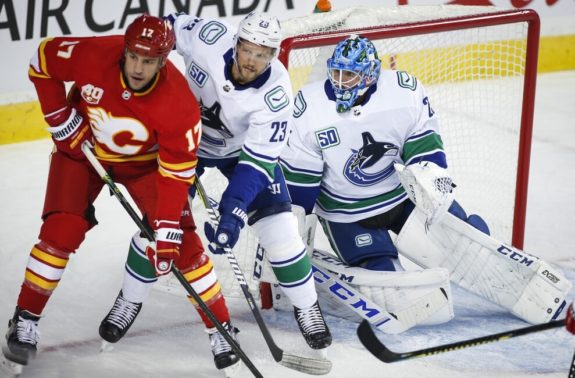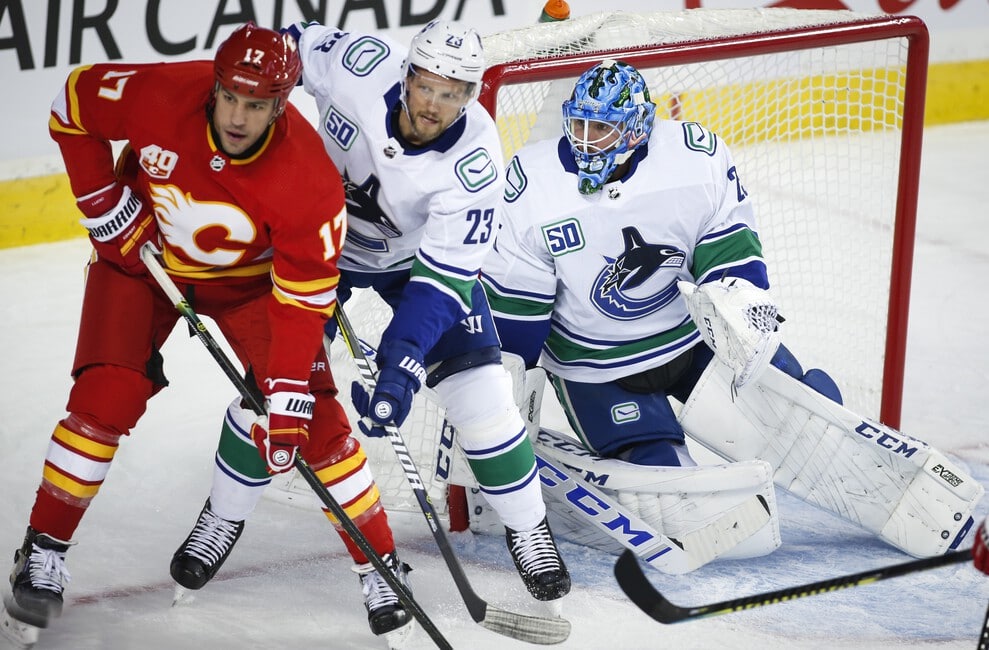 Giving back to community events is also important, whether it be fan meet and greets, hospital visits, or school events. Growing the game and teaching youth about the importance of community involvement goes a long way. All of that will look different this season, so the players and staff will have to find different ways to invite new fans to the game of hockey, likely using the power of technology and social media.
A New-Wave Red Mile?
The Calgary Flames put on a great show outside the Saddledome during their short-lived playoff run in 2019. A large portion of Stampede Park's parking lot along Olympic Way was transformed into an outdoor hockey party that entertained fans with a gigantic screen, live music, food and beverage, and of course, thousands of screaming fans.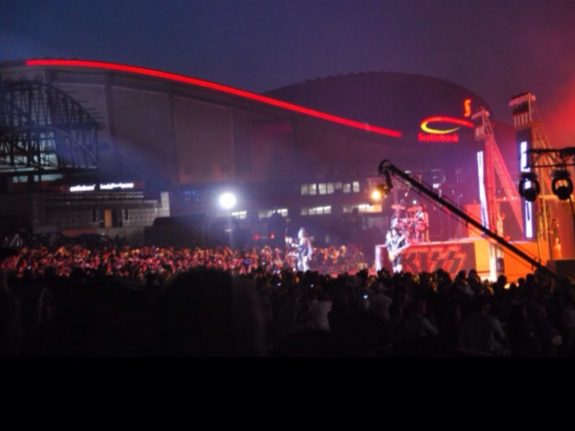 There's no doubt that won't be possible to put on right away, but in the meantime, it would be interesting to see if the club could plan a viewing party in the parking lot again, but from the safety and comfort of one's vehicle. I took in several movies and a concert during the summer of 2020 from my car, and all things considered, I thoroughly enjoyed it.
The feeling of taking in an event, surrounded by others, with all the required amenities for a modern-day show brought back a sense of optimism. The Flames should be looking at all feasible options to get fans interacting, as they'll be looking to take in hockey games in just a matter of days.
Creativity Wins!
The Flames shouldn't just be looking at ways to bring fans closer to their team this season, but also down the road when fans are finally welcome back in the stands. Every move the team chooses to make or not make impacts the club and its fan base's future.
When it comes to earning money, every team will need to keep pressing entrepreneurial-type ideas. The Flames have most of their bases covered, with a new arena on the way, a jersey lineup that appeals to all their fans, and advertisement avenues set to roll out soon, but this team will still need to continue to earn over its fans, new and old.
---
---