The San Jose Sharks will be holding their training camp very soon. This year is a bit different now that it will officially be held in Arizona due to the ongoing COVID-19 pandemic.
This doesn't mean that there will not be intense battles for spots in this year's camp. There are a few openings the team needs to fill, and this article will lay out who will be battling for what position.
Starting Goalie
I start off with possibly the most important battle the Sharks have this year. This will be a battle between Martin Jones and Devan Dubnyk. The similarity between these two goalies is that during last season, they both lost their starting jobs to the younger backup. Jones lost to current Toronto Maple Leafs' goalie Aaron Dell, and Dubnyk lost his job to former Shark Alex Stalock.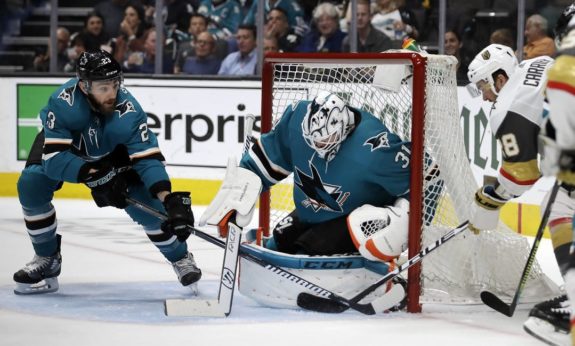 Kevin Kurz, a writer for The Athletic, mentioned goaltending as one of his six questions for the season and said that possibly they could "split the net" for the first few weeks, saying, "whoever is playing better will get the bulk of the work moving forward." (From 'Six Sharks questions as a return to the ice is finally in sight' The Athletic, 12/21/20).
| | | |
| --- | --- | --- |
| | Devan Dubnyk | Martin Jones |
| Record (2019-20) | 12-15 | 17-21 |
| Save Percentage (2019-20) | .890 | .896 |
| Goals Against (2019-20) | 3.35 | 3.00 |
Comparing the two goalies based on last year's stats (Stats from NHL.com)
Despite this, it is important to have this battle to see who will be starting January 14th against the Arizona Coyotes, then they can go through the rest of the season with the "hot hand."
Third Line Center
This position battle is the one that will have the most people fighting for it. The key players who will be competing to be the third-line center are Patrick Marleau, Fredrik Handemark, Alex True, Joel Kellman, and Dylan Gambrell.
Marleau will have the leg up in this battle because he's the veteran in this situation. For the past few seasons, he's played in that bottom-six role for the Leafs and Sharks, respectively, and he's produced in bundles.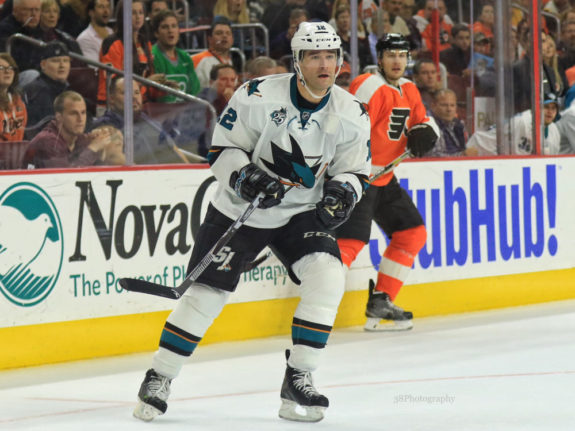 In the past three seasons, Marleau has had seasons over 20 points despite being relegated to the bottom of the roster, with his best being his first season with Toronto when he totaled 47 points.
Handemark will be the newcomer to the party, being called back from the SHL's Malmo Redhawks just recently. In the 25 games he played on loan, he scored 6 goals and 9 assists for a total of 15 points.
When they initially signed him, general manager Doug Wilson praised him for his powerful skating and his ranking as "one of the top faceoff centers in Europe." With the Sharks losing Joe Thornton, it might be nice to have someone who can take those faceoffs.
True will be another player with some experience on the roster, being promoted from the San Jose Barracuda last season and staying on the roster for most of the season.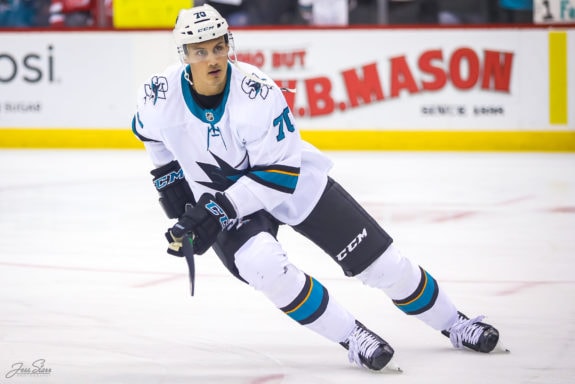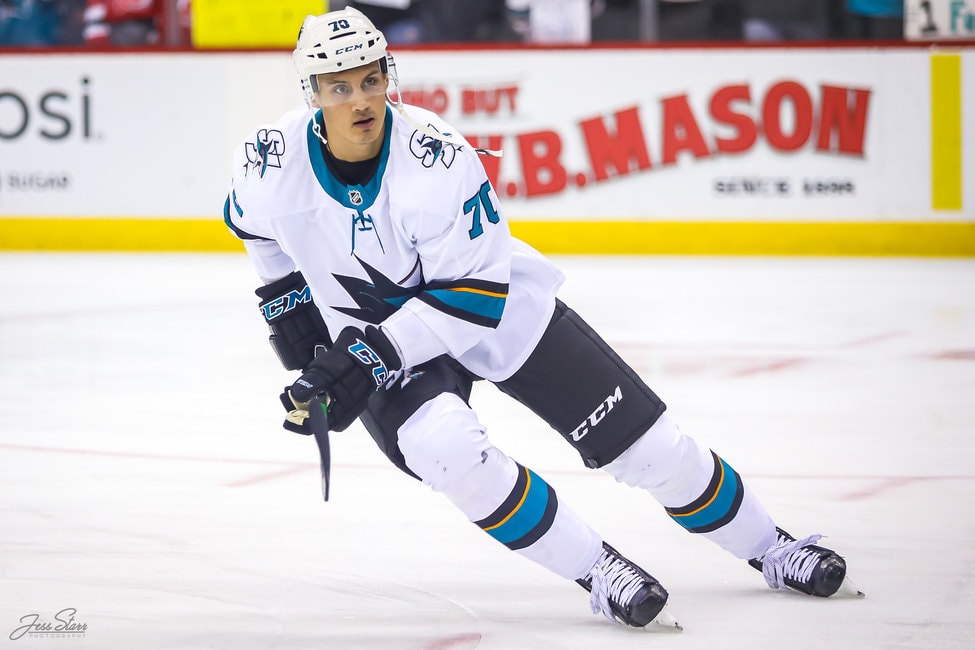 Like Marleau, he was mostly on the third and fourth lines and scored no goals and four assists for a total of 4 points in all 12 games he played. He is poised to be a breakout player this season and needs to really prove himself to be an option for this spot.
Kellman was promoted to the active roster in December of last season and was re-signed to a two-year deal recently, and deservedly so.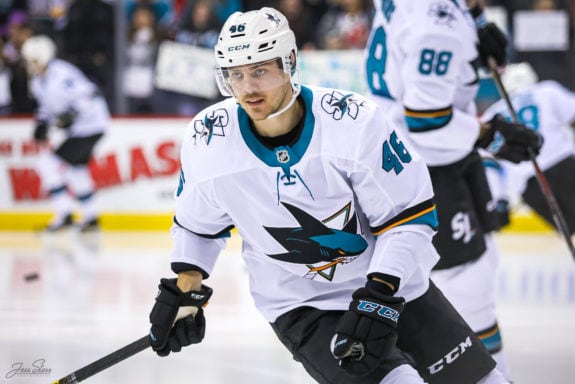 In the 31 games he played last season, he scored 3 goals and 4 assists for a total of 7 points. Those are not spectacular numbers, but not a terrible start to a rookie season, and he's another guy who needs to prove himself worthy of an option.
Finally, Gambrell is another veteran. Technically, he is the incumbent third-line center, holding the position for the entire season last year.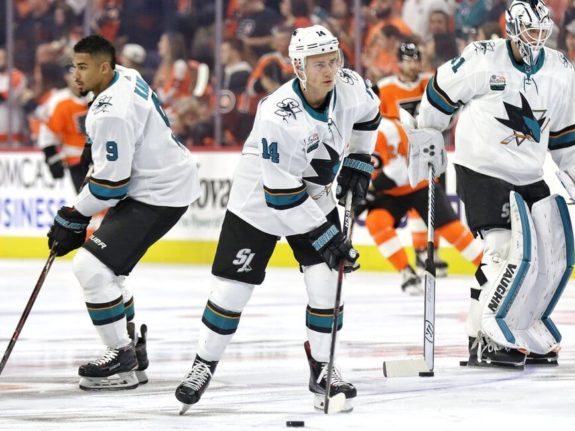 In the 50 games he played in that role, Gambrell scored 5 goals and 6 assists, totaling 11 points. That's not great for a third-line center, so he has to prove he can stay in that role.
Third Pairing Right Defenseman
This was mentioned as a position of need to be signed over the offseason. As it looks like Doug Wilson won't be signing anyone soon as of this writing, the Sharks may as well go with someone within the system.
But there is one issue with this. All of their system depth is mostly left-handed shooting, and it's a bit difficult to play on the right side when you shoot left-handed, so they'd have to adjust. The key players to battle for this position are Nick DeSimone, Jacob Middleton, and Ryan Merkley.
DeSimone is one of the few right-handed defensemen in the system, and he would be a rookie fighting for this position.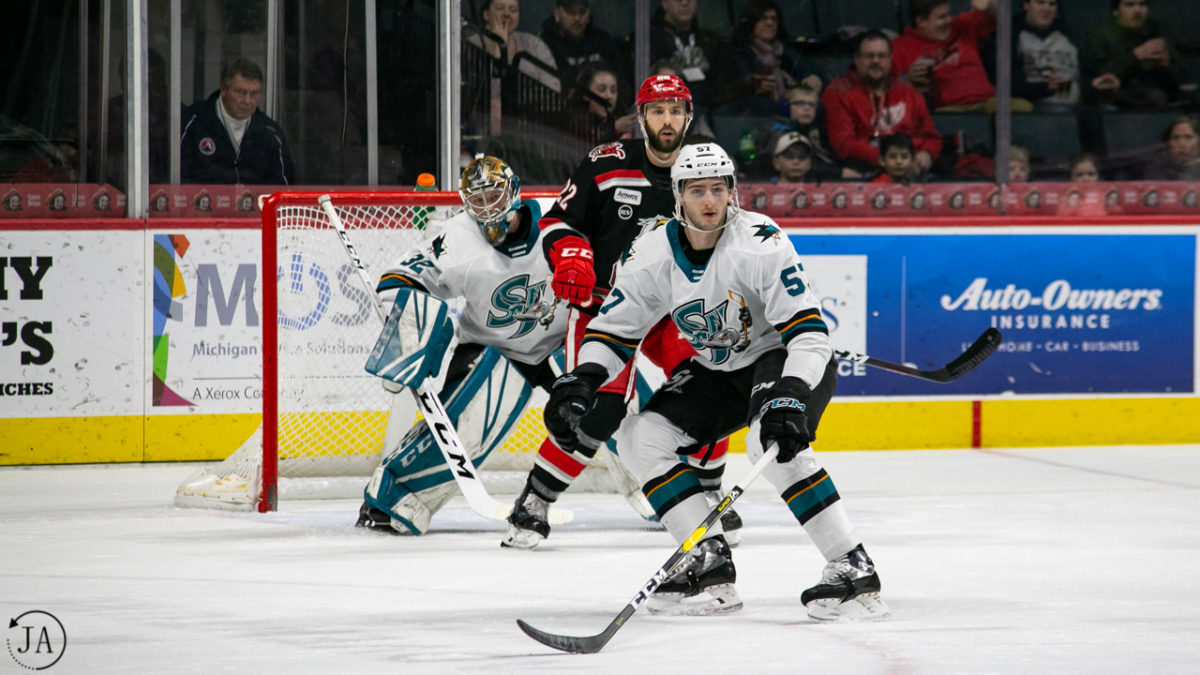 DeSimone's numbers with the Barracuda were stellar last season, though, as he scored 5 goals and 14 assists for a total of 19 points. He ranked third among all defensemen in points on the Barracuda. If he can put that production on the third pairing, it would be worth giving him a chance.
Middleton has the most experience at the right defenseman position, filling that role for part of last season.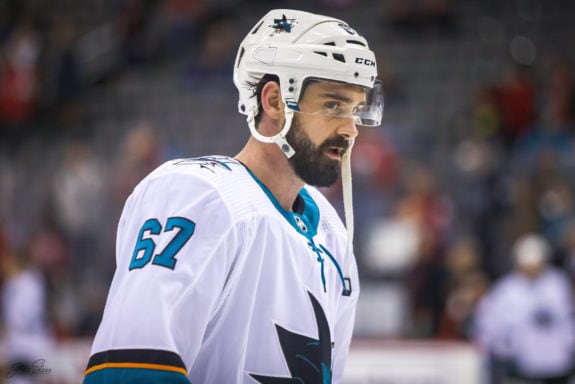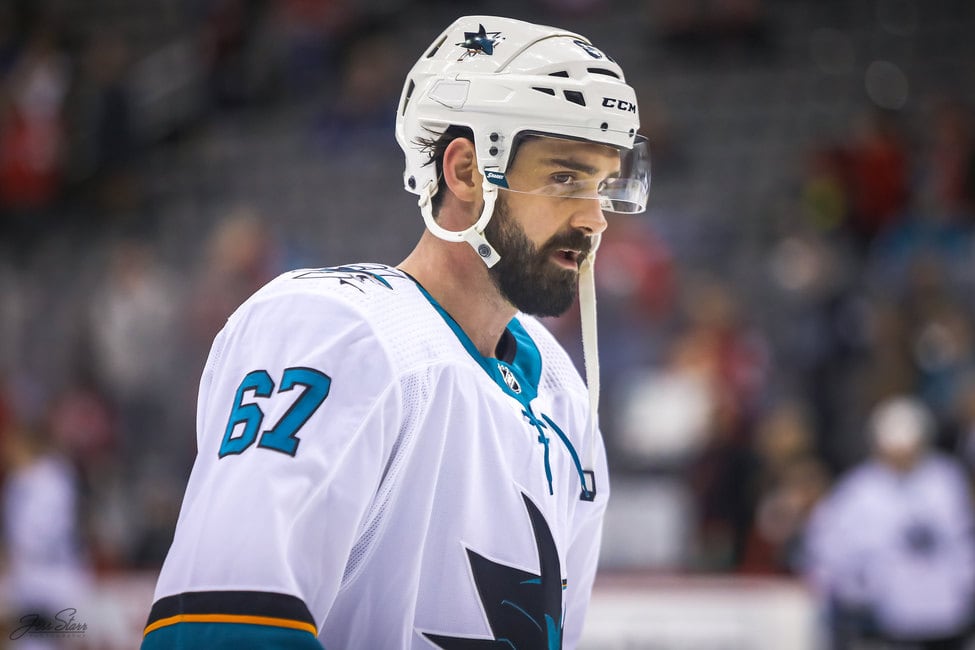 In his 10 games last season, he had two assists for two points, and with the Barracuda, he had a goal and six assists. He suffered a lower-body injury in early March, but he's fully healthy and signed a two-year extension in October.
Under a fresh contract and some momentum from being fully healthy, Middleton could be a dark horse to win the job.
Finally, there's Merkley, the rookie in this situation. He'll be making the step up to the pros after spending last season with the Ontario Hockey League's London Knights.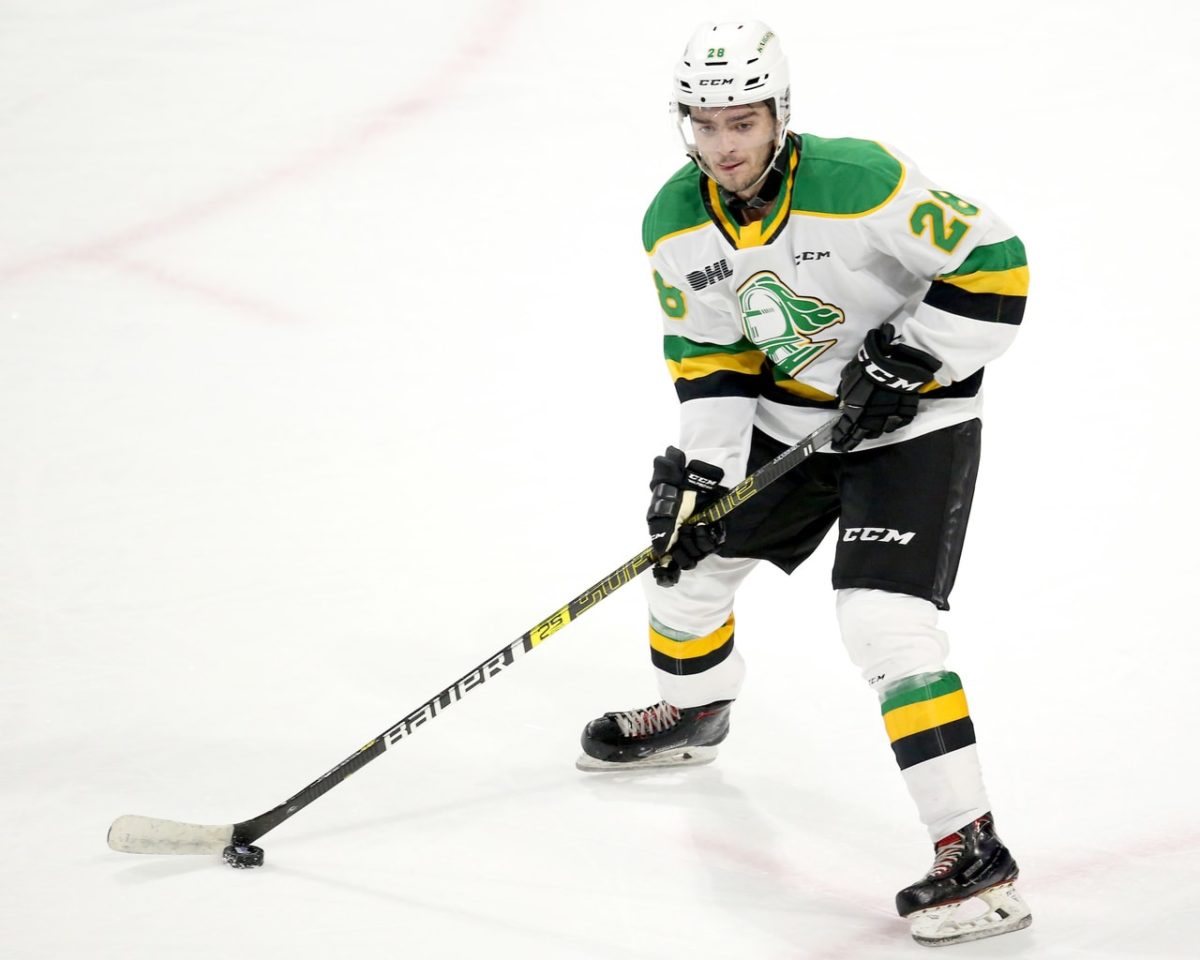 With the Knights, he scored 15 goals and 61 assists for a total of 76 points in 60 games, putting him at just about 1.3 points per game. He was second among all skaters on his team in points and first among all defensemen. He was also second among all OHL defensemen.
Merkley could make a huge impact for the right defenseman position if he makes it, and like all rookies, he has to work his tail off to get there.
These are the three battles to watch as news comes out about Sharks training camp. There are a few spots and many players competing for them, so it will be exciting to see who makes it.
---
---