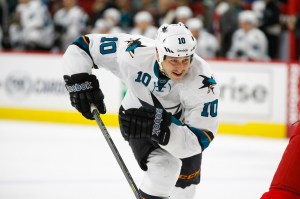 The San Jose Sharks have reportedly moved pending unrestricted free agent forward Andrew Desjardins to the Chicago Blackhawks for forward Ben Smith. Both fourth line players, Smith has a year left on his deal according to stats.nhlnumbers.com.
In return for Smith, Blackhawks get pending UFA center Andrew Desjardins

— Pierre LeBrun (@PierreVLeBrun) March 2, 2015
While Smith scored 14 goals and 26 points for Chicago last season, he has just five goals and nine points this season and is pointless in his last 28 games. Desjardins meanwhile has proven year after year to be a reliable fourth line center and when playing with more than just fighters, he can be a consistent 20 point, defensively responsible guy. He also is normally well above average in the face-off circle, a career 53.4% success rate. 
For the Sharks this is a second trade of a pending unrestricted free agent after forward James Sheppard was traded yesterday.  San Jose has lost eight straight home games and despite getting help from other teams around them losing in recent days, the Sharks are clearly selling at this trade deadline. Reports are rampant on twitter from sources like former NHL goaltender Kevin Weekes that the sharks are trying to move their No. 1 goaltender Antti Niemi. Clearly the Sharks are in sell mode, which makes sense given their underlying team numbers even if they are technically not that far out of a playoff spot.
As for this swap of fourth liners, it is certainly clear that Smith has disappointed this year in Chicago. However, Desjardins could have been acquired for a mid-late round draft pick and a fourth line for the Hawks of Kruger-Desjardins-Smith would have been a hard nosed, talented fourth line. Alas Smith will get a fresh start in San Jose where their bottom six continues to be a jumbled up mess with no real identity. Hard to see Smith getting back on track if every few games he has to line up on the opposite wing of John Scott. However, with a year left on his deal and just 26-years-old perhaps Smith can regain his scoring touch next season with the Sharks perhaps not re-signing Scott.
However, this does seem like a peculiar move in the sense that the Sharks already have a fourth line right wing for next season in the currently injured Mike Brown. Smith is certainly a superior talent to Brown, but Smith isn't exactly third line material. And while 26 isn't old, it is hard to imagine Smith breaking out into anything more than what he has shown to be, which is a solid fourth liner. For both Chicago and San Jose, it seems like Desjardins for a fourth round draft choice would have made more sense.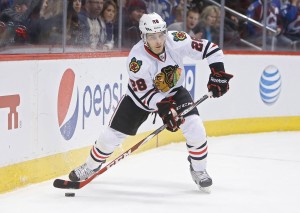 .
Andrew has been credentialed to cover the Sharks since 2010 and the 49ers since 2012. He graduated with his BA in Broadcast Electronic Communication Arts in 2013 from San Francisco State University.