We're breaking down the new faces coming into each division following the trade deadline. These posts will be updated with new information throughout the day.
Chicago Blackhawks
The Blackhawks were expected to make a couple of moves at the deadline after losing Patrick Kane for 12 weeks to injury and losing Johnny Oduya to terrible play for most of the season. They have not disappointed.
The big move brings in Coyotes' center Antoine Vermette. Vermette is one of the best faceoff-men in the league, ranking ninth in the NHL (one behind Jonathan Toews) with a 56% win rate. He has 13 goals and 22 assist through 63 games for Arizona this season. He helps make the Blackhawks a frightening offensive force when Kane returns. That top forward group would include Vermette, Kane, Toews, Patrick Sharp, Marian Hossa, Brandan Saad, Brad Richards (who hasn't been bad in Chicago), Andrew Shaw, and Teuvo Teravainen.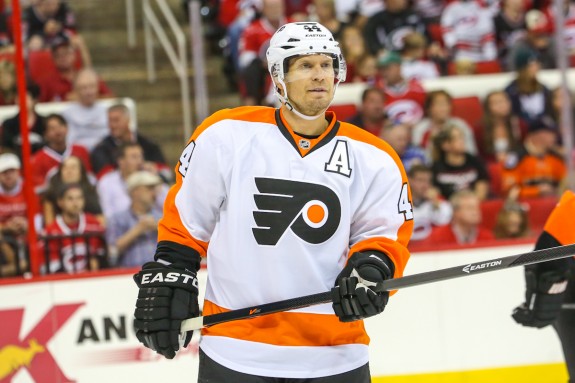 The team also made an interesting trade to grab veteran defender Kimmo Timonen from the Philadelphia Flyers. Timonen has been sidelined the entire season after blood clots were discovered over the summer, but it appears he's ready to get back on the ice. Despite being 39-years old, his possession numbers continue to be outstanding and he has a huge positive impact on teams. This could be a very good trade for Chicago's chances this season.
Finally, in a deal that sent prospects in two directions, Chicago acquired 26-year-old forward Spencer Abbott from the Toronto Maples Leafs in exchange for defenseman T.J. Brennan, who was a part of the Leafs organization last season. Abbott has played one NHL game in his career. He has seven goals and 17 assists through 46 AHL games this season.
In addition, the Hawks sent Ben Smith to San Jose and acquired the Sharks' fourth line center Andrew Desjardins. Desjardins is a checker and a serviceable fourth line guy, but this trade may have a lot more to do with cap space than anything. Desjardins comes in at about half of Smith's salary and is a UFA after this season. Smith has another year left on his contract.
Colorado Avalanche
The Avalanche got in on the action late in the day when they sent Max Talbot and Paul Carey to the Boston Bruins and got young forward Jordan Caron and a 2016 6th round pick in return.
It's a nice return for the Avs, who get another young forward joining their ranks. Caron had a nice 2011-12 campaign when he scored seven goals and eight assists in 48 games, but he hasn't been able to match that since, posting three points in the following two seasons and no points in 11 games this season. The Avs and Caron will hope they can hit a reset button to inject a depth forward into their ranks out of the trade.
Dallas Stars
In the process of sending veteran Erik Cole to the Detroit Red Wings, the Stars acquired two prospects from the Red Wings: Mattias Backman and Mattias Janmark. While the names might not mean much, this is a good move for Dallas. Janmark is having a nice season in the SHL and Dallas can take all the defensive prospects they can handle. Also, as ESPN's Craig Custance noted, no GM in the league knows the Red Wings prospects better than Dallas GM Jim Nill.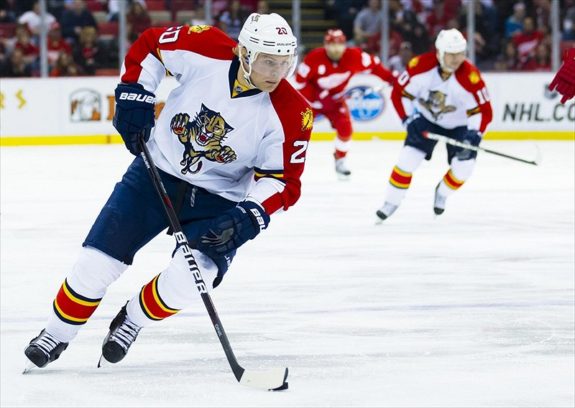 Minnesota Wild
The Wild got ahead of the game when they acquired Sean Bergenheim and a 7th round pick from the Florida Panthers for a 2016 3rd round pick on Wednesday night. Bergenheim is a great acquisition for the Wild and came at an incredibly reasonable rate. He was unhappy in Florida and requested a trade.
It appears that his style of play is going to fit in great with a possession-focused Wild team. Bergenheim has slotted into the top line with Jason Pominville and Mikko Koivu so far, but is capable of playing anywhere in the top three lines and making an impact.
The Minnesota Wild have also struggled finding a solution for the left side of their third pairing and it was rumored that Jordan Leopold could be a solution to that problem. (Something that's explored here.) Just before the deadline, the Wild made that move, sending Justin Falk and a 5th round pick to the Blue Jackets for Leopold, a Minnesota native who played for the University of Minnesota Gophers.
Lepold isn't an exciting pickup and he probably is a healthy scratch some, unless injuries to Jared Spurgeon and Marco Scandella keep him relevant, but it's a nice addition for the team heading down the stretch that makes them less vulnerable to injuries.
The Wild also added a physical winger by acquiring Chris Stewart from the Sabres. Stewart's numbers have been on the decline, posting some ugly usage adjusted corsi in his career and a declining P/60 over the last three years.
Chris Stewart's UA Corsi: '09 – 43.5%. '10 – 48.1%. '11 – 50.7%. '12 – 46.9%. '13 – 46.9%. '14 – 45.4%. '15 – 43%.

— Dustin Nelson (@dlukenelson) March 2, 2015
The Wild will hope that some of that decline is psychological and that they'll be able to kickstart him into being a bruising forward with a strong netfront presence, capable of being an asset on the power play and in the corners.
Nashville Predators
Since acquiring Cody Franson and Mike Santorelli from the Toronto Maple Leafs on February 15, the Predators have been quiet.
St. Louis Blues
The Blues showed they're in win-now mode by acquiring defenseman Zbynek Michalek from the Arizona Coyotes and sending away promising 2014 2nd round draft pick Maxim Letunov. Michalek is currently sidelined with a concussion, but figures to be back in the lineup soon. The Blues have one of the most formidable blue lines in the league and this makes their defensive depth downright frightening.
Here's how the conditional pick in that deal goes:
The conditional third-round pick the #stlblues received from Arizona reads as follows: it's theirs if Michalek never plays again. (1/2)

— Jeremy Rutherford (@jprutherford) March 2, 2015
That would give the #stlblues a pick in the 60s in exchange for Maxim Letunov, who was No. 52 in 2014. If Michalek plays, the pick goes away

— Jeremy Rutherford (@jprutherford) March 2, 2015
The Blues also grabbed forward Adam Cracknell from the Columbus Blue Jackets in exchange for future considerations.
Close to deadline time, in a player swap with the Pittsburgh Penguins, the team sent Ian Cole packing and acquired bruiser Robert Bortuzzo and a 5th round draft pick in exchange for defenseman Ian Cole. If they use him, Bortuzzo brings a lot grit to the Blues depth lines — though I'm not sure they need it. Bortuzzo has posted 68 penalty minutes in 38 games this season.
The Blues also found themselves some veteran help down the middle by acquiring veteran Olli Jokinen from the Toronto Maple Leafs. Jokinen has played a total of six playoff games in his 17-year career and will finally get to add a little to that single series he's been in. Jokinen isn't the player of his youth, but if he's used in a depth role he should be able to provide some nice secondary scoring for the Blues as they look to make a deep playoff run.
Winnipeg Jets
Jets GM Kevin Cheveldayoff has been notoriously a quiet man at the trade deadline in past seasons. That doesn't necessarily mean that he wasn't trying to get deals done, but few moves were ever completed. This year, he's been a very, very busy man.
On February 11 he made a splash when he sent Evander Kane and Zach Bogosian to the Buffalo Sabres, taking back Tyler Myers, Drew Stafford, Joel Armia, prospect Brendan Lemieux, and a late 1st round draft pick. That would have been enough to reverse the narrative at play, but he was far from done.
He's been working hard to bolster the Jets' forward depth and started shortly after Wild GM Chuck Fletcher got a few dominoes in motion with his Bergenheim trade. The Jets grabbed Jiri Tlusty from the Hurricanes in exchange for a pair of draft picks. Tlsuty will fit in nicely for the Jets, helping them work toward having three full lines capable of doing offensive damage.
Acquiring Lee Stempniak from the New York Rangers in exchange for Carl Klingberg will also go a long ways toward making this team look like they're serious about their chances this year. As Michael Straw pointed out at THW, he'll bolster their penalty kill as well.
Dustin Nelson writes about news and the Minnesota Wild for The Hockey Writers.