Columbus Blue Jackets GM Jarmo Kekalainen knows that the upcoming expansion draft will mean that his team, like many others, will lose a good player. The question that is consuming the non-remaining-playoff squads is simple: which player?
Recently, I attempted to tackle the precarious task of fixing the Blue Jackets' expansion draft woes. It meant buying out Scott Hartnell's contract if he was unwilling to waive his No-Movement Clause (NMC), so that the club could protect the promising Josh Anderson. The article assumed that Columbus is most concerned about losing a young and skilled forward. However, it neglected the unpleasant truth that the team could realistically lose a defenseman instead. The question then becomes is it a given that the Blue Jackets expose Jack Johnson and protect Ryan Murray?
A quick analysis of the roster will allow reasonable fans to come to a few conclusions:
Seth Jones will be protected.
Zach Werenski, Markus Nutivaara and Gabriel Carlsson are all exempt from expansion.
Assuming that, like most organizations, the Blue Jackets will abide by the 7-3-1 (as opposed to the 8-1 format – click here for a full expansion draft rules explanation), they will need to protect two of these three players: David Savard, Jack Johnson and Ryan Murray.
It's not a certainty, but it's probably reasonable to assume that David Savard will be protected as well. At 26, he's solid and well-priced at $4.25 million through the 2020-21 season. The three rookies (from point #2 above) are all left-handed shots, and Savard joins Jones as a work-horse righty. He will be a fixture on the 2nd pair/shutdown pair for the foreseeable future.
Murray or Johnson?
Therefore, it boils down to either Murray or Johnson. Virtually nobody thinks that the Jackets would let Vegas poach Murray for free, and I can understand the thought process. A former 2nd overall pick, he's only 23 years old and has shown a really nice upside. Still, he's oft-injured (to be nice), and Tortorella seemed content with playing Murray on the 3rd pair this season.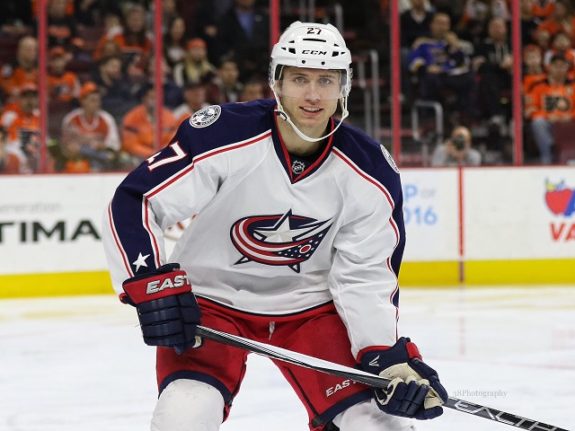 To be frank, Murray may have been passed by several players on the depth chart. He had previously been the power play quarterback, playing nearly 216 minutes of 5v4 hockey in 2015-16, but that started to change when Jones was brought in. This season, with Jones and the arrival of Werenski, Murray played just 30 minutes of 5v4 (data per Corsica.hockey).
On the one hand, it's quite a luxury to have a player of Murray's caliber playing bottom-pairing minutes. On the other, his role diminished right around the time one would expect a defenseman's career to flourish. He posted the worst shot differential numbers of his career this season, strangely aligning with the Blue Jackets' best season in franchise history.
In Support of Johnson
At the same time, naturally, Jack Johnson had the best season of his 12-year career. He seemed to find a niche playing with David Savard in a 2nd pairing capacity with shutdown/penalty killing responsibilities. With the biggest minutes being assigned to Jones and Werenski, he and Savard were more properly aligned to their strengths. First-year Assistant Coach Brad Shaw recognized this, playing him more than any other player on the PK this season.
Additionally, though I'm careful to not put too much stock in +/- the statistic still has some merit and this season, Johnson was a +23. His prior career high was his first season with the Jackets in 2012, going +5 in 21 games. Take away this season and he's a career -126 in 711 regular season NHL games. That's a staggering turnaround, and perhaps all he needed was a slight move down the lineup.
Johnson has seen his ice time diminish in each of his six years in Columbus (okay, okay, it was .01 more in 15-16 than 14-15), going from averaging 27:25 in 2012, down to 24:11 in 15-16, all the way to 21:49 this past season. To be clear, that's still a lot of ice time (58th average TOI among defensemen in 2016-17), especially for a 2nd pairing defenseman at age 30, but the demotion has unquestionably benefited his game.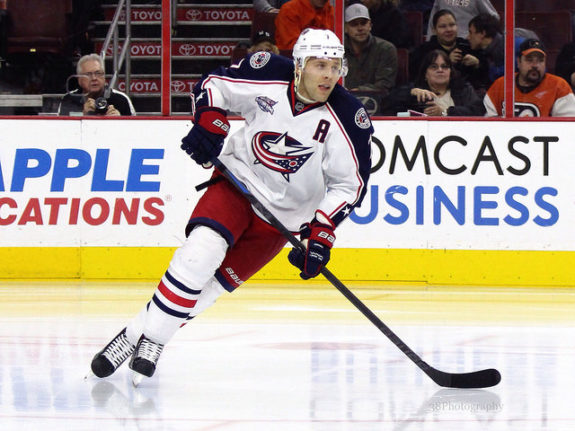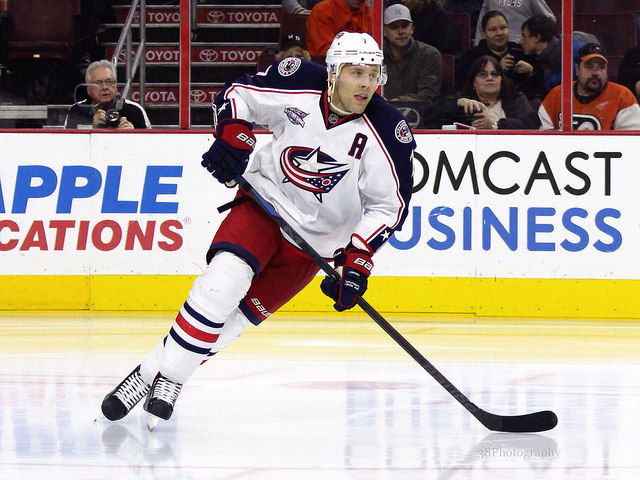 Another consideration that benefits Johnson is his playoff career. As inexperienced as the Blue Jackets are in the playoffs, Johnson is one of few bright spots. In 23 career playoff games, he has 21 points, exceptionally high for a defenseman who averages .38 points/game in his regular season career.
Looking Towards the Future
Johnson's remaining contract presents an interesting situation. He has one year left on his deal at $4.35 million before becoming a UFA. At the same time, it is likely, that one or both of Nutivaara and Carlsson are ready for an increased role with the team. The other thought is that KHL defenseman Vladislav Gavrikov will be leaving the KHL and coming to Columbus at some point in the next two years, and will also be able to help bridge that gap. In short, the Jackets should have internal options should Johnson leave as a UFA after one more season.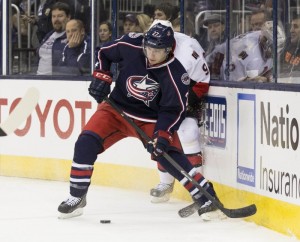 Perhaps exposing Murray would dissuade Vegas from taking the forward that the Jackets are more concerned with losing. Even then, Columbus management would hate to lose a guy with Murray's potential for nothing. On the other hand, Kekalainen could examine the possibility of packaging some of their newly-found defensive depth for additional offensive help, rendering this exercise completely useless. Clearly, there are a lot of avenues for management to explore.
When push comes to shove, it'd be hard to convince anyone that the Jackets should expose a 23-year-old, 2nd overall pick with serious upside and RFA status at the end of next season when compared with a 30-year-old who has probably played his best hockey in the rear-view and will be a UFA at the end of next season. I'm not saying that the Blue Jackets will or even should expose Murray while protecting Johnson. However, it's perhaps not as cut and dry as people tend to think.