Columbus Blue Jackets winger Artemi Panarin has been in the news lately, with well-substantiated reports suggesting he may be on his way out of the Buckeye State.
Sportsnet's Elliotte Friedman reported last week Panarin had declined to discuss an extension with Columbus, leading the Blue Jackets to investigate what they might be able to get in return for the 26-year-old.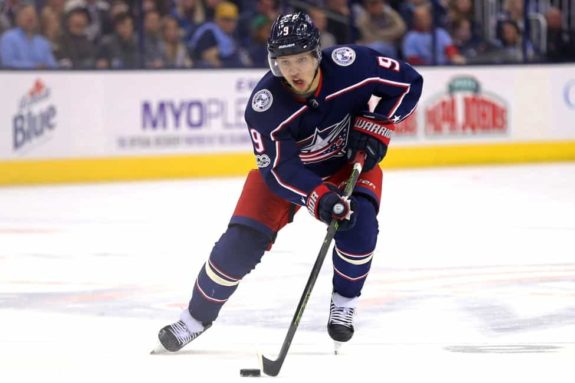 Friedman followed up with a report that "Florida" is one of Panarin's preferred destinations. It's unclear whether this refers to the state as a whole, the Florida Panthers specifically or their cross-state rivals, the Tampa Bay Lightning.
Assuming one of the first two, should the Florida Panthers pursue Panarin?
Why Should Panarin Be Interested in Panthers?
That Panarin might welcome playing in Florida is totally understandable. Beautiful weather, no state income tax and two pretty darned good hockey teams, both with the chance to make some serious noise in the coming years.
Panthers a Good Fit for Panarin
For the Panthers in particular, it appears Panarin purchased a property in Miami earlier this year. The thread below is well worth a gander.
I don't mean to stir the pot – but in my hopeless pursuit to find a way to make my dreams of Panarin in a #FlaPanthers jersey come true I searched to see if Panarin had property in Miami. Sure enough he bought a 700K condo in April 2018. #CBJ The man likes the 🌴🏖️☀️ pic.twitter.com/ueNEzSI7Pi

— Cliff Levine (@v3ktorious) June 26, 2018
Additionally, Pierre McGuire speculated on TSN Radio (time stamp is 14:30) Panarin might be looking for "more bright lights, big city," having previously played in both Saint Petersburg and Chicago, and also considering the fact his significant other is a successful model (Panarin's agent, Dan Milstein, refuted the latter claim, as well as the notion Panarin has a list of preferred destinations).
It's also worth noting Panarin once played with Panthers' winger – and fellow countryman – Evgenii Dadonov with SKA Saint Petersburg in the Kontinental Hockey League.
Workouts are exhausting but friend is here to help (Artemi w/ E. Dadonov, SKA). #workinghard #Panarin #ska #hockey pic.twitter.com/Tnmy9fcooV

— Artemi Panarin Fans (@PanarinArtemi72) August 2, 2015
For what it's worth (if it's worth anything at all), Florida also has a number of other Russians within the organisation, including Aleksander Barkov (Barkov was born in Finland, but is a dual Finnish-Russian citizen), Maxim Mamin and recently signed Bogdan Kiselevich.
Panthers Have Chance to Win With Panarin
Most importantly, the Panthers have a real chance to win in the coming years. Already blessed with one of the best top ends in the entire National Hockey League, the Panthers just added Mike Hoffman via trade, and have both Henrik Borgstrom and Owen Tippett knocking at the door up front.
The Panthers also have most of their core players locked up to reasonably priced long-term deals.
Already more likely than not to make the playoffs in 2018-19, if the Cats can add a top-four defenseman and get stable goaltending, they have a chance to be serious Stanley Cup contenders for a number of years to come.
Why Should the Panthers be Interested in Panarin?
There's no getting around the fact Panarin is an elite NHL talent – and one that's just entering his prime, at that. He would certainly be an enormous upgrade to an already burgeoning stable of forward talent in South Florida.
The Panthers also have the assets to get a deal done, with, as mentioned, a number of young, productive forwards signed to reasonable contracts for extended lengths of time. They also have all of their draft picks the next three years, save for their second- and third-round selections in 2019. Furthermore, they should have a fair amount of space under the salary cap to accommodate Panarin's next contract.
Winger Jonathan Huberdeau and centre Vincent Trocheck have been bandied about as two examples of potential pieces going back the other way (one of the two, not both), the rest of the (hypothetical) transaction filled in with some combination of picks and prospects.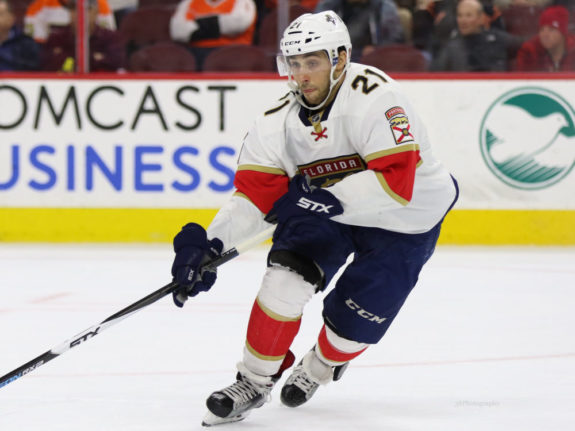 Like Panarin, Huberdeau primarily plays left wing, meaning the loss of the latter would not affect the Cats on the left side. Trocheck, meanwhile, is a centre – and a pretty darned good one, at that, excelling in all situations. However, if Borgstrom (also a centre) is indeed ready for prime time (and also not included in the trade), Florida might just be able to compensate for the loss of Trocheck, too.
Simply put, the Panthers are built to win for the next few seasons, and no doubt want to do everything possible to make sure they do. They can also put together a pretty good package in return for Panarin, without dramatically destabilising their roster in the process.
Why Should the Panthers Pass on Panarin?
On the other hand, one can also make a very convincing case for the Panthers to lay off the Bread Man.
Panarin's Dough a Dubious Expenditure for Panthers?
With only one year left on his current contract, which pays him $6 million per season, one would have to assume any deal involving Panarin comes with an agreement in place to re-sign with his new team. This stipulation would be of particular importance to the Panthers, given that the top young talent they have is largely locked up long-term and for very reasonable money.
Undoubtedly, Panarin would, given the right trade, prove an upgrade to the Panthers' forward corps. However, with Panthers owner Vinnie Viola's stated reluctance to spend to the salary cap, one would imagine Panarin's extension might tie the hands of Florida general manager Dale Tallon.
For example, say Huberdeau, and his $5.9 million against the cap until 2023, is the main piece shipped out to Columbus in return. Panarin at $6 million this coming season looks absolutely excellent – a definite upgrade at the left-wing position for roughly the same money.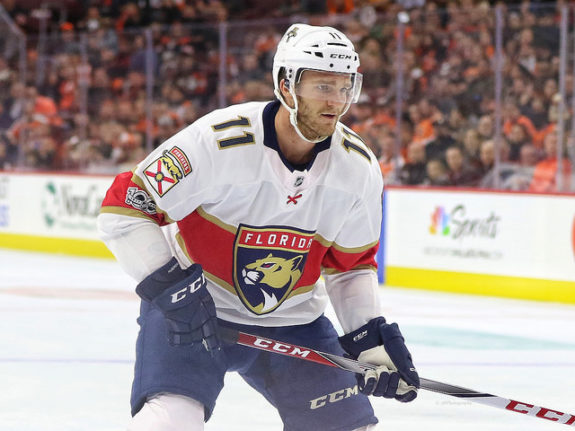 However, what's Panarin's next deal going to look like? $8 million per season (at the very least) seems like it'd have to be the starting point – and it might be a whole lot more, given that the salary cap is going up.
Sticking with Huberdeau and Trocheck as examples, Panarin is a better player than both, but, all things considered, is an $8+ million Panarin really a better value for the Panthers than Huberdeau at $5.9 million per season? How about Trocheck at $4.75 million?
Yes, the Panthers can afford to offer Panarin somewhat less than he might get most other places, on account of Florida's aforementioned lack of state income tax. Still, if the extra money Panarin commands above and beyond his current salary – not to mention that of the player(s) he replaces – takes away from the Panthers' ability to address other needs, there's an argument to be made for the Panthers leaving things as-is.
For example, the Panthers are currently in need of a top-four defenseman – they don't come cheap, as well as, in all likelihood, a goaltender in a year or two (Roberto Luongo is signed until 2022, but it's not likely he plays out the entire deal – or, if he does, it's unlikely he retains both his health and his high standard of play throughout).
In short, the Cats might well shoot themselves in the foot by disproportionately paying through the nose for an incremental upgrade, thereby handcuffing themselves with regards to spending in other areas.
Panarin Trade Unlikely to be Pretty for Panthers
And that's all assuming Panarin even gets to South Florida in the first place.
For the Panthers to land Panarin, the Blue Jackets have to be 100 percent sure they'll be unable to sign him to an extension.
Then, Columbus has to see Florida as a viable trade partner (CapFriendly does not list any limiting clauses in Panarin's deal, meaning his personal preferences are all but irrelevant).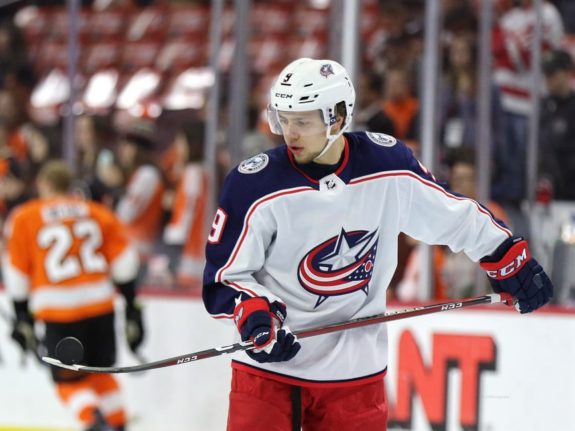 Then, the Panthers have to beat out (read: outbid) all other teams interested in his services.
Then, the Blue Jackets have to agree to the package the Panthers offer, rather than, say, gambling on a mid-season or trade deadline deal materialising, to say nothing of accepting a slightly lesser deal if it means trading Panarin out of the conference.
That's a lot of things that have to go right for the Panthers. That's not to say they shouldn't try, but it's very possible what the Panthers will have to do – not to mention give up, to get Panarin, won't be proportional to his actual worth.
Sometimes, things are best left as-is.
Panthers and Panarin: Deal or No Deal?
Whatever the ultimate outcome, the fact the Panthers are in a position to load up for a run at the Cup, not to mention (allegedly) being favoured by one of the NHL's best players, should be thoroughly heartening for the long-suffering Panthers – and especially their fans.
The Bread Man would certainly be an incredible addition to an already talented Florida team, but the lack of a Panarin deal certainly shouldn't scuttle any hopes of contention.
The Panthers are never, ever a boring team to follow.
Lately, at least, it's been for the right reasons.