While some general managers make names for themselves for the deals they make, the Winnipeg Jets' management team prides itself on the opposite.
Since Kevin Cheveldayoff began running the operation upon the franchise's return to Winnipeg in 2011, he has only made 26 trades in seven years. In his tenure, he has dealt a total of 19 players, acquired 21 players, traded 21 draft picks and acquired 17 draft picks.
Here's #NHLJets GM Kevin Cheveldayoff when I asked him specifically if he needs to move salary and whether he will at the draft, now that salary cap is set at $79.5 and with 9 pending RFAs and a stated desire to get Stastny back. #wfp pic.twitter.com/MF15vCHqeP

— Mike McIntyre (@mikemcintyrewpg) June 22, 2018
Despite Cheveldayoff's quiet tendencies, he has pulled off a trio of blockbuster deals, including dealing their captain Andrew Ladd to the Chicago Blackhawks in 2016, trading Evander Kane in a deal that brought Tyler Myers and Joel Armia to the Jets among others, and finally, the necessary trade to acquire Paul Stastny for their playoff run.
It is hard to argue that the Jets lost any of these trades; in fact, all three look like overwhelming wins at this point. Their most recent acquisition may not have seen the end of his days in the Manitoba capital just yet.
Stastny brought just about anything and everything one could hope for when he joined an already elite Jets' offence. For a trade-deadline player joining a contender, his impact was felt more so than any other league-wide.
If the Jets have any hope to bring Stastny back, they are going to need to clear out some cap space and roster positions. Three particular players have been involved in recent trade conversations, seemingly all for different reasons.
Mathieu Perreault
Make no mistake about it, Mathieu Perreault is a useful hockey player. He is an extremely effective forechecker and eats up a lot of important minutes but the Jets salary situation warrants a change.
With several core pieces to sign this summer and possibility of Stastny returning, not to mention Kyle Connor, Patrik Laine and Blake Wheeler needing extensions next season, Cheveldayoff can't afford not to trade Perreault.
https://www.youtube.com/watch?v=dNwna0AR2sM
The exceptional possession driver will make a shade over $4 million for the next three seasons, which is manageable to trade to the right destination. It is no secret that the Montreal Canadiens are looking for help down the middle, and bringing a French-Canadian to the historic franchise is always a plus.
Perreault posted his lowest point total since 2012-13; however, the Quebec product accepted a new role with the Jets while they integrated youth into the lineup. Originally drafted in the sixth-round by the Washington Capitals in 2006, Perreault has proven people wrong his whole career. With just under 500 NHL games under his belt, he may have to prove the Jets wrong if they decide to deal him.
Nic Petan
With the Jets' logjam up front, it is no surprise a guy like Nic Petan struggles to find his way into the lineup.
With the emergence of Connor, Jack Roslovic and Brandon Tanev last season, they have all likely landed gigs on the club's starting roster. This would leave Petan to battle with the likes of Kristian Vesalainen, Mason Appleton and Brendan Lemieux for depth positions.
"I think he would want to be part of the Jets for the long term, 100 per cent," said Petan's agent, Joe Oliver. "The only underlying thing there would be, is there an opportunity for him to play there? And right now, I can tell you I'm not sure that there is."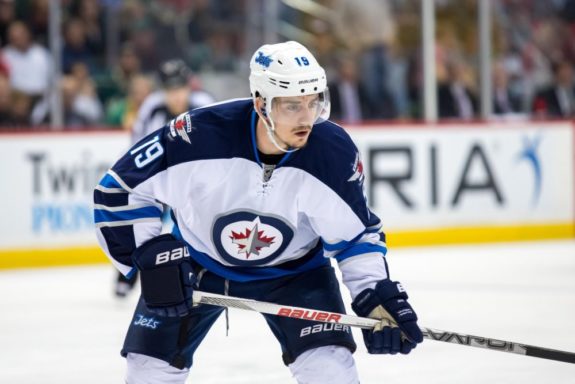 Petan, who possesses the ability to play centre or left wing, set an American Hockey League career-high in points last season with 52, helping lead the Manitoba Moose to a top-10 league finish.
The Vegas Golden Knights opened eyes this season for many reasons, one of which was their ability to transform misfits to useful players, from bigger names like William Karlsson and Nate Schmidt to other subtle seasons by Tomas Nosek and Ryan Carpenter.
Petan could be an interesting project player for an organization looking to inject youth into its lineup and at a reasonable price like Nosek or Carpenter.
There is little doubt that Petan processes the game and has the tools to be a serviceable NHL player, but he also has to have a strong summer and come into camp, wherever that may be, ready to battle for his career.
Ben Chiarot
On first glance, Ben Chiarot's name certainly isn't the most attractive on the market, but his hard-nosed style of play could be desired by a team looking for a gritty veteran on its third pairing.
With the Jets announcing an extension for restricted free agent Joe Morrow for one year at $1 million, along with the stellar play of prospect Sami Niku, this opens the door for a left-handed defender to be dealt.
Chiarot posted a career-high 14 points last season in just 57 games, with three assists in 16 playoff contests to boot. While Chiarot plays a rough game and does a good job clearing the front of the net, he isn't penalized all that often.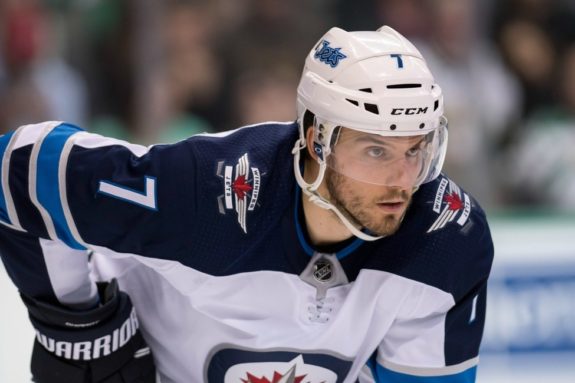 One of the few members that remains on the Jets from the Atlanta Thrashers era, Chiarot averages over one minute per game on the penalty kill and hovers right around 15 minutes of total ice time per game.
Perreault has been a valuable player for the Jets for four seasons, but his time with the club has an expiration date based almost solely on his contract. Petan has simply been treading water when he needed to advance further in his development, which will likely happen in another organization now. As for Chiarot, his one-year at $1.4 million is a bit pricey for a number-six or seven defenceman.
Cheveldayoff has plenty of scenarios to consider as free agency approaches, and if he has proven anything to Jets fans, it is that continuing to be patient and trusting the process will pay off.