With the firing of Dallas Eakins, questions around what the Oilers will do to attempt to bounce back from what's sure to be another 82-game debacle are front and center in the hockey world. It seems obvious that the Oilers will break up at least a part of their core at some point this season, and while he's clearly the best player on the team it's possible that Taylor Hall may be the one to go.
Looking at Edmonton's core and thinking about possible moves logically–the center position is too valuable and Edmonton has no depth there, so Nugent-Hopkins stays; Jordan Eberle is very good but probably won't return nearly the value Hall would; Justin Schultz has performed terribly this season, but is also a young defenseman expected to grow into a nice player on a team devoid of any real defensemen. Realistically, that leaves Nail Yakupov and Taylor Hall.
In 142 career games, the first overall pick in 2012 Nail Yakupov has potted 32 goals and and 31 assists. Not exactly the numbers they were hoping for when they made that pick. While I think Yakupov's failures can at least partially be attributed to the horrible mismanagement of his career by the Oilers franchise, there's so little value to Nail right now that I'm not sure it would even make sense for Craig MacTavish to make that trade.
Taylor Hall, on the other hand, is one of the top ten offensive forces in the NHL. Hall hit 80 points last year, and while he's on pace to finish well below that number this season the 23-year-old left winger is by far the best asset the Oilers have. If MacTavish is even exploring the idea of trading him, every General Manager in hockey will give him a call to discuss it.
So is Taylor Hall the right fit for New York?
Why the Islanders Should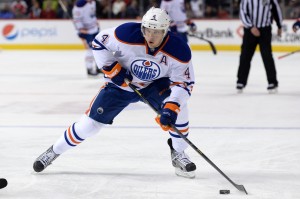 Taylor Hall is one of the top players in the league at the position the Islanders need most. As a forward with near point-per-game numbers since entering the league in 2010, he'd make the Islanders top line more dangerous than ever. Imagine Tavares and Hall, with less pressure on Okposo so that he can get back to the more rounded game he had played prior to this season? It's a legitimately scary thought.
MacTavish wants to get a high return for Hall, but I'm sure also is thinking about the 2015 draft and what could possibly be waiting for his team if they manage to get even worse. It's likely that MacTavish would want a return of young players with upside rather than established NHLers who might come in and turn things around immediately. I'm sure everyone in Edmonton is considering this a lost season, and some are probably even happy about it.
The Islanders are deep at the positions that Edmonton needs help at most: center and defense. New York would need to put together a serious package to grab Hall, but not necessarily one that would completely turn off Islanders fans.
Tavares and Strome should be the only true untouchables in the forward corps, but Okposo is likely not in play as a right winger. Past the untouchables, Grabovski, Bailey, Nielsen, Nelson, and Cizikas are all natural centers for the Islanders. Grabovski is not a player I'd be willing to trade, as his possession numbers have been a huge factor in the turnaround for the team this year. Michael Dal Colle might also be a prospect the Islanders consider moving. They're deep enough that they can do that now.
On defense, Reinhart and Pulock are seriously huge prospects that aren't far off from being NHL-ready. Calvin de Haan is a young player with a lot of upside that would step onto the ice in Edmonton and probably slot into their top pairing.
Where the Islanders suffer in their leverage is a lack of high draft picks. They don't possess a first round pick in 2015, and their 2016 first round pick will likely be a playoff spot. This hurts when dealing with a team like Edmonton who will likely go through at least a partial rebuild over the next few years.
You're going to need to overpay for Taylor Hall, that's not a question. Would a package of Reinhart or de Haan and Pulock, plus Edmonton's choice of Bailey/Nielsen/Nelson (Nelson is probably the top name), plus a high-end prospect like Michael Dal Colle, plus the 2016 first round pick get the job done? I think MacTavish would at least have to sit down and consider this one. I also don't think it'd be a gross overpayment.
Why the Islanders Shouldn't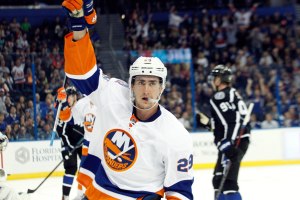 At 21-10-0, only Pittsburgh is above New York in the Eastern Conference standings.
There's something to be said about chemistry and what may happen when a team that's already a contender shakes up their roster with a blocksbuster. Especially when Darren Dreger said in a TSN interview that Taylor Hall was a locker room issue in Edmonton.
"It's not one player. It's the collection of players that make up the sagging work ethic and lack of culture. But if you had to put a face on it, or a name to it, that name would be Taylor Hall.

Taylor Hall, at least from a culture standpoint, in the room not on the ice, hasn't been what they hoped he would be. So when MacTavish looks into his crystal ball and sees what's coming his way through trades, he's gotta be looking at the trade deadline and then beyond that looking at the draft floor."
Jack Capuano is the type of coach who preaches work ethic and playing a strong game in both ends. Look at the development in Ryan Strome's game–an offensive forward who, under Capuano's guidance, has emerged as not only a very talented playmaker but a nice defensive player. If Taylor Hall is as un-coachable as Dreger makes him sound, and I believe that Dreger has pretty damn good insight into what's going on in NHL locker rooms, it's not out of the question to assume Hall and Capuano wouldn't get along.
Whether or not MacTavish is willing to accept the trade proposed above is also not a definite. If Edmonton starts insisting on Strome being included, or more of a return on the defensive end, it might not be worth the temptation to make the deal. Consider too the possibility that Boychuk may be gone at the end of this season and how important the defensive improvements have been to the Islanders' success.
Also, though he's not scoring at nearly the rate Hall is, there's a guy down Highway 16 that might be a pretty good fit for New York.
https://www.youtube.com/watch?v=V6Sz1bvczOg
Evander Kane, the man Winnipeg media inexplicably piles on, has made it no secret that he isn't thrilled to be a Jet. While his 10-point season is nearly half what Hall has produced, there's no denying that the man who netted 30 goals in 2011-12 could help out on the Islanders top line. Remember too that Kane scored his 30 during the new Jets' inaugural season, so the media hadn't yet decided to blame every shortcoming of the team's netminders and defensemen on the now 23-year-old winger. His production has slowed since, but a change of scenery would be the best thing for Evander Kane.
The biggest obstacle with making this trade would be that the Jets are actually playing pretty well, although with Jacob Trouba now out until February and questions in net (Pavelec has been trending downward after a hot start so he and Hutchinson are now splitting starts), it's very possible that Winnipeg will slip from playoff contention soon enough. But even still, there are scenarios where the Islanders can trade NHL roster players and prospects for Kane that could work out positively for both teams if Winnipeg remains in the hunt.
It'll be an interesting few weeks out of Edmonton as MacTavish tries to sort out the mess he's been unable to clean up. Let's see if the Islanders can be one of the teams to benefit from it.
Bantam, Midget, Junior, Pro hockey scout at International Scouting Services. Hofstra University alum.