The United States' WJC selection camp got underway today at Walter Brown Arena at Boston University. As a BU student, I had the ability to take in the first day of practice, and will do the same tomorrow. Below are my various thoughts and observations. (Camp Roster)
USA WJC Camp: Getting Acclimated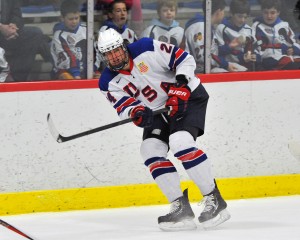 The session started out with an interesting drill that was essentially a full ice keep-away game with 5-10 pucks, and around 30 players on the ice. After that, they progressed into some warmup drills of increasing complexity in order to get the goalies warmed up. As expected with a group of players that aren't used to playing with each other, timing was a bit off and the passes weren't very crisp.
It started out with skaters going in 1-on-1 with the goalie, then moved to 2-on-0, and then 2-on-1 with the coaches playing some soft defense to force the players to make a move. After that, players were split up into groups of five that included three forwards and two defensemen.
From there, the sides split up and went into a 2-on-2 drill that from the dots in each offensive zone to the boards. The drill clearly showed which players work best along the boards and can operate in tight space. Michael McCarron, a 6'6″ forward that was the Canadiens' 1st round selection in 2013, was unsurprisingly dominant at this drill.
The final drill in the first half of practice was line rushes by the forwards. This gave everyone a glimpse into what the US brass was originally thinking in terms of lines.
The Line Combos
The forward combinations were:
Tyler Motte-Jack Eichel-Alex Tuch
Sonny Milano-Dylan Larkin-Hudson Fasching
John Hayden-Auston Matthews-Nick Schmaltz
Adam Erne-Cole Cassels-JT Compher
Anthony Louis-Chase De Leo-Jeremy Bracco
Miles Wood, Michael McCarron
One forward from one of the other groups rotated in with Wood and McCarron. A big topic of debate before camp was whether the US would reunite the dominant Milano-Eichel-Tuch line from their USNTDP days. It appears they decided against it for now, as they stuck with the line that had a lot of success in summer camp with Motte, giving the scoring more balance throughout the lines.
The defensive combinations were a bit harder to figure out because the players only had numbers on their helmets, and I was focusing more on the forward lines. Here's what I was able to get for sure:
Noah Hanifin-Zach Werenski
Michael Downing-Ryan Collins
Ian McCoshen-Anthony DeAngelo
I did not notice who was playing right or left D, but based on their handedness, that is probably what they were. There are four more defensemen in camp: Will Butcher, Brandon Carlo, Jack Dougherty, and Steve Santini. Two of Butcher, Carlo, and Dougherty were paired together (not sure which) and the other likely doubled up with one of the above six. Santini's situation will be explained below.
Instant Reactions
The forwards listed in the top four lines above are very close to the 12 that I expect to be playing for the US. It's possible that one or two of the others could unseat one of them, but they will have to earn it This is an extremely deep, talented group of forwards.
I love the look of the 4th line listed of Erne-Cassels-Compher. They would be the go-to shutdown line, as they bring a lot of two-way ability and hard work to the table, in addition to being able to put up some points.
If that 5th line came to fruition, the average size of its members would be 5'8″, 167 lbs. They're all highly skilled, but are all undersized.
I'm surprised that Hanifin and Werenski, two 2015 eligible 17 years olds, were paired together. In a tournament that is usually dominated by 19 year olds, that's a bold strategy despite how talented they are.
Being paired with returner Ian McCoshen is a good sign for the chances of Anthony DeAngelo. DeAngelo's skill is undeniable (he has 165 points over the last 2.5 years in the OHL), but questions about his attitude and defensive abilities have constantly surrounded him.
Steve Santini (above) is coming off of wrist surgery, and was on the ice but in a yellow non-contact jersey. Santini was a member of the team last year, and if he's a healthy participant that's a big boost for the US. He started out practice without wearing a glove on his surgically repaired wrist, then left, and came back with a glove on that was taped to his wrist. He didn't participate in the drills with other players, instead doing mostly conditioning work and stickhandling with one hand. I don't think his bad hand ever touched his stick, so he still has awhile to go before he's healthy.
All three goalies (Thatcher Demko, Alex Nedeljkovic, and Brandon Halverson) were breaking in their new equipment at practice. Demko, the presumed starter, looked strong. Even though most expect Halverson to be the third goaltender, I thought he looked very good in practice. It will be an uphill battle for him to see any ice time, however.
A better look at Nedeljkovic (left) and Halverson's (right) USA colored setup pic.twitter.com/4b4kml3QBD

— Bill Schoeninger (@BSchoeninger17) December 16, 2014
Also in attendance at practice were three representatives from the Buffalo Sabres, one from the Carolina Hurricanes, and one from the LA Kings.
I will be at the USA WJC camp again tomorrow. If you have any questions, feel free to comment or Tweet at me, and I'll be sure to answer them.
Bill Schoeninger is a Philadelphia Flyers writer and current Boston University student studying business. Coming to THW from Hometown Hockey, Bill follows and writes about the Flyers, Boston University Terriers, and NHL Draft prospects. Follow him on twitter @BSchoeninger17