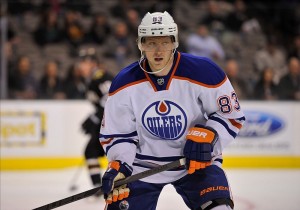 After languishing with the Edmonton Oilers Ales Hemsky was brought to the Ottawa Senators mid-season by general manager Bryan Murray to provide an offensive boost. He rode shotgun with Jason Spezza to the tune of 17 points in 20 games, at 0.85 points per game this was above his career total of 0.74 points per game. Granted Ales Hemsky had never played with a playmaker like Jason Spezza with the Oilers.
Contract talks break down
With the rampant speculation that Jason Spezza will be traded from Ottawa by the 2014 NHL Draft questions arise as to the value of trying to resign Ales Hemsky. Recently it has been reported that talks have broken down between general manager Bryan Murray and Ales Hemsky. Hemsky was reportedly looking for $5.5 million per year; however the Senators were not prepared to offer him that level of salary.
The question remains, should the Senators give in to his demands and bring back Ales Hemsky. Even if they were to go this route it has also been indicated that Hemsky may be looking to move to a less traditional hockey market, rather than playing under intense scrutiny in Canada. If so teams like the Carolina Hurricanes, Tampa Bay Lightning or the Florida Panthers could be a good fit.
"A source said part of Hemsky's motivation for moving may be the fact he has played 672 career games since 2002 in Canada. He may want a chance to play in a U.S market with less attention." Bruce Garrioch, Ottawa Sun.
It is easy to get excited about offensive players but regardless of Ales Hemsky's preferences let's examine the value that he brings to a franchise on the ice.
Types of possession players
As discussed in a previous article there are four types of players when viewing them through the lens of CORSI and FENWICK statistics. Players with a high possession rating and that score, players with high possession rates that don't score, players with low possession rates that score, and lastly players with low possession rates that don't score. For ease sake let's name each of these types of players in the chart below.
| | |
| --- | --- |
| TYPE | DESCRIPTION |
| Offensive Drivers | high possession/high scoring |
| Defensive Drivers | high possession/low scoring |
| Offensive Support | low possession/high scoring |
| Dead Weight | low possession/low scoring |
When looking back at his career numbers Ales Hemsky has 494 points in 672 career games to go along with a minus 46 rating. This would seem to suggest that he is an Offensive Support player type. The advanced statistics back up this assumption.
Over the past seven seasons (2007-2014) Ales Hemsky has a 49.1% FENWICK FOR rating. Over the past three seasons (2011-2014) that number has been marginally lower at 48.9%. Based on Hockey Analysis Ratings Hemsky is a slightly above average offensive player with a FenHARO of 0.9 and a below average defensive player with a FenHARD of -9.4 (a rating of zero is an average player).
Ales Hemsky's comfort zone
Also Hemsky is more comfortable in a role where he distributes the puck as opposed to being counted on to score goals. This is evidenced by over 70% of his career points being assists and his pass/shot ratio being 1.26 overall last year.
As well Hemsky is not the type of winger that will get in on the fore check and put pressure on the opposing defense. Over the past three seasons he has been out hit by an average of 69 times per season. More evidence of him being a peripheral player comes in the fact that on average his distances from the net when shooting are 34 feet.
The offensive zone in the NHL is 64 feet deep from the blue line to the end boards. This means that Ales Hemsky is shooting mostly from approximately the tops of the faceoff circles. Unfortunately outside of his offensive production it is clear that Ales Hemsky does not add much to a team.
How he fits in with the Senators moving forward
His current fit into the top scoring forwards on the Ottawa Senators may not be a good one moving forward. Among the remaining top two line forwards their pass/shot ratios are Bobby Ryan 0.81, Kyle Turris 1.04, Milan Michalek 0.68, Clarke MacArthur 1.69, Jason Spezza 1.28, Mika Zibanejad 1.35.
Based on this information only two out of seven top forwards (including Ales Hemsky) are players that look to shoot more than pass the puck. There are a couple prospects that could see more responsibility next season that are shooters more than passers, albeit in a smaller sample size, in Mark Stone 0.94 and Mike Hoffman 0.46.
This past season once traded to Ottawa Hemsky tried to be more of a shooter than a passer with this pass/shot ratio at 0.83 compared to 1.58 in Edmonton. He was below his career average shooting percentage of 11.1% by scoring on only 9.1% of his shots in Ottawa. Clearly he is better suited to a supporting playmaking role as opposed to a player that finishes and scores goals.
Final thoughts
Based on the optics the Ottawa Senators are clearly a budget team and not a cap team. Spending $5.5 million on a player that does not necessarily fit into your team structure is a recipe for disaster.
Granted the 17 points in 20 games looks good on the score sheet, however team personnel decisions need to be based on more than just scoring points. Overall fit into where the team is headed must be taken into account.
While it may not be popular to let go of an exciting offensive player of his ilk. Ales Hemsky should be allowed to depart via free agency and the Senators should focus on bringing in a cheaper alternative or simply give their prospects a chance.
The preference here is heavily weighted toward bringing in a more established scorer as opposed to counting on the unknowns of young prospects. If the Senators are serious about being a play off team they should not rest that much responsibility on their prospects, at least not this coming season.