We now know that Rangers defender Kevin Klein will miss 3-4 weeks with an upper body injury. Matt Hunwick seems poised to replace Klein on the Rangers blue line, but the Rangers should consider calling up Dylan McIlrath to give him a few games.
Dylan McIlrath Profile
McIlrath was the 10th overall pick in the 2010 NHL Entry Draft, since then he has been trying to work his way up to the NHL. For the past couple of years McIlrath has been working directly with Jeff Beukeboom to try to get to an NHL level. McIlrath told Tal Pinchevsky of NHL.com about working with Beukeboom back in 2013, "We have a good relationship. That's the style he played and he knows firsthand what it takes to win." Beukeboom also had some praise for his student in 2013 "Now you're going to see him really come on. He's a very valuable commodity from the Rangers' perspective. Even though they're deep [on defense], they don't have that type of player,"
Here we are 2 years later and Dylan McIlrath still isn't on the Rangers. Cracking the Rangers blue line is an incredibly difficult task, and while the Rangers have a spot for a right handed defender they should see if McIlrath is ready to step in. His game has been improving in the minors, Kevin Maxwell, The Rangers Director of Professional Scouting, said of McIlrath "He has become more reliable by playing a more even game this season. He still has an edge to his game and he always keeps the opponent aware of his physical presence. He exudes character and is a great team player."
When he was first drafted E.J. McGuire the Director of NHL Central Scouting said McIlrath is a, "Big and mean, old-time typical NHL defenseman. He scares people not only with some frequent fights he might get in, but with 6-4, 212 lbs. straight ahead speed and offensive ability to match. Often, and in a very complimentary sense, makes puck carriers cut to the other side of the ice with his intimidating size." The defender is clearly known for his bruteish style of play, but seems to be developing the other, more cerebral aspects of his game.
Now that we know the defender I want to outline three main reasons the Rangers should give their former first round pick some games before the season ends.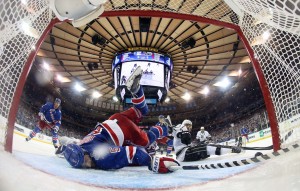 What If More Defensemen Go Down?
Earlier this year the Rangers had some really bad injury issues on defense. They ended up going with a skeleton crew and handing out absurd minutes to Dan Girardi (34:50) and Matt Hunwick (27:58). While Girardi and Hunwick deserve a tip of the cap for stepping up and playing there is no way the Rangers can do that in the playoffs. The Rangers need to know if McIlrath can handle 12-14 minutes in a playoff game, and now is the best time to find out if he's capable. McIlrath has still only played three games in the NHL, so the Rangers are 1 or 2 injuries away from having McIlrath suit up in a big situation. It just seems to me that if the team has the spot open, why not use it to get McIlrath a bit of NHL time. This way the big club knows where he stands as a player, and should he need to play; he isn't completely foreign to the system.
Asset Management
At some point the Rangers have to make a decision with McIlrath, either he's a part of the future or he's a trade chip. In the past we have seen the Rangers send Chris Kreider and J.T. Miller down to the minors only to call them back up as soon as there was an opportunity. Getting a taste of the NHL in a sheltered role can be beneficial to a young player. Its hard to imagine that playing on a good team wouldn't help a young player improve his game. Based on his performance the Rangers can decide as an organization if his development has him trending in the right direction.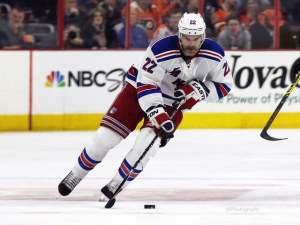 Dan Boyle Won't Be Here Forever
Dan Boyle has one year left after this one, and it's hard to imagine the Rangers giving a defensemen who will be almost 40 a new deal. In theory McIlrath would take Boyle's spot on the blue line. As I discussed above, the Rangers as an organization have to start to think about whether or not McIlrath is the next right defender for the big club. If he isn't they will need to look at another free agent and perhaps a new project.
Right now the Rangers are the top team in the NHL, they have a sound defense and have some games coming up where they could see exactly where McIlrath stands in their organization. If the Rangers find that McIlrath isn't a fit then they know they can move him for some other prospect who is. If they play him with Staal or Yandle against weak competition, then there is no way he could cost them a game by himself. With the regular season winding down the Rangers have to see what they have  in storage.
Here Are Some Highlights of McIlrath Playing His Game
.
I graduated from Brooklyn College with a B.S. in Broadcast Journalism. Shortly after, I began writing for the Full Tilt Hockey Network, where I still contribute, covering a broad range of topics across the NHL.
I have been contributing to The Hockey Writers since February of this year focusing on the New York Rangers. My articles tend to focus on analysis of players, and possible directions that the organization could go.