Even a blind hen sometimes finds a grain of corn. It's not that way with Sidney Crosby and his bunch of kids, though. Especially because there could be a legitimate case made for him to have eyes in the back of his head. He doesn't find his grains at will, like Mario Lemieux or Wayne Gretzky did, but he has a knack of finding them when his team needs it the most. Seeing the kids score means a lot to him, and he doesn't fail to deliver credits elsewhere. Just watch the pure joy in Crosby's post-game statement:
Leadership — the term describing the attitude and/or behavior to take others under one's wings and show them the way, even or especially when things are getting hairy. A little magic comes in handy, but there are people who are simply born to be leaders and some who aren't. Crosby's play during the Stanley Cup Final speaks volumes, and if you've somehow missed the point, believe Mike Sullivan's words.
During the press-conference following Game 2, Sullivan called his captain "a horse out there" — be certain that he didn't refer to him as an old nag.
A Determined Captain
Crosby has taken control of this operation, even in the Eastern Conference Final series with Tampa when he scored three game-winning goals. He hasn't scored in the Stanley Cup Final yet, but he orchestrated two of the Penguins' five goals so far. That's good for 40%. Obviously, the sample size is small, but it's hard to see the way he plays and works even between games to then speak of coincidence in the same breath.
Crosby's locked in on the Stanley Cup and he's got the magic stick going. Way to acknowledge it after
Game 1, Steve Dangle:
A few things from last night: Every hockey fan should have watching Crosby in person on their bucket list. He's unreal. Pens fans spoiled.

— Steve "Dangle" Glynn (@Steve_Dangle) May 31, 2016
You're about to join the club with either one of Auston Matthews, Patrik Laine or Jesse Puljujärvi, Maple Leafs. Make sure you don't take that for granted either.
Maintaining the Right Focus
The Pens are threatening to run away with this unless the San Jose Sharks find a spark for Game 3 on Saturday at SAP Center. Pittsburgh's overall play has been too consistent for the Sharks to plant a seed of doubt in these Penguins so far. They just haven't found a way to get the Pens off their game.
It's not like they hadn't tried, however:
lol at Joe Thornton https://t.co/cWly4rci9R

— Dad Chad (@madchad412) June 2, 2016
Sorry Jumbo Joe. It's not the spring of 2012 in Pittsburgh anymore. And about Logan Couture: What's wrong in "timing" face-offs? Isn't that just what you're supposed to do when the puck drops? Even if Crosby, the face-off wizard, were cheating, Couture surely has a weird way of explaining it.
Nonetheless, what does it say about your focus as a team if you're constantly worried about changing opponents' behavior instead of consistently sticking to your own game and making the necessary adjustments on the fly? Experience, resilience and discipline are so huge at this stage.
You won't need any more proof of who's got the right mindset in this series so far, do you?
The Kids Keep Contributing
Imagine the feeling of taking a seat next to one of the five premier goal scorers in recent years after rifling an overtime winner past the opposing goaltender in Game 2 of the Stanley Cup Final.
Imagine that goal being the second one you've scored in as many Stanley Cup Final games.
Imagine being the hero in Game 7 of an Eastern Conference Final because you've scored your team's only two goals against Tampa that night.
Imagine the feat of repeatedly plowing by one of the sport's top defencemen in Brent Burns on the forecheck like it's the most natural thing ever — as a fourth liner, notably.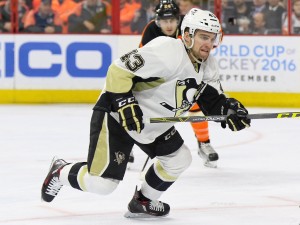 Imagine going 11-1 with a save percentage of roughly 92.5% during your last 12 starts at home with just 30 total games played during your NHL career.
Surreal, isn't it? These kids are uncanny, even, for lack of a better word. These kids are something to behold, really.
One simply can't speak high enough of how much Conor Sheary, Bryan Rust, Tom Kühnhackl and Matt Murray have contributed to the Penguins' success. This has, again, a lot to do with the leadership within this special group of hockey players — especially after the kids got called up to the big team in midst of a season.
However, it takes a lot not to get rattled by the circumstances of the stage they're playing on during their first NHL campaign. It speaks volumes of their confidence and ability to stay in the moment. To have that at their age already is truly special.
Look no further than the Sharks' veterans in that regard.
Hi, I'm a 27-year-old hockey maniac from Switzerland who's studying Communication with a major in journalism at Zurich's college of applied sciences. When I'm not busy learning about the game or from books, I like cooking, watching films and going out or jamming with friends in my little home-studio.