One of the few bright spots for Minnesota in 2015-16 was the play of center turned winger Charlie Coyle. Coyle had the year we've all been waiting for since his rookie season tallying career highs in goals, points and SOG. Yet, despite his improved play, Wild fans should not be too quick to jump on the Coyle bandwagon. What is meant by this is even though Coyle improved, he was still inconsistent for periodic stretches of the year. He was good, not great, not yet.
A reason not to go all hands on deck over Charlie Coyle is because we also saw the puzzling and potentially thought-provoking conundrum such as this in guys like Nino Neiderreiter and Jason Zucker this season. Both had breakout seasons in 2014-15, only to take a step back in 2016. While it was tough to bear Nino and Zucker's down numbers this season, Fletcher should not give up on those two, nor should Coyle enter the Summer thinking that he has reached his pinnacle of play. For that matter, nor should Wild/Coyle fans. It is paramount to the Wild that he simply continues down the track that he's on and builds off of his 2015-16 campaign. If so, then we may have seen a mere preview of the power-forward's true potential.
2015-16 for Charlie Coyle
It was a little hard to believe that entering this year was Coyle's fourth in Minnesota. The concern was undoubtedly there, of whether Charlie could finally implant himself enough to warrant his stay in St. Paul after getting a five-year extension in 2014. Fortunately enough, he finally showed the Wild that Chuck Fletcher's 2012 Brent Burns trade for Coyle and Devin Setoguchi wasn't a complete disaster, and that there is still some upside to the deal.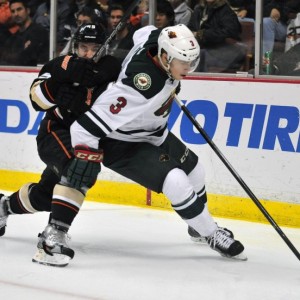 Opening night of the 2015-16 season found Coyle on the third line grouped with Tyler Graovac and Thomas Vanek. Graovac was officially entering his rookie season in the NHL, while Vanek was trying to rebound from a tough first season with the Wild a year prior. For Coyle, he was entering a year in which a statement needed to be made regarding his play. Despite all of the 'what ifs' surrounding this trio, former coach Mike Yeo was still able to ice a dangerous third line with these three. But as we have come to find out for the Wild time and time again, things rarely go according to plan.
Graovac was injured opening night and never made it back to St. Paul when healthy. Vanek found himself time playing on all four lines throughout the year, having a tough go of it finding permanent linemates, while producing career-lows in all offensive categories. Despite having career numbers of his own, to include eclipsing the 20-goal mark, Coyle again had a year of sporadic play. Although not as severe as seasons past, when his MIA status was noticeable, it was still, really noticeable.
However, with that being said, this was largely due to the extremely high standard he set for himself during other stretches of the year, which were arguably even more noticeable. Coyle began utilizing his 220 pound frame more than ever before (truly evident while on the forecheck), as well as finally using his physicality in front of the net. Something else that stood out from the 24 year-old was his hands, which are some of the best on the team when one on one with a defender.
The Good and The Bad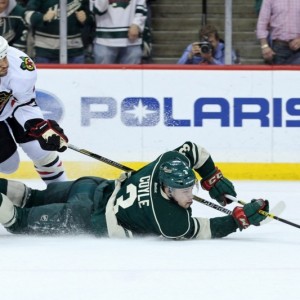 At certain stretches of the year, Coyle had amassed a seven game point drought, a stretch of two points in nine games, another with one point in nine games, and then three points in the final ten games to close out the season. Between those four lengthy blocks of time totaling 35 games in all, he had just six points.
Imagine if he could eliminate this type of annual malnutrition in his production.
He did however do other things right as evidenced by his TOI totals. Through October (the first month of play), Coyle had amassed a total of just 162 minutes of TOI. By the end of the season, he had increased his TOI total every month of the scheduled year, and closed the final full month of the year (March) with 291 minutes TOI alone.
Another of the key strategic developments was the transition from center to wing for Coyle. The surging Erik Haula allowed Coyle to eventually slide over to wing and into the top-six forward group after John Torchetti took the reigns. The struggling Jason Pominville dropped down the depth-chart and Coyle once again played alongside Mikko Koivu and Zach Parise (in what seemed like the first time the three of them had been reunited since Coyle's rookie year in 2012-13) where he went on a tear the rest of the way (actually only almost the rest of the way).
Still, Why Not Jump On the Coyle Choo-Choo?
Because look at what happened to Jason Zucker and Nino Niederreiter this year. Both entered 2015-16 fully expecting to hit 30 goals a piece, yet came no where close to doing so. Nino had a hard enough time getting his 20 goals, and Zucker had a hard enough time staying in the lineup at all.
Is That Really Fair to do to Coyle?
Yes, it is. The Wild youth have not proved any kind of consistency up to this point over the past few years so we should prepare ourselves for the worst. I'm happy to have Charlie Coyle coming back, and signed for the next four seasons, but I'll be even more excited about him when he eliminates the streakiness, and puts up these 2015-16 numbers (and then some), again.
Jon Nomland is a Journalism student out of Colorado, and currently a Minnesota Wild contributor for The Hockey Writers. When not engaged in Wild hockey, he enjoys following the Philadelphia Flyers due to his Pennsylvania roots.