With seven games left, the Coyotes sit last in the Western Conference and 29th overall in the NHL. One more regulation loss will ensure that 2014-15 goes down as the worst season in team history since moving from Winnipeg in 1996. While the season as a whole has been a struggle, there have been some positives. Oliver Ekman-Larsson has had an incredible season offensively, which continued on Thursday night in Buffalo as he set a new NHL record for goals in a single season by a Swedish defenseman. In addition, both Tobias Rieder and Mark Arcobello have given Coyotes fans a glimpse of what the future might hold for this team. Here is a look back on some great Coyotes moments that happened during an otherwise terrible year.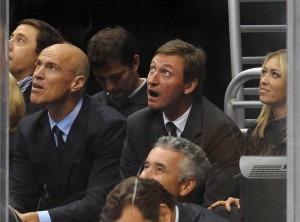 2006-07
Coyotes Record: 31-46-5, 67 points, 29th overall
In Wayne Gretzky's second season as a head coach, the Coyotes turned in their worst year under his tenure. Their dismal 67 points (31-46-5) was only better than one other team, with Philadelphia's 56 points (22-48-12) taking last place overall. Despite the dreadful end result, this season had a pair of notable highlights. One was a game on December 30, 2006 where Jeremy Roenick turned in a performance reminiscent of his time in Phoenix during the late 1990s. Roenick recorded a hat trick as the Coyotes crushed the San Jose Sharks in Glendale, 8-0. The other moment came courtesy of enforcer Georges Laraque, who was wearing a microphone during a game against the Los Angeles Kings and provided this memorable bit of dialogue prior to a fight.
2003-04
Coyotes Record: 22-36-18-6, 68 points, 26th overall
A pair of streaks characterized the 2003-04 campaign. One was a dreadful stretch where Arizona went fifteen games without a win, going 0-11-4. The winless streak was part of a tailspin that saw Arizona win just four games in their final 34. However, the streak that is remembered more fondly is one that captivated the hockey world. In late December 2003 and early January 2004, goaltender Brian Boucher put together five consecutive shutouts and set a modern NHL record, going 332:01 without allowing a goal. It was the peak of the final pre-lockout season for the Coyotes, who finished 23 points out of the postseason picture.
Charles Woodall-Pike is a journalist who writes about the Arizona Coyotes for The Hockey Writers.