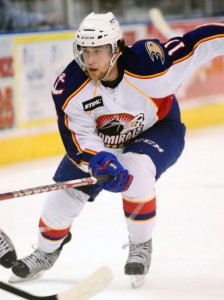 When a young hockey player suits up for his first professional game there can be many things that run through his head. How will I play against grown men? Can I succeed at this level of play? Will I get enough ice time to prove myself to the higher-ups in the press box?
Sarnia Sting alumnus and current Norfolk Admiral Charles Sarault only needed one game to prove himself. Sarault assisted on a Patrick Maroon's power play goal in overtime. The Maroon tally he assisted on helped the Club defeat the top seed in the Eastern Conference, the Syracuse Crunch.
The 21-year-old forward signed a three-year entry deal with the Ducks in March. Charlie commented on how his contract with the Ducks came about, "Just hard work and perseverance. I never stopped. My draft year went by and I didn't have much time where I was in Kingston so when I got traded to Sarnia I got more of an opportunity and made the most out of it and kind of showcased myself."
After his junior season concluded with the Sting, he had padded his resume with 257 points accumulated over a five-season stint. 157 of those points came this season prior to his pro transition.
Prior to jumping on board with the Admirals, the center man was called upon by the Sting to Captain the Club for a portion of the season. It's not a role that Sarault took lightly. "I was captain for half the year after Alex Galchenyuk went to Montreal. Those were big shoes to fill. I thought I did well for an older guy on the team. The guys would look up to me. All in all I thought we did a pretty good job for a young team."
The hurdle from juniors to the American League is the biggest one a player will make in his career where players are grown men instead of boys. "Guys are a bit quicker, a bit bigger. Everyone plays the game so well, so smart here compared to junior hockey where guys are sixteen and just learning how to play hockey. Everyone here knows how to play the game," said Charles on his transition from juniors to pro.
If you ask his line-mate Pierre-Luc Letourneau-Leblond about his first impressions of the rookie, he'll reply, "He's a good kid, good player. He has a bright future ahead of him. He has great vision and he's fast so that's going to help him. He's a smaller guy, but he's so fast and he has the vision so he's always in the right spot and I think he's going to have a good career."
Hailing from Canada where a lot of Canadiens speak French it also aides Letourneau-Leblond in commutating with Charles who also speaks French. "Around the guys we try and speak English, but if it's just the two of us, we'll speak French for sure."
Charles also speaks of how Pierre and the rest of the squad are helping him springboard into pro-life. "PL is French. He is helping me a lot. You get to communicate a little better together and all the other guys have been very welcoming and helpful as well. I have had good talks with Coach. He's trying to make me feel at home here. They've been great to me."
The light shines bright for Charles and his presence is welcomed as the Norfolk Admirals surge towards clinching a playoff berth. Sir Charles could be the missing piece of Norfolk's playoff puzzle.
Follow Ted on Twitter @bauerhockeydude