They are called generational talents because they only come along once in a generation. First was Jean Béliveau. Then Guy Lafleur. Wayne Gretzky was next, followed by Mario Lemieux, Eric Lindros and Sidney Crosby.
Now, we add McDavid and Eichel. How many degrees would it take to connect this year's pair to a pair of their forebears? Let's find out.
(Few would be better at this than Pierre McGwire who, unlike me, wouldn't need the help of hockeydb rosters.)
Two Rules
One: Being teammates is all that qualifies as a degree.
Two: No using Jaromir Jagr.
Connecting Connor
We'll start with Connor McDavid. How many degrees separate McDavid from the great Guy Lafleur? I needed six.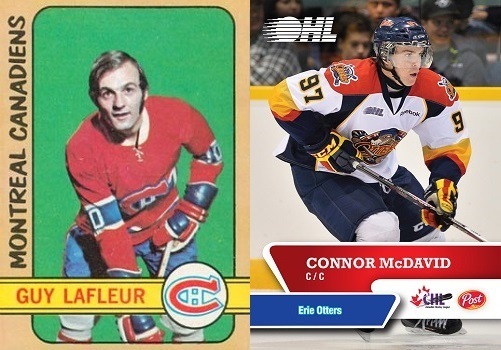 1˚ – Guy Lafleur played with Mats Sundin in Quebec
2˚ – Mats Sundin played with Ryan Kesler in Vancouver
3˚ – Kesler played with the Sedins in Vancouver
4˚ – The Sedins played with Bo Horvat in Vancouver
5˚ – Horvat played with Brendan Gaunce in Utica (Comets, AHL)
6˚ – Gaunce played with McDavid in Erie
How about to the legendary Jean Béliveau? Another six.
1˚ – Jean Béliveau played with Marc Tardif in Montreal
2˚ – Tardif played with Peter Stastny in Quebec
3˚ – Stastny played with Scott Niedermayer in New Jersey
4˚ – Niedermayer played with Troy Brodie in Anaheim
5˚ – Brodie played with Conor Brown in Toronto (Marlies, AHL)
6˚ – Brown played with McDavid in Erie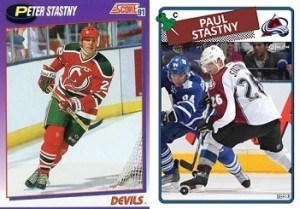 Connecting Eichel
Now, Jack Eichel's turn. First up, Le Démon Blond:
1˚ – Guy Lafleur played with Brian Leetch in New York (Rangers)
2˚ – Leetch played with Shawn McEachern in Boston
3˚ – McEachern played with Mike Fisher in Ottawa
4˚ – Fisher plays with Seth Jones in Nashville
5˚ – Jones played with Tyler Motte on the 2011-12 US NDT
6˚ – Motte played with Jack Eichel on the 2012-13 US NDT
And now, Le Gros Bill: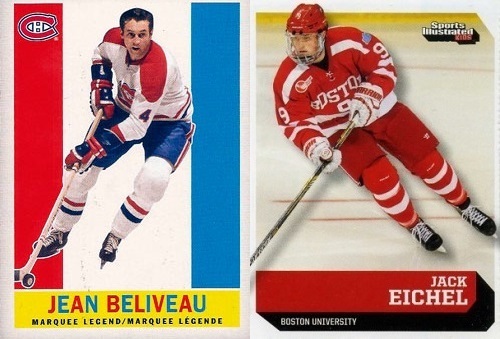 1˚ – Jean Béliveau played with Rogie Vachon in Montreal
2˚ – Vachon played with Ray Bourque in Boston
3˚ – Bourque played with Aaron Downey in Boston
4˚ – Downey played with Pierre Turgeon in Dallas
5˚ – Turgeon played with Paul Stastny in Colorado
6˚ – Stastny played with Dmitrij Jaskin in St. Louis
7˚ – Jaskin played with Conor Garland in Moncton
8˚ – Garland played with Jack Eichel on the Boston Jr. Bruins
Not only did I need eight to connect the two, I had to go back to before Eichel qualified for a driver's license. This might be the only time a hockey fan is happy to see a veteran guy who spent most of his career on one team finish out his career on another team (i.e. Leetch and Lefleur).
I have a feeling I can easily be outdone. Take your best shot in the comments.
—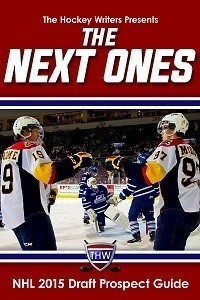 For coverage of over 150 prospects in the upcoming draft, check out THW's The Next Ones: NHL 2015 Draft Prospect Guide, available for the Kindle and all other e-reader formats.
Ross Bonander is a freelance health writer and book editor. He is the editor of 13 quotation collections– six of them hockey-related, including his most recent, Modern Hockey Quotations. His homepage is RossBonander.com.