The Vancouver Canucks didn't play overly poorly against the Minnesota Wild Monday night. Rather, the game just seemed like it wasn't the Canucks' night.
The game against the Wild was indicative of the growing trend that a lot of Canucks' games in recent weeks just haven't been Vancouver's night. One good game seems to always be followed by one bad game.
A lot of Vancouver's struggles have to do with the inconsistent scoring and incredibly hot or cold nature of goaltender Ryan Miller. But I'm sure you have heard all that before. Willie Desjardins has sure to have gotten the memo as the Head Coach has dropped Radim Vrbata down a line, moved Shawn Matthias up, reunited the Sedin Twins with Alex Burrows, and thrown his defensive pairings into a blender all in the search for more consistency.
An ironic notion, yes, but when the Canucks are on, all of Desjardins' moves appear to be the catalyst. When they are off, as they have been so often early in 2015, the team desperately needs some more changes.
Give Eddie a Shot?
I start with a suggestion that has been discussed ad nauseum: starting Eddie Lack a few more games. The overall argument for this is that Eddie has played well and that his win loss record is what it is, 4-6-2, because of a lack of run support.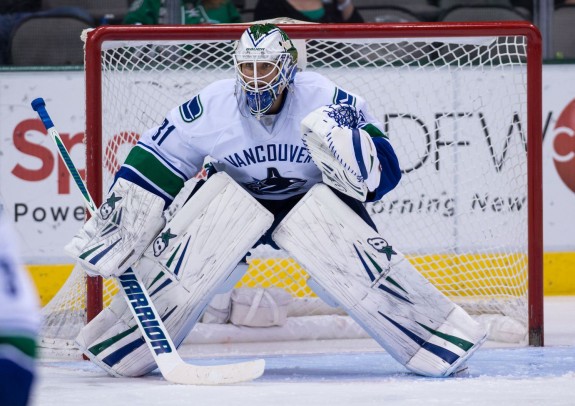 The more the season progresses, the more Ryan Miller's bad games snow ball into really bad games. Miller's shutout against Pittsburgh is sandwiched in between giving up 5 goals to San Jose and 5 to Minnesota. Also, think back to the Dallas and Colorado games from earlier in the season: blowouts during a time when Vancouver was playing its best hockey.
Off nights in the NHL are real but just imagine what losing like this can do to a team's psyche. It can't be easy for a team to, when they lose, lose as badly as the Vancouver Canucks have.
So giving Eddie Lack more playing time really seems to boil down to why the hell not.  And I can't think of anything to refute that statement.  Eddie can keep the losses close or even push tight games into overtime, which would go a long way into building momentum towards the stretch run.
The Vancouver Canucks need to find consistency and consistently losing by large amounts is the worst possible way for the team to try and regain its groove.  Give Eddie a shot because doing so can't be any worse than giving up ten goals in two incredibly important games. Right?
Give Bo a Bigger Role
Bo Horvat versus Sidney Crosby. Horvat scores and neutralizes the greatest player on the planet en route to a 5-0 victory. Bo Horvat for President of the Universe.
After the Vancouver Canucks' dismantling of a seeming disinterested Pittsburgh Penguins squad, much of the talk around the team was about Horvat's performance, and rightfully so. The 19 year old continued his upward trend into becoming an integral part of this Vancouver Canucks team.
And it's time for Willie Desjardins to give Horvat more responsibility.
. @NickBonino suffered a lower body injury and will not return tonight. #Canucks

— Vancouver #Canucks (@Canucks) February 10, 2015
With Nick Bonino leaving last night's game with an apparent lower body injury, Horvat finished the contest centering the second line.  Bonino's injury isn't severe and he might be able to suit up against Chicago.  Desjardins has already dropped Bonino down to the third line and moved Linden Vey to the second earlier this season.  If Desjardins decides to do so again, and I'm saying he should, Horvat needs to be Bonino's replacement, not Vey.
The rookie has arguably been Vancouver's most consistent player during a time when the team as a whole has been wildly inconsistent. Desjardins knows what he is going to get from Horvat night in and night out and that trust alone shows Horvat deserves this shot at centering the second line.
Scoring is an issue and, yes, Horvat's offensive game isn't as polished as a second line centre's should be. Also, the fourth line of Horvat, Derek Dorsett, and Jannik Hansen has played well together and breaking the trio up isn't an ideal situation.  But the Canucks need a kick in the right direction in terms of putting forth a good effort every night, and having a player in Horvat that has been doing just that play more minutes is a move that needs to be made.
Besides, if Vancouver continues to struggle and miss the playoffs, these valuable minutes in the top 6 could go a long way in Horvat's overall development. The kid is growing into the face of the franchise's future and I for one want to see what it is he is truly capable of.
On Evander Kane
I am all aboard the bring Evander Kane home bandwagon, so much so that I would gladly drive to Winnipeg from Vancouver, pick Evander up, and drive him back to Rogers Arena.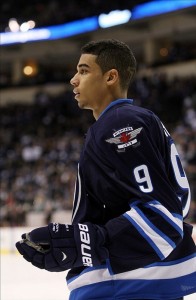 I am also well aware of the baggage he brings: a seeming lack of professionalism, a shoulder injury that puts him on the shelf until next fall, and a cap hit north of $5 million.
But an Evander Kane trade would fit the Jim Benning mantra so perfectly: trade a piece from further down the line, say a Jake Virtanen or Jared McCann, for a player who is NHL ready and will be a player for the future. Think Linden Vey and Adam Clendening.
The Evander Kane trade may not even happen and bringing Kane in at the deadline falls outside of the scope of this article as a what to do to help the Canucks make the playoffs. But there's been so much talk and Kane's talent alone makes the move intriguing enough to comment on. Kane may not help the Vancouver Canucks now, but he sure would help moving forward.