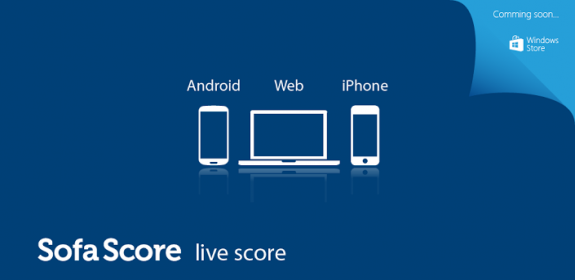 Over the last few years, software applications for smartphones and tablets have revolutionized the way that sports fans have received up-to-date information on their favorite player, team, or sport. Applications such as ESPN ScoreCenter are a common download for both Android and iPhone users, but those looking for a newer application might be quite surprised with the way that SofaScore (available on Android, Web, and iPhone) stacks up to its competitors.
Get More With SofaScore
As the SofaScore application download was nearing completion on my iPhone, I kept wondering if this live score software would be like the rest out there, but I was pleasantly surprised after cruising around the app for a few minutes. Not only was SofaScore just as easy to scroll through as ESPN ScoreCenter, but the app had a range of sports coverage that I truly did not expect it to have. While SofaScore had the essentials (Baseball, Basketball, Football, Soccer, Ice Hockey, Tennis) covered right off the bat, I was amazed at the fact that Cricket, Formula 1, Rugby, Handball, Volleyball, Badminton, Table Tennis, Snooker, and Darts all had a place under the "Select Sport" option.
On the other hand, SofaScore's settings were just as easily maneuverable. One could choose to turn on their "Screen Auto Refresh" and control the time between refresh intervals as well. Push Notifications could also be regulated as well, but the application also allows its user to set specific notification settings for certain sports. Even though only seven sports (Football, Basketball, Ice Hockey, Tennis, Handball, Baseball, & Soccer) have specific notification settings ascribed to them, the user could set their home screen settings according to their favorite sport and could navigate by preference as one could choose from the "Live", "Scheduled", or "My Games" tab.
In regards to getting live scores in a timely fashion, SofaScore does not trail its competitors. One could simply choose a specific sports game to monitor and receive up to the minute updates on scores from the selected contest.
Verdict?
After giving SofaScore a lengthy test run, I was very pleased with the application and would recommend sports fans to test the waters and give the application a download. Individuals that like to receive live scores might find that SofaScore can cater to their needs as the application doesn't restrict its coverage to North American sports leagues. As I was exploring the application, I found that there were a number of leagues (North American and otherwise) that SofaScore covered that I wouldn't have expected it to from first glance.
All in all, I would certainly recommend SofaScore to the average sports fan – and this statement applies doubly to those that are constantly seeking live info on a specific sport. Despite the fact that SofaScore might not provide as many statistics for some match-ups as they do others and doesn't allow one to favorite a specific team, users will probably find that the application can service their sports needs, and then some.
My SofaScore Rating: 9.5/10
You can download the app for free at:  Google Play or iTunes App Store