The St. Louis Blues' season has been an absolute disaster in every way imaginable. But in the last few games, they've found a new way to break fans' hearts: injuries. With three players already on the shelf, the last two games have seen three more injuries, all of them to significant players and with potentially significant absences.
The injuries are devastating to any hopes St. Louis had of becoming relevant again this season, but they might  offer a strange positive to the Blues: opportunity. If these players miss significant amounts of time, it could be a chance for the Blues, whose season already seems to be irredeemable, to give playing time to young prospects who might not get as much of an opportunity otherwise.
Pre-Existing Injuries
Injury: Erik Foley, Concussion
The longest-term injury the Blues have faced this season is that of Erik Foley. This injury occurred in the preseason. Foley left a game against the Columbus Blue Jackets during the Traverse City Prospect Tournament back in September. It was reported then that he was experiencing concussion-like symptoms.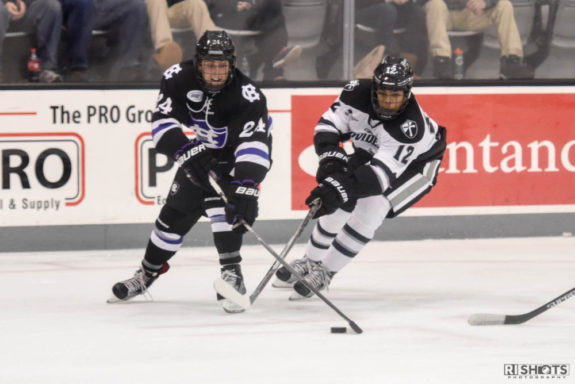 Concussions are difficult because they are so unpredictable. Sometimes, if they are minor, players miss only a game or two, while other cases can take months. Almost three months later, Foley has yet to recover from his injury, and remains on the shelf. If he can regain his health, he will join the San Antonio Rampage of the American Hockey League (AHL).
Opportunity: No One
Because Foley had yet to crack the NHL lineup, his injury doesn't really open an opportunity for anyone at the highest level. Certainly, some minutes have been shifted in the AHL, but, for the average fan, this is a minor concern.
Injury: Carl Gunnarsson, Upper-Body
Carl Gunnarsson had hardly returned to the lineup after recovering from an ACL injury suffered late last season before he found himself on the shelf again. This time, it's an upper-body injury which he sustained on Nov. 17. Initially, it was projected that Gunnarsson might return in early December. If that holds true, his return is obviously imminent.
Opportunity: Jordan Schmaltz
The Blues have an interesting player in Jordan Schmaltz, a former first round pick who is approaching "bust" territory. Given the rash of injuries the Blues have suffered on defense this year, he has unexpectedly been afforded numerous opportunities. He's already played in 17 games, a career high for any NHL season, and is averaging 11:38 per game.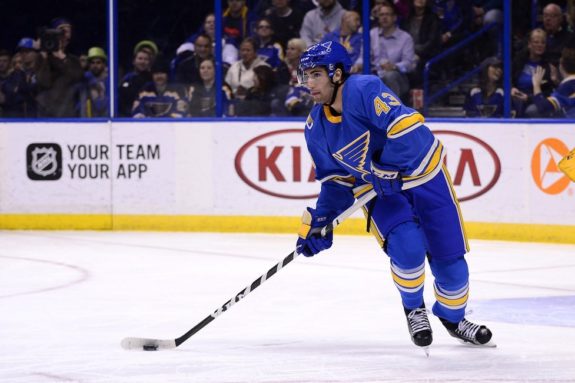 Unfortunately for Schmaltz, the increased playing time hasn't helped him find his stride. He is a minus-7 on the season, and has only contributed two points on the year (not a great total for an "offensive" defenseman). Most worryingly is that Schmaltz has a relative Corsi-for percentage of -7.9%, meaning the team has almost eight percent worse possession with Schmaltz on the ice. This is a staggering number, considering how poor the Blues have been overall on the season.
Schmaltz is not making a strong case that the Blues should make him a significant part of their future plans. At 25, the argument that he is still developing as a player is thin at best. If another team wants to take a chance on him, the Blues should be willing trade partners. Perhaps the Coyotes, who just traded for his younger brother Nick, could try and complete the set by adding Jordan as well.
Injury: Jaden Schwartz, Upper-Body (Hand)
The Blues suffered a second injury on Nov. 17, when forward Jaden Schwartz left the game after accidentally blocking a shot with his hand. Schwartz is becoming a fixture on the injury list, and his unpredictable season has not helped the Blues find any traction. Schwartz was also predicted to return in early December, and given the number of injuries they've sustained since, the Blues desperately need him to do so soon.
Opportunity: Robert Thomas
The Blues' top prospect, Robert Thomas, began the season playing consistently on the fourth line. But, after an extended benching, he began to find his stride and catch fire. He's looked better and better over the course of the season, and scored his second goal of the year on a strong deflection in Saturday's game.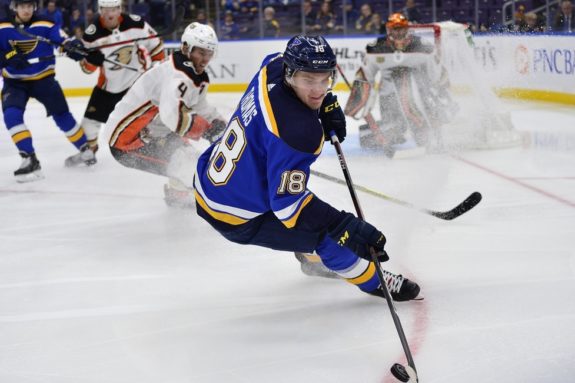 Though the injuries to various players (before Schwartz, Brayden Schenn missed several games) are unfortunate, they do provide space for players like Thomas to move up the lineup, and he has done so to great success. One wonders where Thomas would now play on a fully healthy Blues' squad, but at the moment, it looks like that isn't a decision interim head coach Craig Berube will have to make anytime soon.
Recent Injuries
Injury: Alexander Steen, Upper-Body
Another player that has been injured multiple times this season, Alex Steen, is out once again, this time due to a dirty hit at the hands of Erik Johnson. Johnson hit Steen late, hard, and with his elbow after Steen delivered a clean hit to Nathan MacKinnon, and, with Johnson receiving a game misconduct penalty, neither player returned to the game.
Erik Johnson got sent to the showers early after he comes in juuuuuuust a bit late on this hit. pic.twitter.com/LfrUybSju0

— Yahoo Sports NHL (@YahooSportsNHL) December 1, 2018
Though Johnson faced no supplemental discipline for the hit, the Blues are now without Steen once again, potentially for an extended period.
Opportunity: Zach Sanford
Zach Sanford has had a hot and cold season, but has shown much more promise than many Blues fans expected after he missed all of last season due to a shoulder injury. He's shown some two-way ability and more offensive talent than he'd displayed in the past.
Sanford is the kind of young player who might be able to fill the role that Steen voids. He's dependable in both the offensive and defensive zone, and can play up and down the lineup like Steen has been when healthy. If Sanford moved up the lineup to fill Steen's spot, it would allow an even less experienced player like Sammy Blais to fill his spot, which could give the Blues a deeper look at two different youngsters.
Injury: Alex Pietrangelo, Upper-Body
The Blues' captain, Alex Pietrangelo, missed Saturday's tilt with a minor hand injury. It seems likely that his absence will be short, which is critical for the Blues. They simply cannot sustain an injury to their cornerstone defenseman, who averages roughly 25 minutes a night and has played the seventh most minutes of any NHL player over the last three seasons.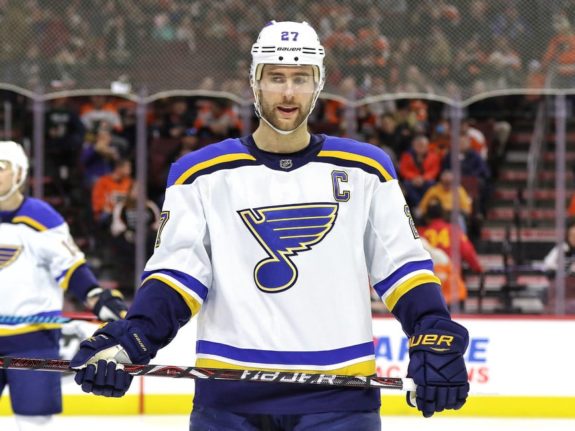 The Blues showed just how little they can afford to miss "Pietro" by allowing their third-highest shot total on Saturday night against the Coyotes, who were 28th in the league in that category entering the game.
Opportunity: Niko Mikkola
There probably isn't an opportunity here, as Pietrangelo is expected back in the next game. But should another Blues' defenseman miss a longer stretch, Niko Mikkola is likely the readiest to jump up from the AHL. The 6-foot-4, 185 pound Finn is a sturdy defenseman who is probably ready for a third line role in the NHL. The Blues have no one nearly ready to take on Pietrangelo's role (though Colton Parayko will fill it in the interim) but Mikkola is the next in line for a shot when the time comes.
Injury: Robby Fabbri, Shoulder
It just doesn't get any easier for Robby Fabbri. The youngster, who had missed a season and a half with consecutive ACL injuries, appeared to sustain a serious shoulder injury in Saturday night's game. After taking a brutal (but clean) hit from Josh Archibald, Fabbri skated to the tunnel in visible pain, slammed his helmet, and didn't return.
It's too early to speculate, but it seems likely that Fabbri will miss considerable time recovering from this. It's another unfortunate setback for the winger who has so much potential, if only he can stay healthy.
Opportunity: Jordan Kyrou
With that said, every injury provides opportunity for someone else, and in this case, that opportunity should come to Jordan Kyrou. Kyrou got a look with the Blues to start the season, but didn't find much traction in decreasing playing time. Since being sent down to San Antonio, he has nine points in 13 games, including three goals in his last three.
The rookie just can't get enough.

That makes 3 goals in as many games for @JordanKyrou! #SAvsCHI pic.twitter.com/63iCRGGnQ4

— San Antonio Rampage (@sarampage) December 2, 2018
If the Blues are missing multiple forwards, and the team is realistically no longer a playoff contender, it's time to give their second best prospect an extended shot at NHL minutes. If fans can't watch their team win, at the very least they can get some excitement watching the young guns that will hopefully help rebuild the team get their first crack at the highest level.
The Future is Now
The Blues have injuries piling up, and a season that is in shambles. With Schwartz, Steen, and Fabbri all potentially missing long periods, the time is now for the Blues' front office, and the Blues' fans, to get a glimpse of the future. After all, the present isn't very pretty.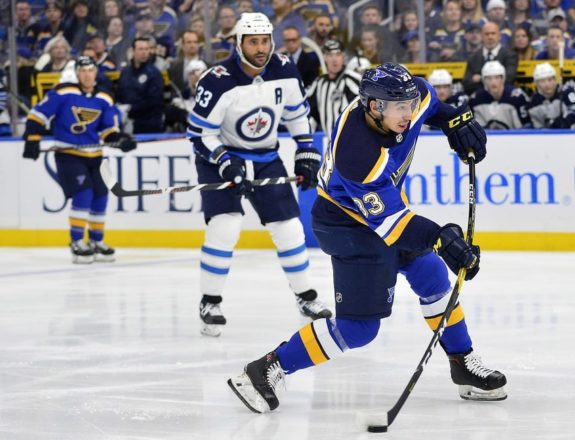 If the Blues can get minutes for players like Thomas, Kyrou, and other young players, they'll at least put an exciting new spin on an otherwise depressing season. In the process, they can begin to identify the players that they need to build around going forward.