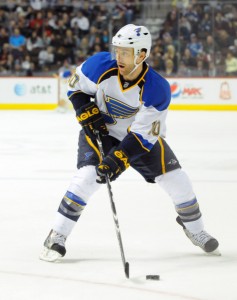 It's amazing what a few weeks can do to a hockey team.
Rewind the tapes back to March 6.  The Blues were in the midst of a stretch where they had 2 wins in 7 games, achieving just 5 out of a possible 14 points.  Most notably, the team lost a heartbreaker in Los Angeles on March 5, after they squandered a 4-1 lead en route to a 6-4 loss.
After starting the season 6-1-0, the Blues had posted a sub-par 5-8-2 record in their next 15 games.  They had plummeted from one of the top teams in the league to the middle of the pack in the Western Conference playoff race.
Part of the reason for the demise was the injury bug rearing its ugly head.  First, starting goalie Jaroslav Halak went down with a lower-body injury.  This was followed by injuries to forwards Vladimir Tarasenko, Alex Steen and Andy McDonald, which all occurred in one week of each other.
[Also: Hindsight on the Eller – Halak trade]
Hitting a wall has brought the Blues back to their winning ways.
The Blues picked their game up since the devastating loss to the Kings, going 5-1-0 since that time.  In the six games, the Blues have scored 21 goals and are being led by a revived Chris Stewart, who has 14 points in his last 7 games (7G-7A).
Injuries have dwindled, with Steen returning two games ago and Tarasenko coming back Saturday in a 2-1 overtime win against the high-flying Anaheim Ducks.  Steen recorded three points in his return last week and Tarasenko had an assist Saturday.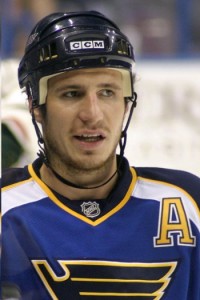 Jeremy Rutherford of the St. Louis Post-Dispatch reported that McDonald is the next to return from injury as he boarded a flight to Vancouver with his teammates on Monday.  He is expected to dress Tuesday night when the Blues battle the Canucks.  It will be McDonald's first game since February 23.
"I have to be able to play, go in there 100 percent and not hold back," McDonald said before departing for Vancouver.  "I think that's where I'm at right now."
McDonald, who was injured along with Steen in a team practice on February 26, is no stranger to returning with a force after injury.  Last season, McDonald returned from a concussion in February and immediately posted four points in his first five games.  In 2010-11, McDonald returned from a similar injury that kept him out of the lineup for two months and posted 14 points in his first 13 games played.
The Blues do still have T.J. Oshie out of the lineup, after he suffered an upper-body injury against the Sharks on March 12.  He was placed on injury-reserve this past Saturday, but Head Coach Ken Hitchcock said that he is still skating.
The past two weeks have shown that the Blues have the ability to turn up their game when it is desperately needed.  Only time will tell if this team can keep this pace up for the last 20 games of the regular season.