It is no secret that the St. Louis Blues have been an impressive club this season. They have a 16-10-4 record for 36 points and sit third in the Central Division.
They are a team with a lot of solid players, but not many that are given credit around the league. Of course, there are always conversations about Vladimir Tarasenko, Alex Pietrangelo and Jake Allen, but the team has a few young underdog players that have really taken this season by storm.
Robby Fabbri
At only 20 years old, Robby Fabbri is a great hockey player that will be a big part of the Blues in the future. Fortunately enough, though, he is also a big part of this club right now.
Through 29 games, No. 15 has posted 17 points and is on track to pass his 37 point contribution from last year rather easily. Fabbri seems rather unfazed by the dreaded sophomore slump and has really made his mark with the club for a few reasons.
Fabbri is a physical force on the ice and is able to control the puck in all three zones. His poise is something that other young players lack, and is one of the reasons No. 15 really stands out. His patience and ability to make intelligent passes have led to a number of goals this season, including this game-tying tally against the New York Islanders.
If he can stay on pace and keep up his physical game for the rest of the season without fatiguing, Fabbri will be a force to be reckoned with for the Blues.
Colton Parayko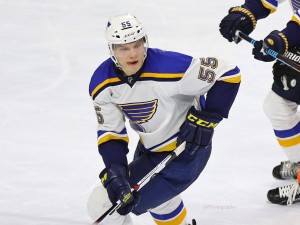 Another young player that has taken advantage of his opportunity is Colton Parayko. The 23-year-old has all of the traits of a great defender but has still maintained a strong work ethic to constantly improve.
Parayko has 14 points in his 30 appearances for the Blues this year. That is good enough for third on the team in defensive scoring, trailing only Kevin Shattenkirk and Alex Pietrangelo. Considering the notable offensive talents of those two defenders, that is quite a feat for a sophomore defender.
More than his offensive contributions, though, has been his defensive zone play. While he is not immune to growing pains that all new NHL defenders experience, he has shown his ability to learn and improve continuously.
His size and physical ability is yet another strong characteristic of the Alberta native's game that coincides with Blues hockey. No. 55 stands six and a half feet tall and weighs in at 226 pounds, giving him the perfect frame to keep up with other big defenders in the league. The fact that he is so young also means he will be putting on more weight as his career continues, which will make him an even bigger physical threat.
Parayko's teammates and coaches alike had nothing but positive things to say about him.
And those comments are coming from some of the most notable contributors to Blues hockey.
Moving Forward
The Blues have had a great start to the season and it is due, in part, to the contributions of young players like Fabbri and Parayko. There really is no limit to how good they could be down the line, which makes them that much more valuable to the team. They both have the building blocks for greatness and appear to have the work ethic and poise to get there.
Although they are just now starting to get the recognition they deserve, the Blues are very lucky to have two incredible up-and-coming players sporting the Note. It will be interesting to see just how much No. 15 and No. 55 influence the future of the Blues moving forward.