Staal is gone. The Carolina Hurricanes announced just prior to Sunday's game with the St. Louis Blues that they have traded team captain Eric Staal to the New York Rangers. The rumors, speculation and "what ifs" melted into reality, and the 'Canes took the ice without the team's record holder in games played, goals scored, and assists since they moved to Carolina. Staal, most notably remembered for his helping the team win the 2006 Stanley Cup, had been the subject of endless speculation for months.
That all ended Sunday afternoon. Hurricanes GM Ron Francis said,
"Eric has been the face of this franchise for a long time, and we thank him for his dedication, leadership and many contributions on and off the ice over the years. We felt this was an important opportunity for us to continue our work in building an organization that can consistently compete in the Stanley Cup playoffs."
According to Francis the deal was finalized shortly before the game. Hurricanes head coach Bill Peters said that he had already filled out his roster and had to take Staal off of it when told of the trade.
Staal Trade Live Fan Reaction
I talked to a lot of Hurricanes fans before the game with the Blues and during the intermissions to get a sense of their reaction to the Staal trade. As expected, the reaction was mixed, however less so than I was expecting. Here is a sample of what I was told by 'Canes fans at the game, shortly after the trade was announced:
One fan said, "We had to get something for Eric leaving, so the trade is good for the franchise. But turning the page on his 12 years is sad. He represented the Canes very well. Regardless of how fans felt about his play this year, we have been very fortunate to have an elite level hockey player here in Raleigh for the last 12 years. His class and professionalism will be missed."
Another was more direct in his response saying,"Eric's level of play has clearly declined over the years.  While we fans don't know how he leads in the locker room, his leadership on the ice seemed ineffective compared to Roddy, Ronnie, or even Keith Primeau. Considering the salary relief, I think it about time we thank Eric Staal and look for someone to bring new life and energy to the team."
"Good riddance," was the first response I received. A fan walking briskly said, "It's about time." An older woman I stopped looked distressed and said, "I'm wondering how I'm going to tell my nine-year old nephew. Eric is his favorite player."
A nice couple in the PNC Arena parking lot had not heard the news. She was wearing a Staal number 12 jersey, and her husband said, "Well, it's been something we knew might happen. I think Ron Francis is doing a good job and is trying to build for the future. We're going to miss him, but it's probably what's best for the team."
Several fans told me, "It's a business." Several others said that they "hated to see Staal go." Frankly, when compared with typical social media blasts about Staal, the fans at the game reacted in a very level-headed fashion, seeming to understand the realities of the hockey business. There were a lot of sad faces as I asked for thoughts on the trade, but all in all the fans were hopeful that Francis was made the right move for the future of the 'Canes.
The Deal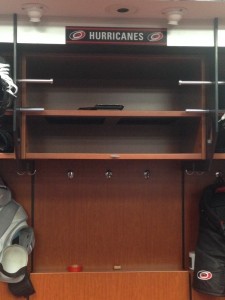 Staal is now a blueshirt and the 'Canes received the Rangers' second-round draft pick in 2016 and 2017 in return. Also, Rangers' 2015 third-round pick, forward Aleksi Saarela is headed to Carolina as part of the deal. According to the Hurricanes' website, "Saarela, 19, currently plays for Assat Pori of the Finnish elite league, SM-liiga, leading the team in goals (18) and ranking second in points (31) in 46 games played. The Helsinki native won a gold medal alongside fellow Hurricanes prospect Sebastian Aho at the 2016 World Junior Championship, totaling four goals and three assists (7 points) in seven games."
*For an excellent article on Saarela, check out "Aleksi Saarela: Hockey Prodigy Turns Prodigal Son" from The Hockey Writers in June 2015.
Elliotte Friedman tweeted that the 'Canes will retain 50 percent of Staal's salary for the remainder of the season:
https://twitter.com/FriedgeHNIC/status/704015971556659201?s=17
Speaking of Social Media
I thought it would be a nice contrast to live, in-person fan reaction with some social media responses to the Staal trade.
@SavageRiverboat the Canes finally traded Eric Staal. Today is a good day Savage.

— Freedom NOW ! (@jneal_27) February 29, 2016
https://twitter.com/abeerkhxn/status/704107051966922752
I've never been a huge hockey fan… but Eric Staal was just traded and I feel like I've lost an important part of my childhood.

— Jackson Davis (@jacksonm_davis) February 29, 2016
I feel Eric staal getting traded was a bigger deal like 6 years ago when he was relevant.

— Travis Spencer (@Deaderroy28) February 29, 2016
And from Facebook: Eric was a bum with no heart these past few years. And, his lack of effort didn't help his trade value, just move on.
The consensus is mixed among fans. Some saying they understand it's business and some saying they are glad Staal is gone. There are those who also said that they will miss Staal in a Hurricanes sweater. I think there will be more people who share that opinion in the very near future.
As for me, I wish Staal well. But, I do believe it was time for a change of scenery for him and for the team. He has a list of franchise records a mile long, and Raleigh will miss him, for sure. Here's hoping it turns out well for the 'Canes and for Staal.
We'll miss ya, Eric.
Mark lives in the Raleigh, NC area and covers the Carolina Hurricanes.