With three out of four Stadium Series games being completed, hockey fans might be wondering what the future holds for outdoor NHL games. After the Detroit Red Wings and Toronto Maple Leafs entertained more than 100,000 hockey fans in Michigan Stadium, attention shifted toward the remaining outdoor events to be played in Los Angeles, New York, and Chicago.
Despite the fact that the Pittsburgh Penguins v. Chicago Blackhawks match-up at Soldier Field is still one month away, there have been arguments made about whether or not such events are beneficial for the NHL and its fans. A slew of arguments could be made either for or against, and with Stadium Series games set to be scaled back in 2015, it might be worth it to take a look into how the three outdoor games played thus far have impacted fan experience and how future Stadium Series games might be approached.
Always Sunny In California (Anaheim Ducks v. Los Angeles Kings)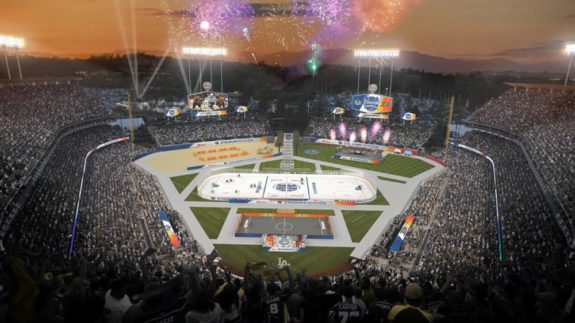 As Vin Scully and THW's own Walter McLaughlin put it, this game was simply like no other. Playing at a rather "balmy" 61 degrees, the Ducks and Kings enjoyed arguably the best weather out of all of the Stadium Series games that have been played so far. Instead of bone-chilling weather that made hockey fans bundle up in multiple layers in the Bronx, the crowd in Dodger Stadium was afforded the opportunity to dress down and enjoy the game in temperatures that weren't below the freezing mark.
With performances from KISS, the USC Trojan Marching Band, Jordin Sparks, and Five for Fighting, the crowd in attendance was likely very pleased with its performers who kept the masses entertained throughout the game. Even though Kings fans weren't able to witness a goal scored by their team as Los Angeles lost the Stadium Series game by a score of 3-0, there were plenty of memories to be taken away from the event.
For starters, the first outdoor hockey game in California pitted two of the top three teams in the Pacific Division against each other. While the Kings might have been the most recent Stanley Cup Champions to come out of the Pacific Division, the Ducks have been asserting their dominance in the Western Conference over the last two years – something that was put on display as Anaheim gave the Kings all that they could handle in a 60-minute time frame.
Enjoyable weather, great performances from various artists, and a wonderful venue undoubtedly satisfied many hockey fans. Unlike the Stadium Series games played in New York, the Dodger Stadium game did not feature weird puck movements and bounces. Of course, Kings fans would likely have wanted to see their team play a more closely contested game which featured the home team scoring a goal, but it seems as though it would've been nearly impossible to walk away from such an event with a sour taste in one's mouth. Outdoor hockey hadn't made an appearance on the West side in 23 years, and considering how many things went right for the Kings and Ducks in California, it would be hard to believe that Los Angeles, or other areas on the West Coast, wouldn't be ideal for future Stadium Series events.
A Bronx Bombing (New York Rangers v. New Jersey Devils)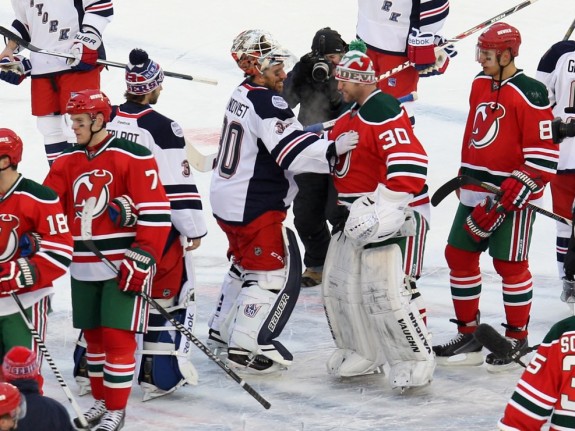 When all was said and done on Sunday, January 26, 2014, the New York Rangers walked away with a decisive 7-3 victory that saw Mats Zuccarello become the hero of a daytime match-up that was delayed half an hour because of glare. Weather certainly factored into the contest between the Devils and Rangers, and one of many concerns about playing conditions affecting individual health was addressed by Jaromir Jagr before the two teams even faced off:
"If I had a choice to play here or in L.A., I would probably choose L.A.," Jagr said. "Nothing against the Yankees or here. It's because I had a bad experience two years ago. I got injured in the first period. It was the same weather, pretty cold. I think it's a lot tougher for the muscles to get warmed up. I feel it would be a lot better for me and my body to play in different conditions."
Jagr also indicated that he didn't know if he was actually more susceptible to injury in such conditions, but he brought up a legitimate concern that many fans, coaches, and players probably have when playing in such an unregulated environment. Of course, everyone is at the mercy of mother nature when staging an outdoor event in the middle of the winter, and that was made all too apparent when Martin Brodeur spoke about the ice conditions following the Devils' 7-3 defeat at Yankee Stadium:
"It was so bright. Even the quality of the ice – the ice was the worst ice I've ever played hockey on – you went from the shadows from the sun, it was almost a 10-degree difference. It was unbelievable."
Whether or not Brodeur was harping on the weather because of his performance between the pipes or because of his overwhelming experience with a variety of ice surfaces probably won't be known. However, it was plain to see that the weather affected the way that the game started as there was no shortage of action in the first period with both teams seemingly adapting to the environment and registering a collective five goals within the first 20 minutes.
Regardless of the weather, the New York Rangers – especially Henrik Lundqvist – adapted to these adverse conditions and chased Brodeur by the end of the second period after scoring six goals on the veteran netminder. Not only did the fans not seem to mind bearing the cold weather and the game delay, their positive reaction to Sunday's game seemingly prompted a 56% increase in ticket prices for the Islanders-Rangers match-up. Whatever venues the NHL chooses for future Stadium Series events is yet to be determined, but if Yankee Stadium taught NHL personnel anything, then it was the fact that metro-area hockey fans were willing to brave any conditions thrown their way in order to experience what could be a once-in-a-lifetime sporting event.
Weather Not A Factor (New York Rangers v. New York Islanders)
Some fans might disagree with the above statement in the heading of this section, but it certainly seemed as though the majority of people in the stands at Yankee Stadium on Wednesday night did not mind facing off against mother nature for the better part of two hours.
However, the fans certainly did seem to mind CeeLo Green's pregame and first intermission performance. Even if fans from all over the five boroughs and Nassau and Suffolk County were rooting for their respective teams, Tyler Gildin put it perfectly when describing the sentiment that greeted Green during his performances:
The nicest part of the #StadiumSeries game was both Isles fans and Rangers fans uniting in one common bond; hating Cee Lo Green. #NewYork

— Tyler Gildin (@TylerGildin) January 30, 2014
After taunting Islanders fans during his pregame appearance, Green was greeted by a chorus of "boos" during the first intermission and responded in turn by giving a double-handed one-finger salute to the Yankee Stadium crowd. Green's crass actions certainly drew the ire of the fans in attendance, and if future Stadium Series events are to be held across the metro-area, then one can certainly assume that the NHL governing bodies won't be eager to re-create such a scenario.
While Green's classless actions and lackluster performance gave fans something to boo about, that definitely didn't put a damper on the rest of the game. Fans from both sides roared to life when Brock Nelson and Benoit Pouliot exchanged goals for their respective teams 40 seconds apart from each other during the late stages of the second period. With Daniel Carcillo's third period tally proving to be the difference in a cold January night, Islanders fans certainly would've liked to walk away from Yankee Stadium with their team having registered a win, but the experience alone gave fans of both teams something to smile about and put in their individual memory banks.
Henrik Lundqvist managed to seemingly put such an experience into context when The Hockey Writers asked him if the Stadium Series match-up added another element to the Islanders-Rangers rivalry:
"I don't know what it adds. Obviously, it's a special  game. This one and against the Devils is a game you will remember for the rest of your career. Who knows if we'll get another opportunity to play here, but it will definitely stick with me the rest of my career. It's two great memories. I don't know if it's going to add anything to the rivalry, but just personally it's great memories."
Lundqvist's reaction just goes to show how one player – who has experienced this cross-town rivalry for several years – can understand the magnitude of such a game, but enjoy all of the finer moments and bask in the experience of such an event. While Rangers and Islanders fans were probably less willing to set aside their rivalry in a neutral arena, Yankee Stadium had the feel of a venue that was housing true hockey fans that wanted nothing more than to see and cheer their teams for at least 60 minutes of play.
Cold weather, chilly winds, and mother nature were not enough to deter fans from making it out to Yankee Stadium en masse and enjoying themselves during the game. On the other hand, players from both sides acknowledged the fact that the weather probably played a role in regard to puck movement and maneuverability, but at the same time there weren't any excuses that pinned the outcome of the game on the outside environment. All in all, the Stadium Series felt as though it was a success and a pleasurable experience – one that fans, players, and executives seemed to thoroughly enjoy regardless of the elements.
Why Continue The Stadium Series?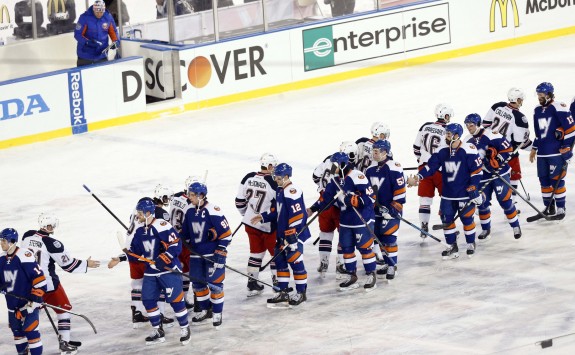 While some might be wondering if the Stadium Series should continue in future years, there should be equal consideration for why the Stadium Series shouldn't be discontinued. Of course, decreasing the number of Stadium Series games is probably the best course of action as an over-saturation of such outdoor games could contribute to the events losing their appeal rather quickly.
Stadium Series games will always have a number of positives and negatives attached to their implementation, but if done in a fixed amount, then these events could be just the thing for the NHL to increase its marketability while giving the fans something that they wouldn't mind consuming year after year. The venues for these respective Stadium Series events would undoubtedly need to be rotated on a yearly basis, but finding a suitable climate for such games shouldn't prove to be too difficult as temperatures for the first three Stadium Series games has ranged between the low 20s to low 60s.
Furthermore, fans that attended such events didn't seem to mind adjusting their comfort level in order to watch the game. Adapting to weather or sightlines didn't appear to be too much of a bother for fans, and the players didn't suggest that playing in adverse conditions made them resent or dislike the experience that playing in Yankee Stadium afforded to them.
Instead, the first three Stadium Series events have shown just how dedicated hockey fans and players are, and the lengths that people in different kinds of environments will go to in order to enjoy a hockey event. Whether or not the Stadium Series will be an annual tradition in the NHL for years to come is anyone's best guess, but for now, it's definitely safe to assume that fans will be asking for more outdoor events as long as the NHL governing bodies are willing to acquiesce to such requests.