Dr. Abraham Erskine was the German Scientist responsible for creating the 'Super Soldier Serum' in the Captain America movie.  Rogers – a weakling, had tried six different times to enlist in the U.S. Army until Dr. Erskine invited him to volunteer for 'Operation: Rebirth'. Eventually, that serum turned him into a hero. While the program's other volunteers were selected for their superior size and strength, Rogers was selected for who he was on the inside.
"The serum amplifies everything that is inside, so good becomes great; bad becomes worse. This is why you were chosen. Because the strong man who has known power all his life, may lose respect for that power, but a weak man knows the value of strength and knows… compassion." – Erskine to Steve Rogers
Just like Steve Rogers in the movie Captain America, the Los Angeles Kings are a force to be reckoned with despite not making an appearance in the 2015 NHL Stanley Cup playoffs. Eleven of their core contenders during this year's run at the Stanley Cup have been with the organization during their first (2012) and second (2014) Stanley Cup Championship wins as well:
1st Round Picks
Drew Doughty (2008, No. 2 by LA)
Jeff Carter (2003, No. 11 by Flyers)
Anze Kopitar "A" (2005, No. 11 by LA)
Dustin Brown "C" (2003, No. 13 by LA)
Trevor Lewis (2006, No. 17 by LA)
2nd Round Picks
Kyle Clifford (2009, No. 35 by LA)
Matt Greene "A" (2002, No. 44 by Oilers)
3rd Round Picks
Jonathan Quick (2005, No. 72 by LA)
4th Round Picks
Alec Martinez (2007, No. 95 by LA)
Dwight King (2007, No. 109 by LA)
7th Round Picks
Jordan Nolan (2009, No. 186 by LA)
Ten of these 11 players were drafted by the Kings and brought up through their development system. Additionally, four more current Kings were also on their roster for the 2014 Stanley Cup:
1st Round Picks
Marian Gaborik (2000, No. 3 by Wild)
Tanner Pearson (2012, No. 30 by LA)
2nd Round Picks
Tyler Toffoli (2010, No. 47 by LA)
5th Round Picks
Jake Muzzin (2007, No. 141 by Penguins)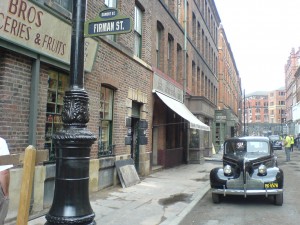 Since becoming part of the NHL's most elite teams, they've created a blueprint for Stanley Cup success and that blueprint includes developing talent from the ground up. Guys like Drew Doughty, Kyle Clifford, Dwight King and Jordan Nolan honed their skills under the Kings' training regime, which for many, included time with their East Coast Hockey League (ECHL) affiliate team, the Manchester Monarchs (formerly an AHL team; 2001 – 2015). What's most interesting about the Kings is their ability to draft and then develop talent considering how many of them are high-round Draft picks. Naturally, the only real shot they've had at Stanley Cup success is raising homegrown talent. Meaning, they Draft average to under average players and turn them into extraordinary athletes that end up winning championships.
The Kings' Blueprint to Stanley Cup Success
http://gty.im/450586270
(2014 NHL Stanley Cup Final – Game Five)
So what's their secret to developing players? This blueprint of theirs has been a mystery for many, but over time it's starting to become blatantly clear. It involves a coaching roster that knows what they're doing – something that's surprisingly difficult to find in the NHL and that can be testified to by the Toronto Maple Leafs. It also involves a good scouting department, so taking a look at the Kings' prospects is a great idea for anyone who actually wants to know what it takes to win after a 45 to 49 year Stanley Cup drought. The Kings' prospects are just one small piece of the King-size puzzle that the Leafs organization so desperately wish they had.
Throughout an extensive interviewing process with CHL coaches and managerial staff about at least one LA Kings' prospect on their roster, some hidden truths about these boys  have come to light and perhaps these truths explain the Kings' fascinating ability to Draft diamonds in the rough.
Interviews & Findings
http://gty.im/451351270
(2014 NHL Entry Draft war room)
Today, the Kings currently have 10 prospects playing in the Canadian Hockey League (CHL) and there's a specific reason why each of them is there. From the 2014 NHL Entry Draft, the Kings drafted:
Mike Amadio, North Bay Battalion (OHL)
Matthew Mistele, Sarnia Sting (OHL)
Spencer Watson, Kingston Frontenacs (OHL)
Jake Marchment, Erie Otters (OHL)
Jacob Middleton, Ottawa 67's (OHL)
They also drafted Roland Mckeown at the 2014 NHL Draft, but then traded him to the Carolina Hurricanes. From the 2015 NHL Entry Draft, they also selected:
http://gty.im/478661092
(2015 NHL Entry Draft)
6. Erik Cernak, Erie Otters (OHL)
7. Austin Wagner, Regina Pats (WHL)
8. Matt Schmalz, Sudbury Wolves (OHL)
9. Chaz Reddekopp, Victoria Royals (WHL)
They also signed Damir Sharipzyanov, an undrafted prospect during the summer of 2015 and is currently playing for the Owen Sound Attack. In regards to Jake Marchment, he's the nephew of Bryan William Marchment. Bryan was drafted in 1987 and eventually went to play for the San Jose Sharks from 1997-98 to 2002-03. This is when Dean Lombardi, the General Manager of the Los Angeles Kings, traded for him. Therefore, there's a chance that the only reason Jake Marchment was drafted by the Kings in the first place is because he's a family friend… it's possible.
Asking interviewees open-ended questions about these LA Kings' prospects regarding their 200-foot game, character, technical strengths, and weaknesses, their commonalities became increasingly obvious.
Generally speaking, they're competitive in nature and have quality character. They're quiet but lead by example. They have a good work ethic and they're well-disciplined. They're known for being physical players, even if they're under six feet tall and they're training to become complete players.
After charting and comparing these guys, it looks like they all have one common weakness too and perhaps this commonality is the key to drafting diamonds in the rough.
They're inconsistent in the way they play hockey.
Perhaps the Kings' scouting department look for players who show potential and then hone in on that "unique value proposition" until it becomes habitual. Maybe they don't prioritize technical skill as much as other scouts do? Perhaps their priority list includes things like being a good person (quality character), working hard off the ice (leadership), determination (a high compete-level) and discipline (work ethic). Perhaps these are the attributes that contribute to making an average player a master at his craft.
Before Steve Rogers became Captain America, he had all the qualities that Erskine was looking for; leadership, character, perseverance – the list goes on. Similarly, these are the exact same qualities that the LA Kings look for, meanwhile the majority of other NHL Draft picks are selected for what the eye can see.