In this edition of Stars' News & Rumors, Dallas receives more bad COVID-related news, Tyler Seguin and Jamie Benn find chemistry with Denis Gurianov, & more. 
Stars Continue To Be Affected By COVID
More bad news has come down the pipeline for the Dallas Stars. On Wednesday, the Stars added Jamie Benn, Luke Glendening, Ryan Suter, and one support staff member to the growing list of COVID protocol members. Before this announcement, Dallas was already practicing with only 10 players, missing 15 players at the American Hockey League level, and waiting impatiently for things to begin to improve. Now, the team has no idea when they will play their next game and is simply trying to stay positive. 
---
---
"It's the unknown right now that is very, very frustrating for all of us," Stars coach Rick Bowness said. "It's something we have to deal with, clearly. It's something that's completely out of our control of when we do play. All we're going to keep the focus on is controlling what's in front of us, and that's making sure the players that we have stay as sharp as best they can."
Although the NHL recently updated their rules allowing teams to carry more skaters, Dallas is far from lining up a full team on the ice. Until they have enough players between their NHL and AHL clubs to safely play a game, they will continue to practice and wait for their chance to return. 
"I am pretty impatient here, said captain Jamie Benn before being added to the COVID list. "We've had eight days off or whatever it has been now, Personally, I am ready to play." 
Stars' Prospects Shine at World Junior Championship
Although the World Junior Championship was canceled on Wednesday, Stars' prospects Logan Stankoven, Mavrik Bourque, Daniel Ljungman, and Albert Sjoberg all found a way to impress anyway. In the second game for Team Canada, both Bourque and Stankoven found the back of the net, Stankoven doing so in his WJC debut.
Related: Stars Select Logan Stankoven 47th Overall
"It was an amazing feeling," Stankoven said. "I made one move and thought I should put the puck on net. Next thing you know, I kinda blanked and it was in the back of the net. It's a pretty cool feeling. I watched the World Juniors as a kid growing up. It felt pretty nice to get that first goal."
For Ljungman and Sjoberg, their goals were vital in a 3-0 victory over Team Slovakia on Tuesday. Ljungmans tally pushed him into the team lead with two goals in two games. As two late-round picks in the 2020 and 2021 drafts, both players found a way to make a statement on the biggest stage. Unfortunately for everyone, COVID reared its head once again, this time canceling the entire WJC tournament just as it was getting started. While it was short-lived, it will serve as a great experience for all four players early in their careers.
Seguin, Benn, & Gurianov Finding Chemistry
The line shuffling has been a constant for Tyler Seguin and Jamie Benn this season. After bouncing around between center and wing on just about every line, both players seem to have found their spots. In the last game before the break, Benn centered a line with Seguin and Denis Gurianov on the wings. In that game, Benn tallied one goal and one assist, Seguin scored a goal and held a plus-3 rating, and Gurianov finished with two assists. The success of this line was a huge step in the right direction for a few players that have struggled offensively this season. 
"I think Jamie finds an extra step when he is playing center. I think it is because he can't be lazy with me doing all the work," Seguin joked. "Guri [Gurianov] is a player that has such a high ceiling. He's got one of the best shots I have ever seen and his speed is obviously undeniable. If we can get us to be clicking, I think we can be a dominant line the rest of the year."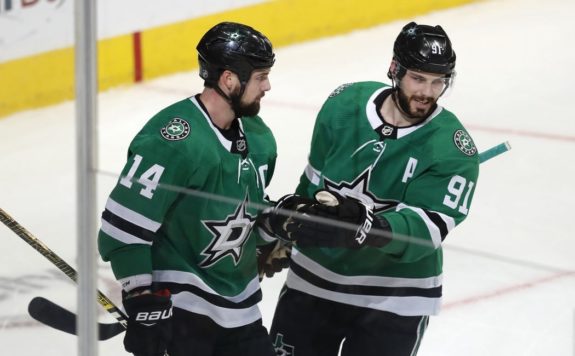 Moving forward, this line is expected to remain together. Until Wednesday, all three players had dodged the COVID outbreak, allowing them to skate together in a few practices. Now, with Benn joining the COVID list and the team not knowing when their next game will be, this trio hopes to re-find their chemistry when they do hit the ice together again. 
The Stars are currently scheduled to return to play against the Florida Panthers on Jan. 6. However, currently missing 11 players at the NHL level and 15 in the AHL, it is possible that more games will be postponed. While this break allows players to rest and recover, it also backs up their schedule as it did a season ago. Luckily for Dallas, the league will use the Olympic break in February to play these games, so it should not affect them nearly as much as last season did. 
Stars fans, try to remain patient and remember that it will only be that much sweeter when the team finally does return to action. 
---
Latest News & Highlights
---
Sam Nestler is a credentialed Dallas Stars contributor for the 'The Hockey Writers'. Growing up in New Jersey, Sam has been playing hockey since he was 7 years old. Developing a love for writing in college, Sam uses his hockey knowledge to create analyses and articles on every aspect of the game. Sam also hosts his own podcast on Spotify, the "Slapshot Sammy' podcast, breaking down action across the Stars, the NHL, and college hockey. Check out the podcast here, and give his latest article a read!