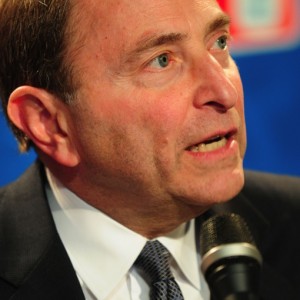 RALEIGH, NC – Commissioner Gary Bettman gave his annual 'State of the NHL' address on Saturday afternoon at the RBC Center, site of the 2011 All-Star game.
Before opening up the floor to Q&A, Bettman gave an update on the Board of Governors meeting that was held Saturday morning.  He said that while the NHL has seen an uptick in concussions this season, preliminary reports indicate that this is probably a result of accidental situations.
Bettman said that many of the rumors swirling around the Phoenix Coyotes in recent days are simply untrue.  The league has decided not to pursue other alternatives and/or relocation at this time and still hope to see Matthew Hulsizer complete his purchase of the franchise in coming weeks.
More than six ownership parties are interested in the Dallas Stars and Bettman vehemently denied that the league is funding the franchise.
Billionaire Terry Pegula was interviewed Saturday morning by the Board of Governors but no vote was taken.  There are rumors that he will complete a purchase of the Buffalo Sabres at some point in the next week or two.
Finally, the merger of Comcast (parent of VERSUS) and NBC Universal has been finalized and the league expects to begin negotiations on a new television contract very shortly.  The current deal expires this offseason.
Bettman also took a number of questions from the media in attendance…
Q. Gary, what's your personal viewpoint and the league viewpoint on reporters being banned by the New York Islanders or any other club?
COMMISSIONER BETTMAN: I don't know of any reporters that have been banned. I know of a blogger [Chris Botta] with a situation that makes this a more complicated and unique situation.  And when you have someone who's had a relationship with the players and in the room and then there's a separation of that relationship, it's a little more complicated than the ordinary course.
My general view is we want the media to have complete access, but blanket rules don't always work in unique situations.
Q. How many concussions have there been this season, and how much are they on the uptick?
I don't think I'm at liberty right now to disclose exact numbers. I think the Concussion Working Group's information is supposed to be kept confidential until there's agreement by all parties that it should be disclosed. But it is up.  And that's something at the appropriate time we'll disclose, because the numbers, the evaluation and the diagnosis is still in the preliminary stage as I indicated.
Q. The situation with Evgeni Nabokov refusing to report to the team, can the league intervene in the situation and is there a possibility that the Islanders could be awarded his services for next year as well the same was done with Yashin a while ago?
I don't think it's typically for the league to get involved between a club and a player when a player is refusing to render the services called for under his standard player contract. That now is an issue between the player and the team.
The player signed his contract knowing that he had to clear the waiver procedure. Those are the rules. Everybody knew them going in. And I don't want to make this any more complicated or any worse, but the Yashin situation obviously will be a precedent when a player, any player, isn't rendering the services called for under his contract.  I assume the team will take the position that the contract tolls.
Q. In the analysis of the accidental inadvertent hits, is there an explanation for the increase?
Anything at this point would be speculation. We have people who are experts who review the videos. I think they've reviewed probably 85 percent of the concussions that have been taking place. Our hockey operations people do the same thing. We don't have any answers yet. It's speculation. It could be a full moon, as ridiculous as that. I don't think it's that, I'm not making light of it.  It could be the speed of the game. It could be a variety of things in case of the fighting, concussions being up. It may be mismatches. These are all things we're looking at.
The point I wanted to convey is it's easy to say the league needs to do X, Y and Z on concussions. It's not that simple. Changing a rule which doesn't address what's actually causing the concussions may not be the right thing to do. Changing equipment may not necessarily be the right thing to do.
We spend a lot of effort on this subject. We know it's important. But we need to be very professional, smart, thorough, in dealing with it. It's not susceptible to a snap judgment.
Having said that, that's the process we used last year when we enacted Rule 48. That appears to be working.  It was after doing all the homework, having been very analytical, using the expertise of the general managers, most of whom were former players, we were able to craft a rule that made sense, was enforceable, and those types of concussions being caused from blindsides are actually down.  We need to be that strategic and that professional about it going forward.
Q. Taking it a step further, if there's incidental indications that the Rule 48 may have dropped some concussions, would going an extra step and banning all hits to the head as with something the IIHF does, would that be something…did you get a sense from the Board of Governors meeting that there's a push to do that, or would that be something that NHL would look to do?
A couple of things in that. We briefed the Board of Governors. The discussion and depth will come from the general managers who focus on these rules.  But, again, if concussions from legal hits are down and concussions from blindside hits are down, preliminary trend, then you have to question why a rule which deals with hits to the head would make sense, if that's not what's causing the concussions. I'm not saying it's not, but the data as we're reviewing it and interpreting it, and there's some element of interpretation here, is such that it's not a simple question to answer and simply say enact this rule.  Because one of the things that's important is that we want to keep the fundamental aspects of our physical game but at the same time protect the players.
Q. If I could ask two quick lawsuit-related questions. One, the Atlanta Thrashers ownership group filed suit against their own lawyers last week in part claiming that bad contract had made it impossible for them to sell their team, even though publicly they had repeated many times that they weren't trying to sell their team. I wonder what your feelings are about that specifically and where the Thrashers ownership situation is at. And, second one, the lawsuit filed in California on behalf of minor league player Jason Bailey alleging that the Ducks were aware of anti-Semitic behavior on the part of coaches and wonder what the league's take and how you proceed given that suit.
In both instances, my legal training jumps to the fore, and it's really not a good idea for anybody, particularly in my position, to be commenting on pending litigation.
With respect to the Atlanta situation, I don't know the specifics of why they're alleging what they're alleging and what they believe the law firm did or didn't do. The fact of the matter is the ownership situation is a little clearer than it was because they settled with the owner that they were previously in litigation with. And so there seems to be lots of litigation that goes on with respect to that franchise.  And my guess is this is another step in the journey for ownership trying to sort things out. If they think that they've been aggrieved by the lawyers representing them, then they'll prosecute that case and collect whatever damages they're entitled to, if a court finds in their favor.  Commenting on what they were saying publicly or what they did, I'll leave that for the lawyers and the courts to resolve.
The case involving the Ducks and anti-Semitism, I find it hard to believe of all of our franchises in particular why that one would be accused of being anti-Semitic. My guess is, in particular, the Samuelis, who own the Ducks, had no idea.
I don't know the specifics, and in any lawsuit a plaintiff can allege anything he wants. The issue is whether or not he can prove it whether or not it's true.
Q. Just so we can maybe find some clarity for the tortured souls in Winnipeg as the Phoenix story continues, I know you addressed it. What is sort of the drop-dead date if this thing doesn't close?
I know it would satisfy everybody's sense of finality to announce a drop-dead date. As long as the process is holding together in a time frame that we can deal with, schedule and the like, we're going to hang in there. If it becomes clear that the train is off the rails or that the train isn't getting to the station anytime soon, then we'll have to reevaluate our position. But we're not going to by a matter of a day or two just simply make an artificial date.
We'll hang in there as long as it makes sense and as long as we can. But time is getting short. Make no mistake about that. This is not something that is of infinite duration. I have tried to be as careful as I could be not to raise expectations in Winnipeg.  Everybody knows my view on that. If we have to move a club, it would be good to go back to a place that we were once in that has a different situation, vis-a-vis building and ownership and the like.
But, you know, it's one of the reasons we get concerned. We think it's unfair when baseless stories come out suggesting things that aren't true to get people in Winnipeg all excited.  If there's something to announce, I promise we'll announce it.
Q. People in Quebec City are working hard to raise money and find money which will allow to build a new building. They are almost there. That's what some people say. So should people in Quebec City get excited about an NHL team?
I don't want anybody getting excited. The fact of the matter is over the last couple of years there have been lots of stories suggesting a building in Quebec City is a done deal, that the money's been raised. Nobody has told me that, and in the conversations that I've had with a variety of people, including the Mayor and the Premier, we have said we're not planning on expanding. We're not planning on relocation. So we cannot promise you a franchise.
If there's a new building, separate and independent from us, for whatever reason and the opportunity presents itself with respect to a franchise, it's no different than what I said about Winnipeg. But we don't want people building a building on our account, expecting that there's going to be a franchise, because we're not in the position to promise one right now.
Q. Can you elaborate a little bit on the Buffalo situation? There's reports that a purchase agreement could be completed this week. And just tell me what your general impressions are of Terry Pegula.
I know Terry Pegula. I've spent a fair amount of time with him. I like him. I believe he's somebody who has the wherewithal to own a franchise. He's obviously been a hockey fan for a long time. I think he was a Sabres season ticket holder for 18 years. He's made a substantial contribution in furtherance of collegiate ice hockey in Penn State.
And the status of the transaction, I'm not going to speculate as to whether or not this is the week or there's ever going to be a week that would be for Mr. Pegula and the Sabres and current ownership to announce, if and when they're ready.
Q. You've touched on a number of ownership issues. What's your perspective on the process going on in St. Louis currently? And are you confident it will be resolved with Dave Checketts still in charge?
I think Dave Checketts and his ownership group has done a very good job of bringing the franchise back, and I know they're doing some refinancing, not in these crazy economic times unusual, and even in uncrazy economic times not unusual, to do some restructuring.
Q. Question about the next season, KHL president Medvedev mentioned that he would like NHL teams to start season in Russia, and he went as far as saying that Washington Capitals and Rangers would be one of those two teams that would make sense to play there, including as far as one of the Siberian cities. What would you say?
I'd say it's nice that Mr. Medvedev is that interested in NHL hockey, and if there's a point in time where we decide we have the appropriate arrangements to play games in Russia, then we'll make an announcement. But we're not anywhere close to doing that.
Q. Siberia, at least…
I hadn't heard the Siberian point. That one is new. It's a lot of travel, isn't it? Also very cold.
Q. [Jaromir] Jagr is playing there right now and they're obviously interested in seeing the Rangers come in. I know it's a long way.
It makes for a good story. It makes for nice intrigue. Doesn't necessarily make for reality. That's not something that is a done deal or close to being done or ready to be announced.
Q. Just a follow-up on the possibility of a Premier game in Russia, possibility, not a done deal, still in conversation. The bombing in Moscow, suicide bombing, does that make you think of other aspects of the venture?
Worldwide terrorism is something that's on our mind on a regular basis. Building security even in North America is extremely important to us, safety of our players and our fans is of paramount importance, and in making any decision as to where we play games, particularly outside of North America. It's something we have to take into account. It's obviously something that people have been speculating needs to be taken into account with respect to the Sochi games for the Olympics.
Q. Lawsuits aside, Atlanta Thrashers ownership is looking for another investor. It would be fair to say that the current situation has produced some drama. How do you feel about yet another investor coming into that situation?
Well, I think the best way to answer that is to state the obvious. The last few years have been taxing on ownership from a financial standpoint with respect to both the basketball team and the hockey team and the arena. And if people are looking to restructure the economics and bring in more capital, it might not be crazy for them to be seeking to add to the wherewithal to deal with those issues.