Jim Neveau, NHL Correspondent
While the big battle on the ice Sunday night took place between Team Lidstrom and Team Staal, an equally intense battle was waged behind the scenes between the teams of THW writers Mike Colligan and Jim Neveau.
Way back on the date that the reserves were announced for the NHL All-Star Game, these two drafted their own teams (as did nearly everyone else with a hockey blog or show in the world), and nearly everyone reached the same conclusion after looking at the two rosters: Team Colligan would inevitably reign supreme.
Did Mike end up winning the epic battle between THW contributors? Let's take a look at the five categories and see what the results were:
Goals: Neveau 12, Colligan 9
While Mike's team had three multi-goal scorers in Anze Kopitar, Danny Briere, and Eric Staal, Team Neveau had a couple of great performances of its own in that area, with both Loui Eriksson and Kris Letang scoring twice in Team Lidstrom's victory. When you add in All-Star MVP Patrick Sharp's goal, as well as tallies by Steven Stamkos and Jonathan Toews, and you had a recipe for success for the Chicagoan.
Assists: Neveau 21, Colligan 17
All-Star replacement Martin Havlat ended up leading Colligan's team with three assists in the game, and Henrik Sedin and Mike Green also had two assists for him. Team Neveau ended up winning this category with ease because it had an astonishing eight of its 18 forwards end up with multiple assists. Shea Weber had four helpers in the game, and unheralded picks Zdeno Chara (whom Neveau regretted picking in the piece introducing each writer's team) and David Backes had two assists apiece.
Shots On Goal: Neveau 43, Colligan 48
The victory Colligan grabbed in this category certainly can be credited to his foresight in selecting players from the home team Hurricanes. Eric Staal led all forwards in the game with eight shots on goal, and injury replacement Jeff Skinner (one of our replacement players on Colligan's squad) had four shots of his own. Sharp led Team Neveau with five shots, but even with a couple of heavy hitters in the SOG category in Ovechkin and Corey Perry, Neveau dropped this category to the Steel City denizen.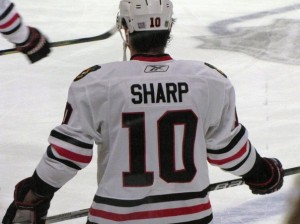 Save Percentage: Neveau .783, Colligan .773
Goalies are the most under-appreciated facet of the All-Star Game, and this category was back and forth throughout. As fate would have it, Neveau ended up with all three of the Team Lidstrom goalies, and Colligan drafted all three netminders of Team Staal. This category ended up being incredibly close, and the only reason Neveau won was that his goalies faced two more shots than Colligan's, and they stopped both of them. Jonas Hiller is likely to thank for that, as he stopped 15 of the 17 shots he faced.
Goals Allowed: Neveau 10, Colligan 10
This category ended up tied, and if Eric Staal hadn't scored with 34 seconds left in the contest, it would have ended up being another victory for Neveau's squad. Hiller only allowed two goals in his time on the ice, and both Lundqvist and Carey Price allowed three apiece for the Colligan bunch.
Final Score: Neveau 3 1/2, Colligan 1 1/2
Colligan Team MVP: Martin Havlat, F, Minnesota Wild
Havlat may have been a last minute replacement in this game, but he ended up turning in arguably the best performance out of anyone that Colligan had on his roster. He did have a -1 in the game, but the three assists that he picked up and the heart with which he played certainly showed how much the berth in the game meant to him. It was also nice to see him reunited with former teammate Jonathan Toews on a line in the game, including assisting on Captain Serious' goal in the third period. He also assisted on what ended up being the game winning empty net tally by Loui Eriksson.
Neveau Team MVP: Shea Weber, D, Nashville Predators
Even though Patrick Sharp (member of Team Neveau) ended up winning the real All-Star Game MVP (and the Honda given to the winner), the real MVP was arguably Weber. Along with defensive partner Nicklas Lidstrom, he played a stellar defensive game for a team that ended up giving up 10 goals. He was a +6 on the afternoon, and he also racked up four assists along the way. Perhaps the strangest part of his game on Sunday was the fact that he didn't have a single shot on goal, even though he has the second hardest slap shot in the NHL. No matter what the circumstances, however, Weber proved that he is one of the most lethal offensive defensemen in the league, and he's got the defensive chops to back it up. No wonder Nashville is doing as well as they are in the standings.
Final Thoughts on the All-Star Weekend
While there has been plenty of discussion about how the All-Star Game isn't relevant and dismissive talk of it only being for "kids under 18", the reality of it is that the entire weekend is as much for the players as it is for the fans. The guys legitimately seemed to enjoy (with the possible exception of Toews) the fantasy draft that took place on Friday, and as a result of that draft, the game was extremely evenly matched.
Sure, there could be tweaks made to the format of the SuperSkills Competition, but overall the entire weekend was a rousing success as far as anyone could tell. The fans in Raleigh helped put on a great show, and a lot of credit should be given to Brendan Shannahan for thinking outside the box and doing something different with the league's mid-season showcase. Hopefully the NHL will continue the fantasy draft next year in Ottawa, and perhaps this choice will result in other leagues thinking outside the box with their own All-Star Games.
One final thought coming out of All-Star weekend: Tuesday can't get here soon enough.